How Marketing Automation Can Help Insurance Sales Agents Generate More Leads?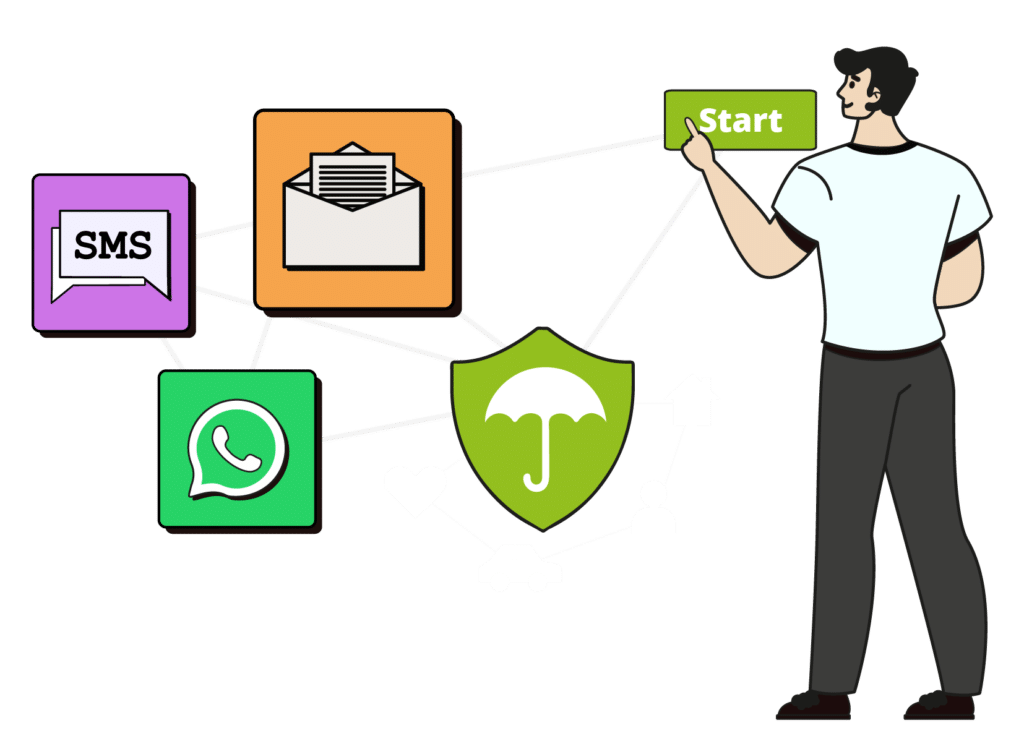 FREE SIGN UP TO OUR LATEST E-TIPS FROM RADICA
And Grow Your Business Online Quickly and Efficiently!
It's no secret that generating leads is essential for insurance sales agents. However, manually contacting potential leads can be extremely time-consuming and inefficient. That's where omni-channel marketing automation comes in. Omni-channel marketing automation tools allow insurance sales agents to automate the process of contacting and nurturing potential leads, which can help them generate more leads in less time.
In fact, on average 56% of companies are currently using Marketing automation outperformed competitors. In this blog post, we will discuss how marketing automation can help insurance sales agents generate more leads leading to increased sales. We will also provide some specific examples of how marketing automation can be used in the insurance industry.
It's no secret that generating leads is essential for insurance sales agents. That's where marketing automation tools allow agents to automate the process of contacting and nurturing potential leads, which can help generate more leads in less time.
In fact,
63% of companies using marketing automation
outperformed competitors. In this blog post, we will discuss how marketing automation can help insurance sales agents generate more leads leading to increased sales. We will also provide some specific examples of how marketing automation can be used in the insurance industry.
Why Is Marketing Automation Beneficial For Insurance?
Insurance sales agents often face many industry challenges, including a complex sales process, a need to nurture leads over a long time, and increased competition.
Marketing automation
can help insurance sales agents overcome these challenges by allowing them to automate repetitive tasks, such as
e-mail marketing
, lead nurturing, and customer segmentation. These CRM automation examples can help insurance sales agents save time on tedious tasks, so they can focus on selling.
Create The Right Moment With The Right Prospect
Timing is everything when it comes to sales. You need to know when to reach out to a prospect and when to back off. Making the right move at the wrong time can often do more harm than good. That's why it's important to create the right moment for your prospects.
For example, when the prospect received email of anniversary portfolio review one year after he or she joined, the prospect reached out to schedule an appointment with a sales agent, an instant notification will be sent to the sales agent to follow up with the prospect. This allows insurance agents to follow the leads that are likely to convert. If they don't answer, an automated e-mail and SMS text will be sent if they don't open the e-mail. 
Simultaneously, the marketing team can receive the prospect list of who has a confirmed appointment to track the appointment's conversion rate and work productivity of the agent.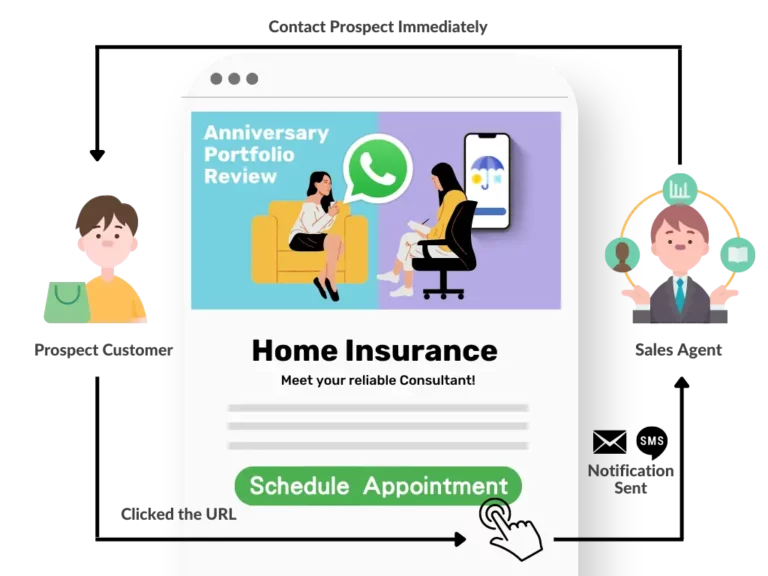 Maintaining Relationships With Existing Clients
It's not only important to generate new leads, but it's also essential to maintain relationships with existing clients apart of renewal times. According to Rocket Referrals, 81% of clients who leave insurance sales agents due to lack of regular and meaningful communication.  With the help of marketing automation customer journey tool, insurance sales agents stay in touch with their clients and keep them updated and knowledgeable, regardless of the part of the sales cycle they are currently in.
Nevertheless, imagine an insurance sales agent is required to be in charge of taking care existing hundreds of clients, which is impossible for them to remember the special occasions of every individual client. By setting up of omni-channel marketing automation campaign journey, when an insurance sales agent with a client 45 days before a birthday coming up, it is designed to send out the client in advance a personalized birthday greeting with special offer such as a free redemption of Annual Health Check by email, while allowing them to talk to a customer service representative with WhatsApp marketing communication tool as a conversational marketing strategy. At 15th day, if the client either not opens birthday greeting email or opens but not clicks the email, they will receive a reminder email. At 30th day after another 15 days, if the client still has not redeemed the offer, an SMS reminder message of "Your free redemption of Annual Health Check is going to be expired within 15 days" will be delivered.
In order to target client who has redeemed the Annual Health Check offer, after redemption, the marketing automation system will send out a satisfaction survey with 1 to 10 rating in terms of the service quality. Meanwhile, we can take this opportunity to not only show concern on their health but also can identify the top health issue they concern the most. On the day of client birthday, by gathering personalized information of their health issue from client, the digital marketing automation tool can send a follow up email on their birthday, which includes 'Happy Birthday to You" greeting message, together with a tailor-made personalized insurance package with limited time offer as a birthday incentive gift for optimizing both customer engagement and conversion.
This not only helps to keep the agent's existing clients happy during special occasions but also shows that the agent is knowledgeable and proactive, which can help generate new leads with upsell opportunities. With insurance sales agents taking care of hundreds of clients at a time, the omni-channel marketing automation tool makes it easier to maintain a close relationship with each one.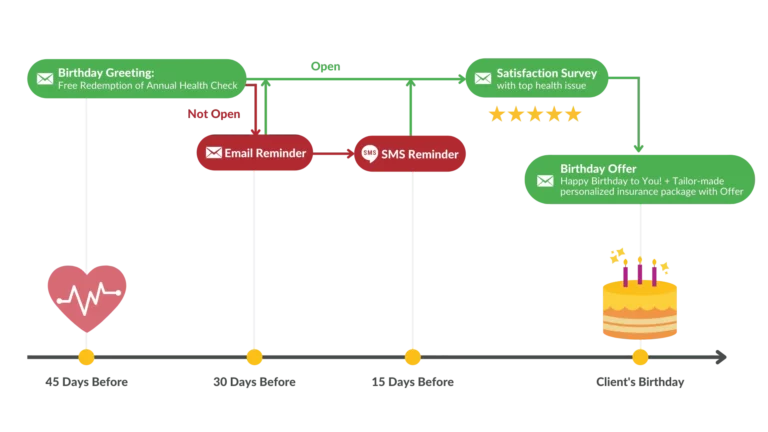 Customer Relationship Management Across Customer Lifecycle Stages
With so much competition in the insurance industry, it can be challenging to stand out from hundreds of other companies offering the same thing. One way to do this is by creating incentivized offers that are targeted at specific segments of your audience across various customer lifecycle stages including but not limited to welcome onboarding, anniversary portfolio review.


For example, your insurance sales agent's customers may receive the message, "Thank you for choosing X as your insurance agency of choice. We now offer an "HKD 100″ supermarket cash voucher as a welcome incentive gift." When the client clicks the trackable SMS URL, the client will then be directed to a landing page that lets them know that a sales agent will reach out shortly with the promised cash voucher. The Insurance agent is then notified with an SMS message to encourage follow-up with the customer for upsell opportunities. This example of marketing automation customer journey can also apply on customer anniversary portfolio review.
Increase Conversion Rate Via Auto Trigger Abandon Cart Notification
It's not enough to simply generate leads – you also need to convert them into customers. One way to increase your conversion rate is by using omni-channel marketing automation to trigger an abandoned cart notification when a potential customer shows interest in your product or service but doesn't complete the purchase.
For example, let's say a prospective customer was looking at different insurance policies on your website, added it to their cart, but didn't complete the purchase. With tool of omni-channel marketing automation, those prospects would receive a cart notification e-mail within an hour. Less than a day later, they will receive an SMS text message with product reviews, descriptive product information on the item they added to their cart, together with a payment link. If they still don't purchase within two days, they will receive a follow up e-mail with a limited-time offer to further incentivize them to buy right ahead.
If there is still no purchase action from prospect within 3 days, we can send them email with similar product recommendation which may arouse their interest again. After 2 days, insurance sales agents can send an automated WhatsApp promotional message "Hey! You've missed our amazing product" to reach out prospect directly, and invite them to leave enquires if there is any concern about the product. By integrating with WhatsApp Business API, our dedicated insurance sales expert can initiate a real time conversation within 24 hours after the prospect reply. Therefore, agents can draw a clear picture of what clients need, and they can offer tailor made insurance package that fits individual expectation of every prospect. Eventually, this process of using marketing automation to follow up with potential customers can help you close more deals and increase your conversion rate.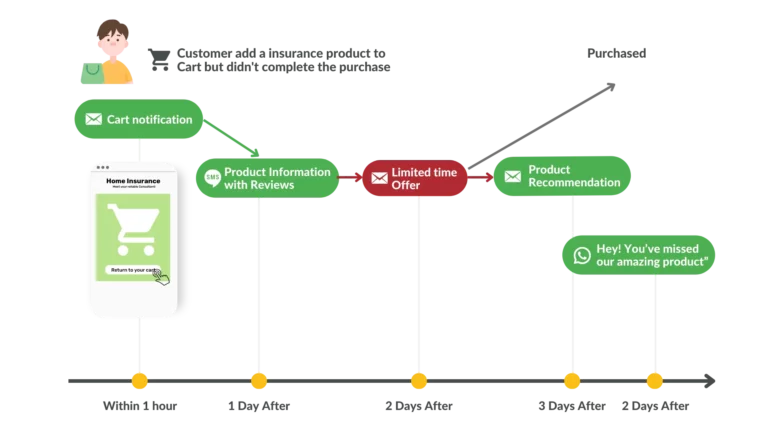 Insurance sales agents need to remember that each client is unique and has different needs. Unlike traditional insurance e-mail marketing service, marketing automation offers for a more personalized approach when nurturing leads and can help insurance sales agents stand out from the competition.
For example, many insurance companies have launched their own mobile health application and integrated it with a smart marketing automation strategy. Users will receive a brief report logged their fitness activities in every week, and they can unlock the full version by clicking the button on the email. Once they download the full report, a marketing automation campaign will be further triggered. Users will receive articles about staying healthy or tips for choosing the right health insurance plan on the basis of their gender and preferences of exercise. This type of personalized touch can help an agent build a relationship with a lead and eventually convert them into a customer.
Use A Referral Program To Increase Leads
As an insurance sales agent, referrals are one of the best ways to generate new business. Most people rely on word of mouth or people we know to recommend products and services, which makes sense. We are more likely to trust the opinion of someone we know and respect than a stranger. By using marketing automation, you can increase your amount of leads by offering a referral program with incentives for new and existing customers.


As one of the CRM automation examples, insurance sales agents can send current customers an e-mail explaining the referral program. This e-mail will contain information about how both the new customer and the existing customer can receive an incentive (such as a $500 Amazon gift card) if potential members apply and get approved for a new policy. Current customers can click on the program sign-up page and share the link with friends or family that they believe would be interested in the program.


When people click on the referral link, they're taken to a page where they'll be notified of the potential reward while referencing the referrer's name. When they sign up, agents can be automatically notified to contact the potential customer to close the deal. When looking for a reliable and effective way to generate new business throughout the insurance customer lifecycle of your clients, insurance agents will want to rely on referral programs with omni-channel marketing automaton platform.
Forecasting for Sales and Productivity
In the insurance industry, it's crucial to be able to forecast future sales. With the help of marketing automation, insurance sales agents can use historical data from previous sales cycles to predict future trends and adjust their strategies accordingly.


For example, let's say an agent notices that most of their customers purchase health insurance during the open enrollment period. The agent can use this information to work with marketing team to prepare a pre-built a customer welcome onboarding journey that targets leads who are interested in health insurance during this time. By doing this, with accurate sales forecasting, insurance businesses can devise cost-effective marketing plans that rally demand during the right times so that insurance sales agents can generate more sales and improve their productivity.
Easy Data Management and Streamlined Workflow
It's common to have a ton of paperwork throughout the insurance customer lifecycle, which can be challenging to keep track of. Marketing automation tools can help insurance sales agents manage their data more effectively and efficiently by streamlining repetitive workflow.


For example, let's say an agent has a stack of paper forms that need to be filled out for each new client. With the help of a CRM automation tool, the agent can easily convert these forms into digital documents that can be stored and accessed electronically. This not only saves the agent time but also helps to keep track of important client information more effectively. This ensures that no client is ever lost in the shuffle and that each one receives the individualized attention they deserve.
Marketing automation is a valuable tool for insurance sales agents. It can help them to create the best moment for customer engagement, maintain relationships with existing clients and increase conversion rate via auto trigger abandon cart notification. If you're looking for ways to help your insurance company grow, consider implementing a marketing automation strategy.


At RADICA, our omni-channel marketing automation platform is designed to help insurance companies succeed. Schedule a demo today to see how we can help you grow your business and learn more about the marketing automation process.
Get a Free Personalized Demo
Learn how RADICA platform can help grow your business with consultation
Get ready to find a professional email marketing company in Hong kong?
Radica as #1 All-In-One Email Marketing Automation Platform can ease your concern.
RADICA is a Hong Kong leading email marketing solution provider dedicated to accelerating revenue and maximizing customer connection with customer engagement solution in B2B, B2C and E-commerce industries. With RADICA's advanced onmichannel marketing automation platform RI+, it is much easier and effective to spread out cross-channel messages with automated and personalised journey, even with high volume within short period of time. Our clients ranging from luxury, banking and insurance to food and beverage like Chanel, BEA, LEVI's, Chow Sang Sang and Starbucks. Since 2000, RADICA as the leading email marketing and CRM agency in Hong Kong have focused on growing the value of their customer database by making wise use of data analytics in direct marketing. Learn more Radica Systems Limited at www.radicasys.com.