of All in one Marketing Automation for Insurance
How does marketing automation
help insurance companies and their sales agents? Hong Kong Insurance Companies of all sizes
have chosen RADICA as their CRM customer engagement partner
Common Challenges of Insurance Companies
Different industries suffer from different pain points. Here are some of the common challenges from insurance sector which lead their move to adapt marketing automation strategies.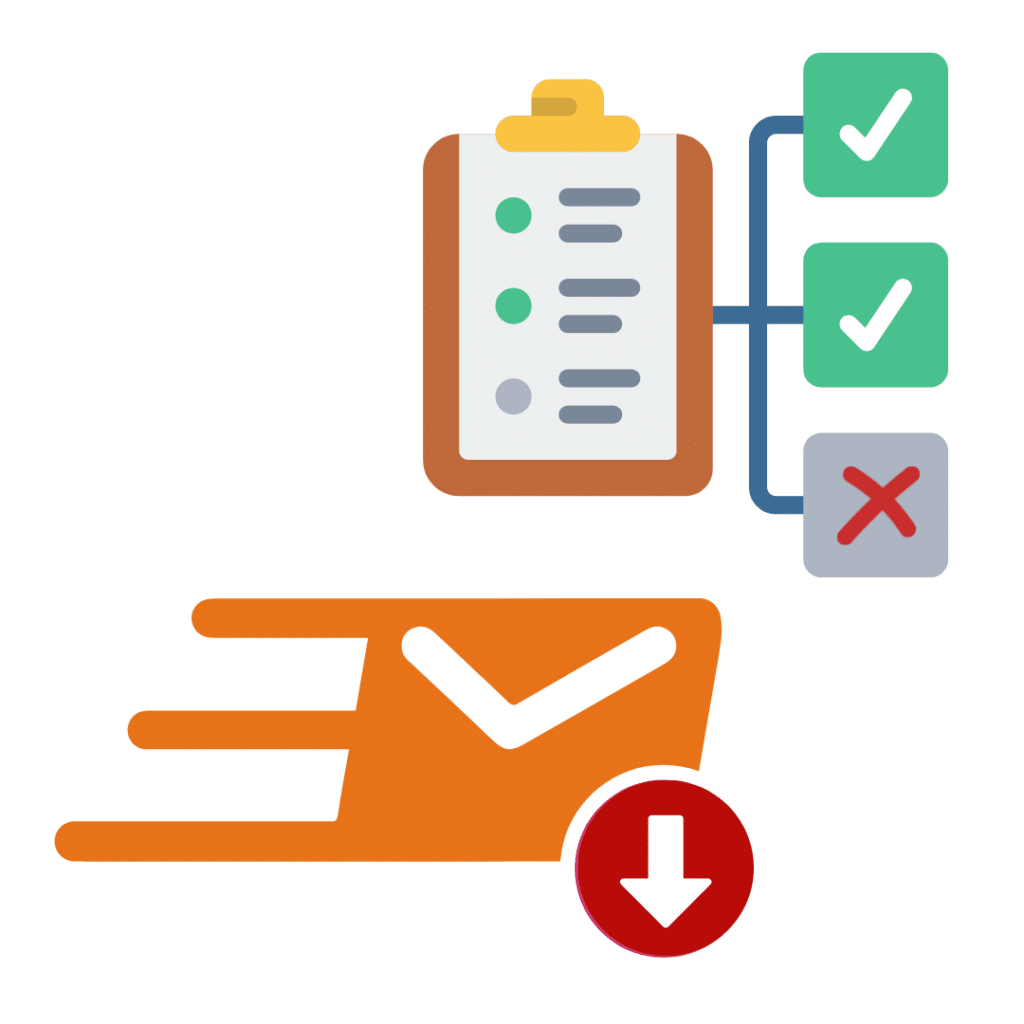 Poor deliverability and data tracking
"Create the Right Moment with Right Prospect at Right Time. Save time for Insurance sales agents from busy schedule"
Insurance industry relies on trust and strong relationship between customers and insurance sales agents. To create the right moment of 1 to 1 engagement between prospect and agents, only minimal disruption at busy schedule from sales agent is preferred.
Potential prospects can take proactive action to schedule appointment with dedicated insurance agents. In the meantime, the marketing automation tool enables to track the appointment progress between insurance agents and prospects for effective monitoring productivity of sales agents who are also able to spend more time on nurturing leads to maximize conversion instead of looking for finding a needle in a haystack.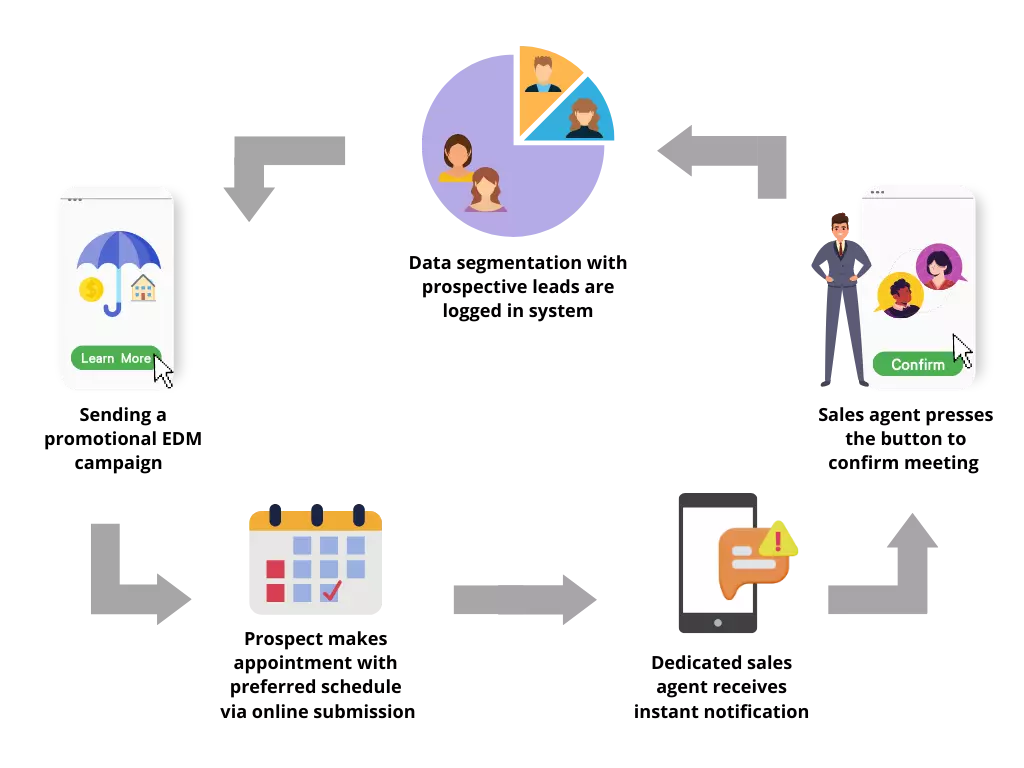 How Insurance businesses can use marketing automation to increase sales agents' productivity and lead conversion 
Increase Conversion Rate Via
Auto Trigger Abandon Cart Notification
Emails are sent to customers who have added products to their cart but failed to check out. It's a remarkably effective customer retention tactic. In fact, a recent report reveals that businesses use cart recovery emails earn back 3%–14% of lost sales.
Welcome new clients at on-boarding
The beginning of a new workplace can be overwhelming, it makes the first few days of work a breeze.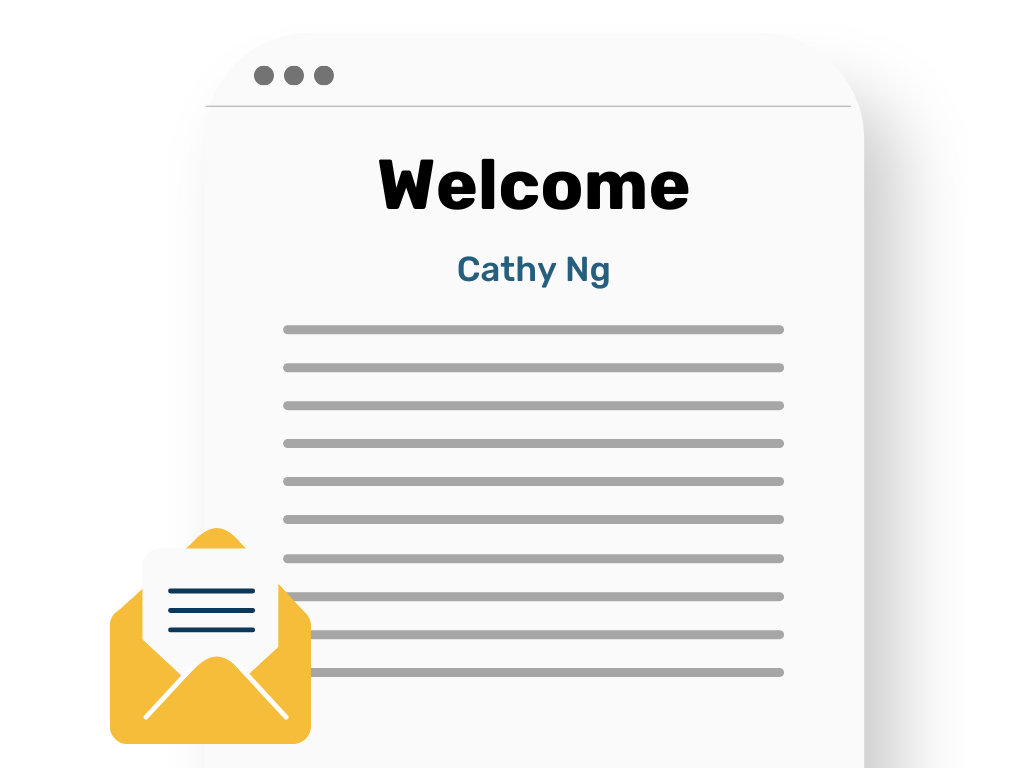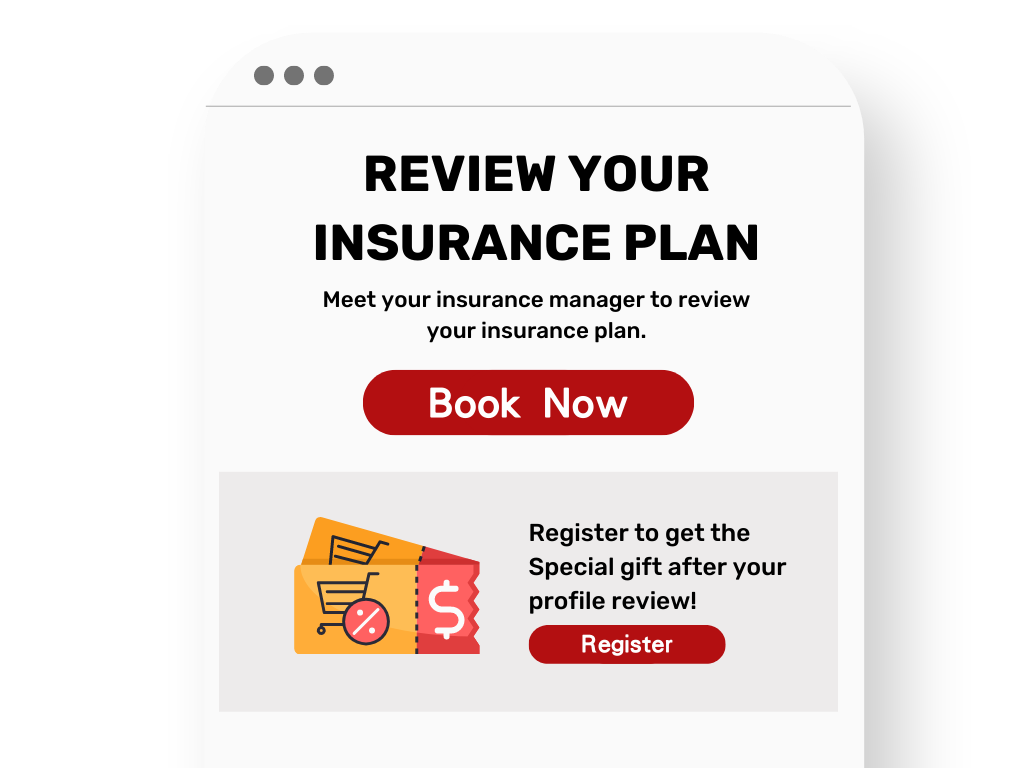 Create the best moment for upsell and cross sell opportunity
Timing matters in insurance customer lifecycle. It is nice to engage with you clients on their birthday or anniversary, portfolio review among the comprehensive customer relationship journey. We can use special offer or gift as incentives to attract prospects to arrange a meeting with insurance agents.
Engage prospect before renewal
Early prediction on possible customer churn by using big data analysis. Make prompt action and provide different incentives to attract customer for renewal, which leads to a higher customer retention rate.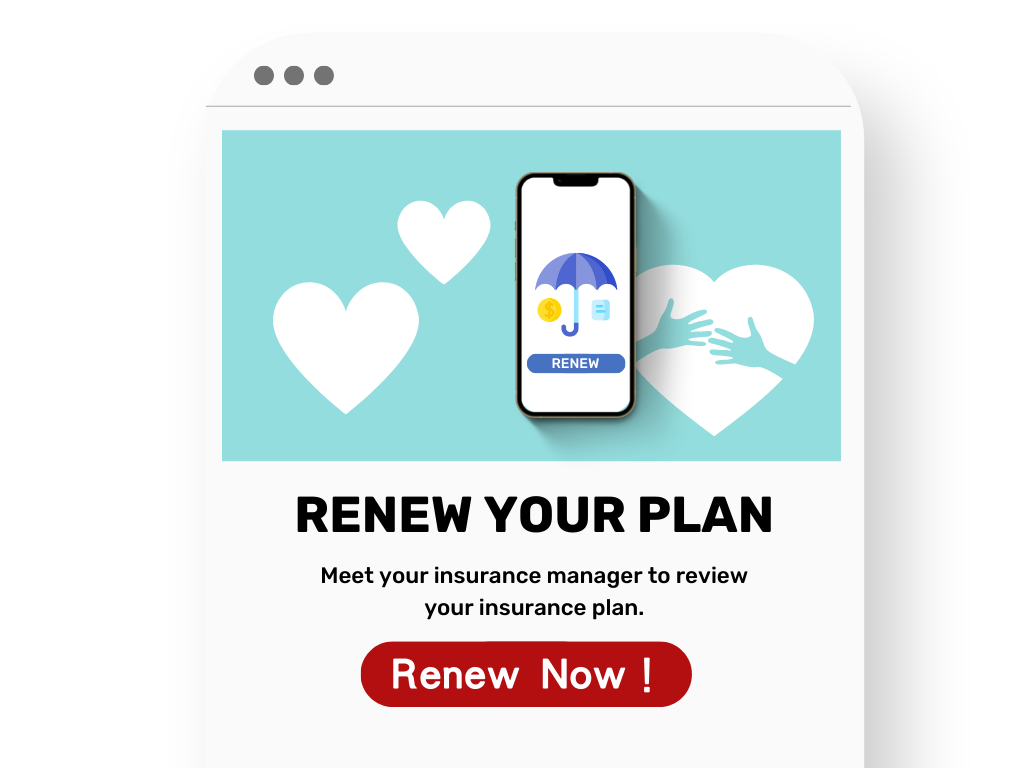 Keep in touch with your customers through Omni-Channel
Maximize its impact with marketing automation and drive leads into sales. Create loyal customer relationships with smart and effective way – marketing automation.
Instant 1:1 WhatsApp Conversation
You clients can easily contact their agent by one click to the button. It is always important to simplify the way to initiate a conversation for your customers, which leads to a higher engagement and conversion rate.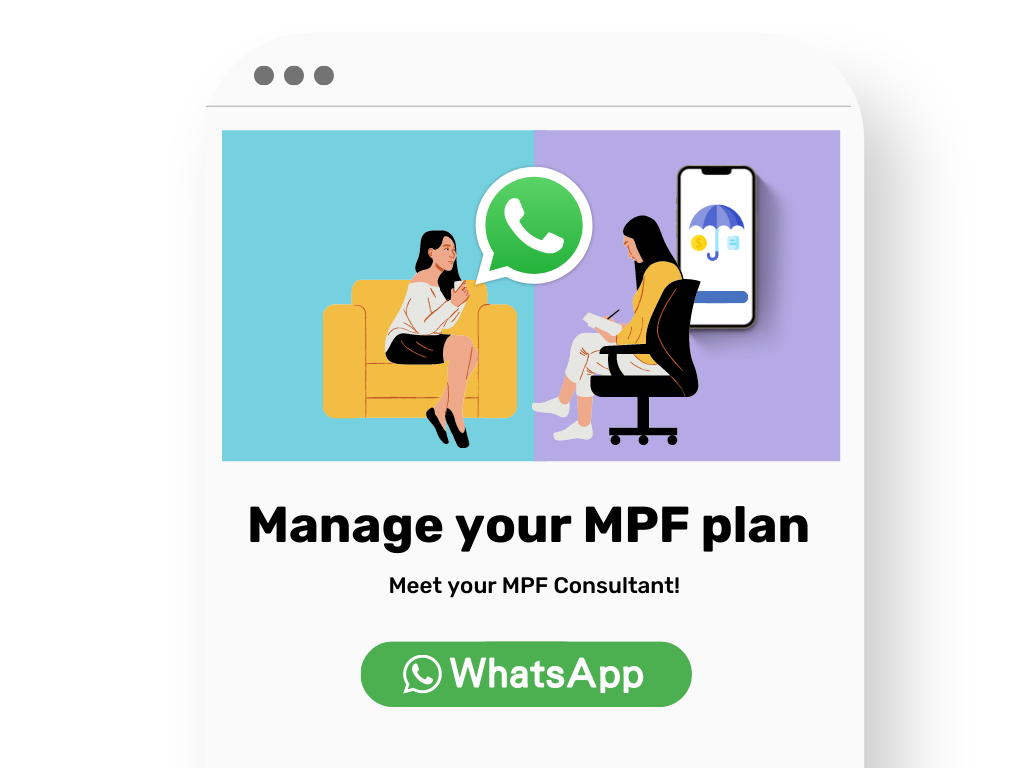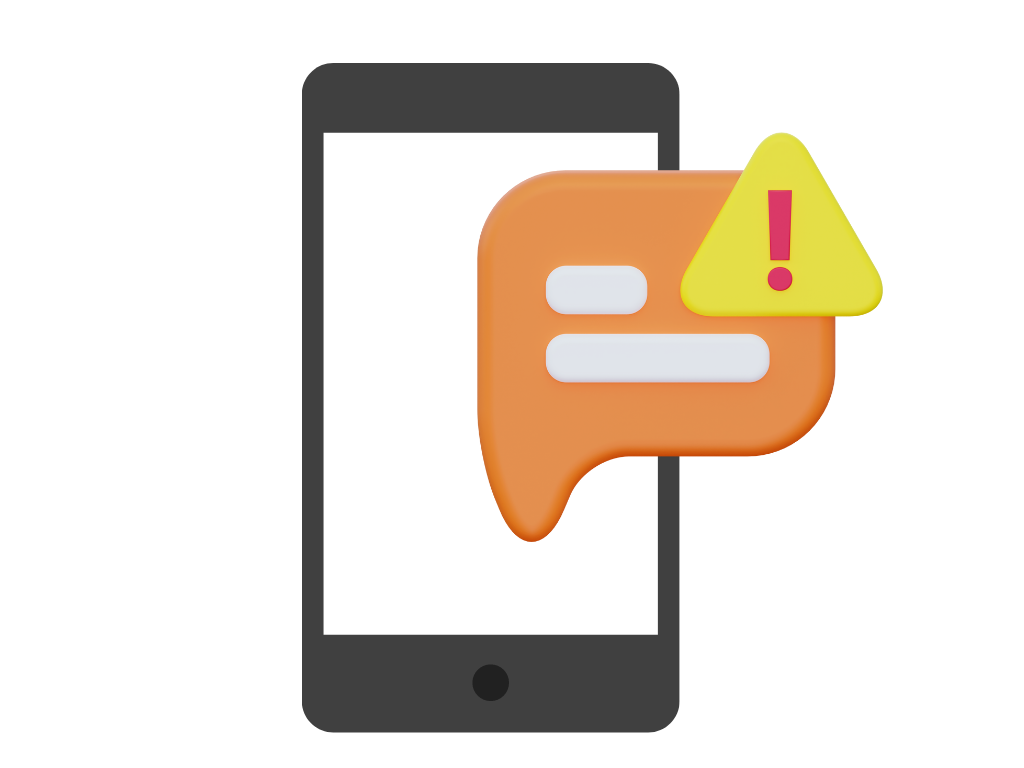 SMS Alert for Policy Amendment
It is common to see policy changes in insurance business that provides a quick and secure channel to inform your client and avoid any misunderstandings.
Create Decent Insurance Email Marketing Templates with a few clicks
Saving 80%+ of time cost in designing EDM.
Create beautiful, personalized EDM easily with RADICA's drag and drop email builder. If you want any element to appear in your template, simply drag it from the right side of the screen into the work area.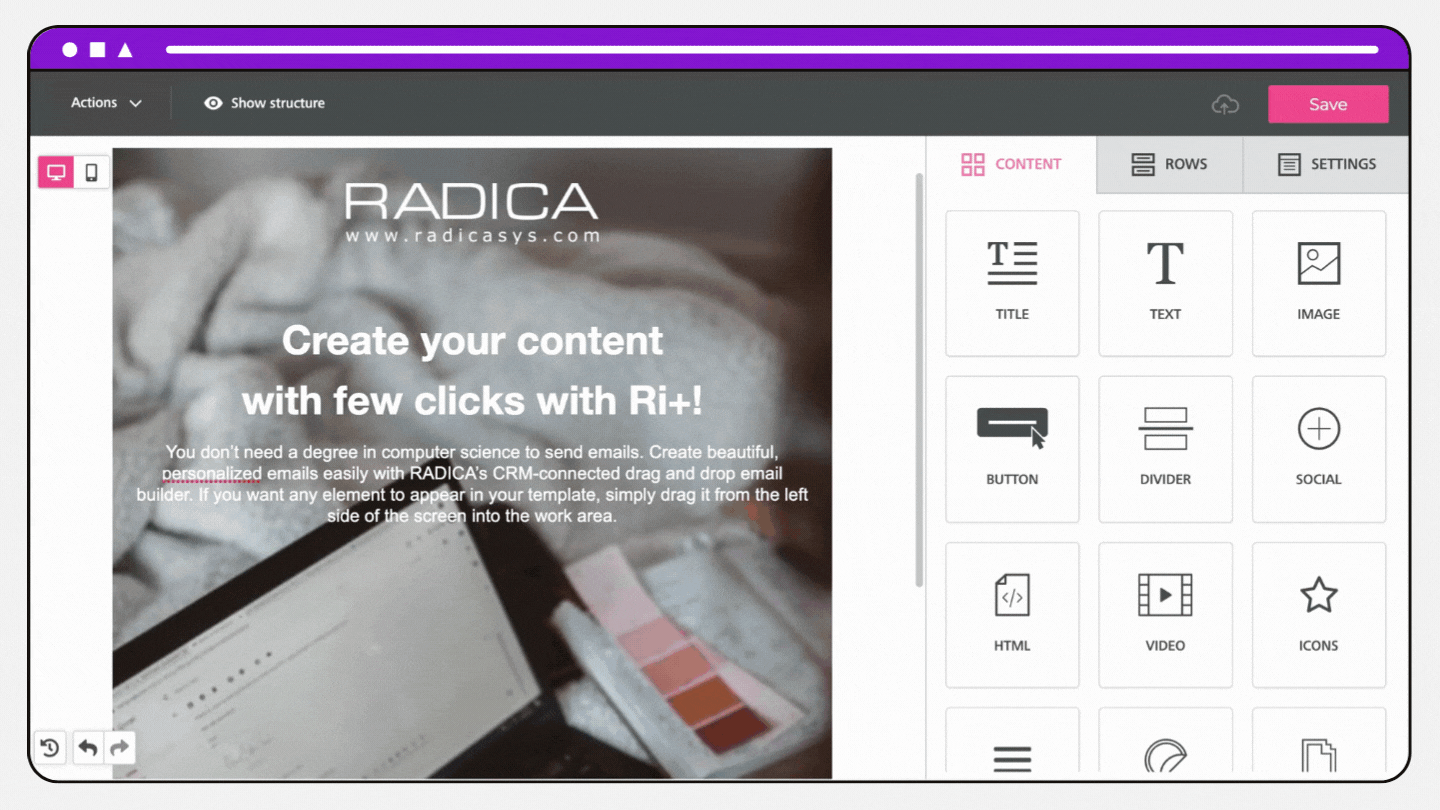 RADICA's platform provide real time tracking on your marketing campaigns. You can closely monitor the result and make instant amendment to target audience, which makes you a leading figure in industry sector.
You will be able to see:
Delivered rate

Unique Clicks Rate
Reply Rate
Unsubscribed rate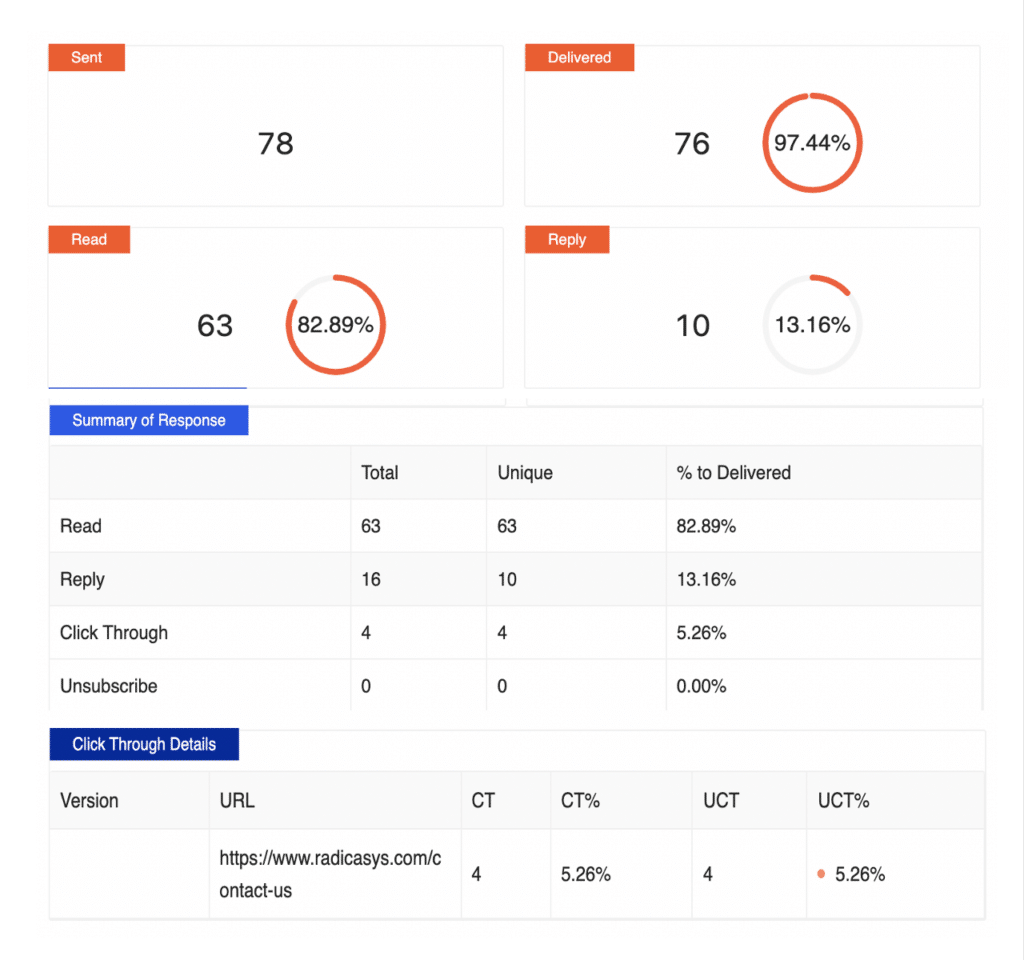 Complete Your Digital Marketing and CRM Customer Engagement Strategy
Engage your customer with fully personalized email, which makes great impact on increasing open rate and click through rate. Learn how to deliver the right message at the right moment with our schedule feature.
Save time and boost campaign performance to optimize entire customer experience by automating your segmentation and marketing messages across omni-channels.
Step up your transactional emails with on-brand designs and reliable deliverability with guaranteed inbox rate over 90%.
Get a Free Personalized Demo
Learn how RADICA platform can help grow your business with consultation