The most modern way to reach you audience. 
Unleash the possibility with WhatsApp Business API.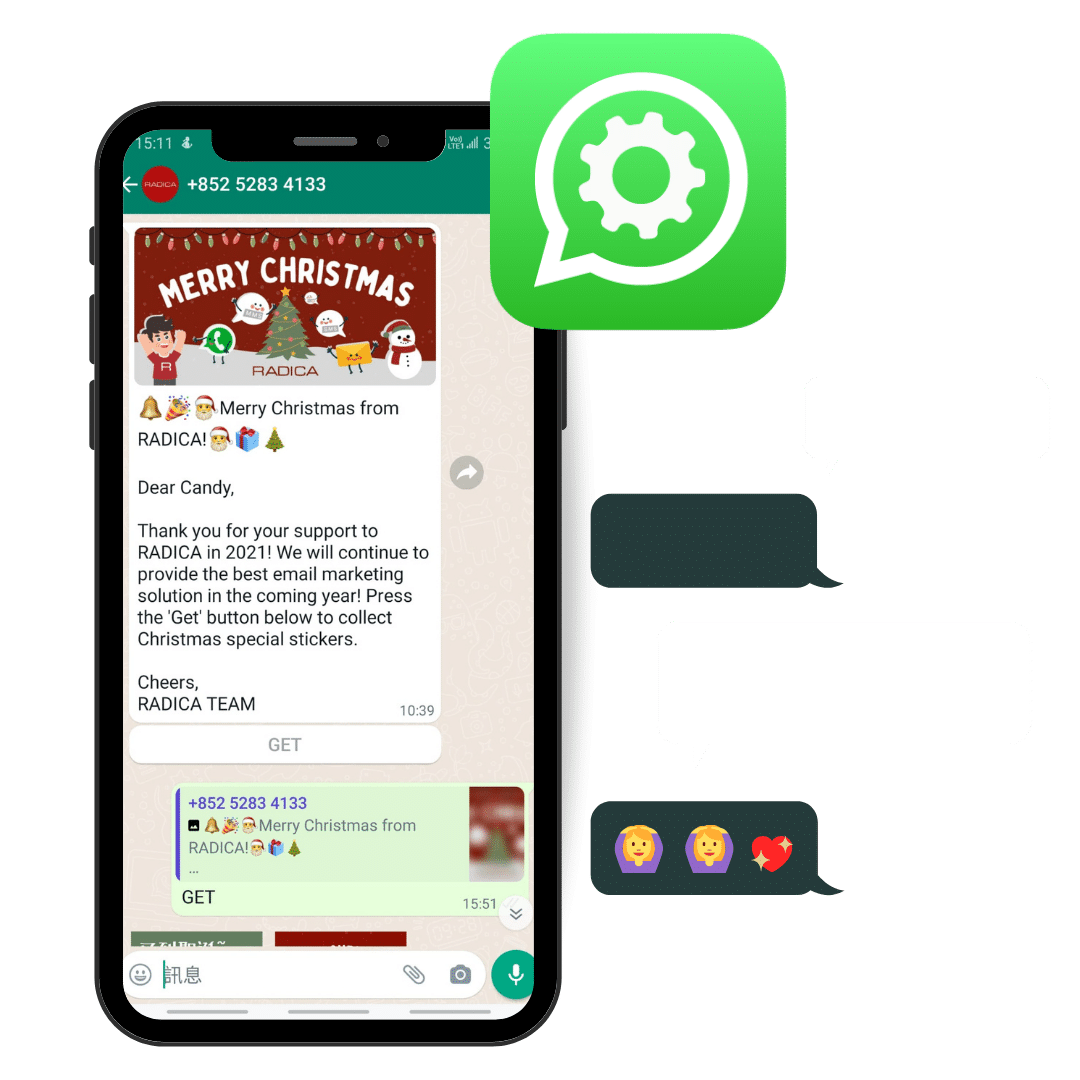 What is WhatsApp Business API?
Over 1.6 billion people are using WhatsApp every day.
But do you really know who is the king of WhatsApp?
For medium and large businesses, using WhatsApp Business API to connect users, brands & companies can enjoy team collaboration on both sales and customer service, as well as automatic reply like chatbot features.
Building a wonderful customer experience to your users on WhatsApp.
WhatsApp Business Official Account
Cross-device synchronization from cloud storage
Apply through Official WhatsApp Business API Providers
To use WhatsApp Business API
Connect it through Third-Party Solution
Since users cannot download WhatsApp Business API from App Store or Google Play. Instead, you have to connect the API through a WhatsApp Business API provider. 
Broadcast WhatsApp Promotion Messages
WhatsApp broadcast refers to sending a signal or message from a single source to multiple destinations at an instant of time.  With our service, you can schedule and send broadcast WhatsApp promotion message in one click, such as event notifications and arrival notifications.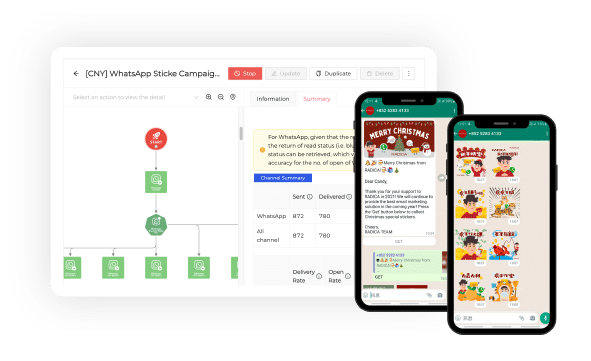 WhatsApp API
Message Templates vs Session Messages
WhatsApp API allows you to interact with your customers in two ways:
These are responses from your business to a customer, when a customer initiates a conversation with your business on WhatsApp.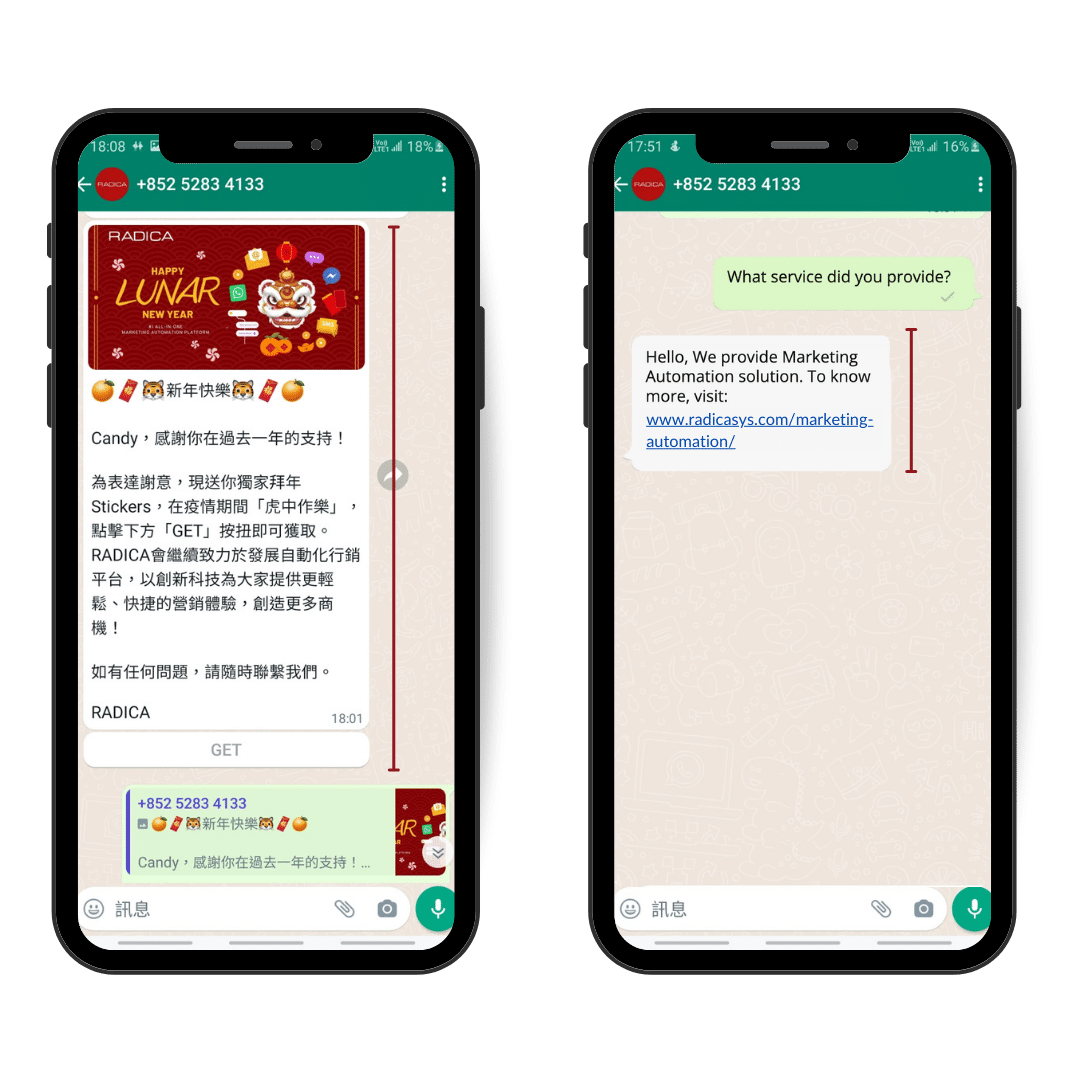 These are templated outbound messages you send to customers, that require customer opt-in.
Who initiates the conversation?
Do customers need to opt-in?
What type of content can you use?
Only pre-approved message templates
WhatsApp Template Message
One click and customizable template. Draft your WhatsApp message in seconds.
Start Your WhatsApp Broadcast Now
Get in touch with us to help you start automating your business and increasing sales!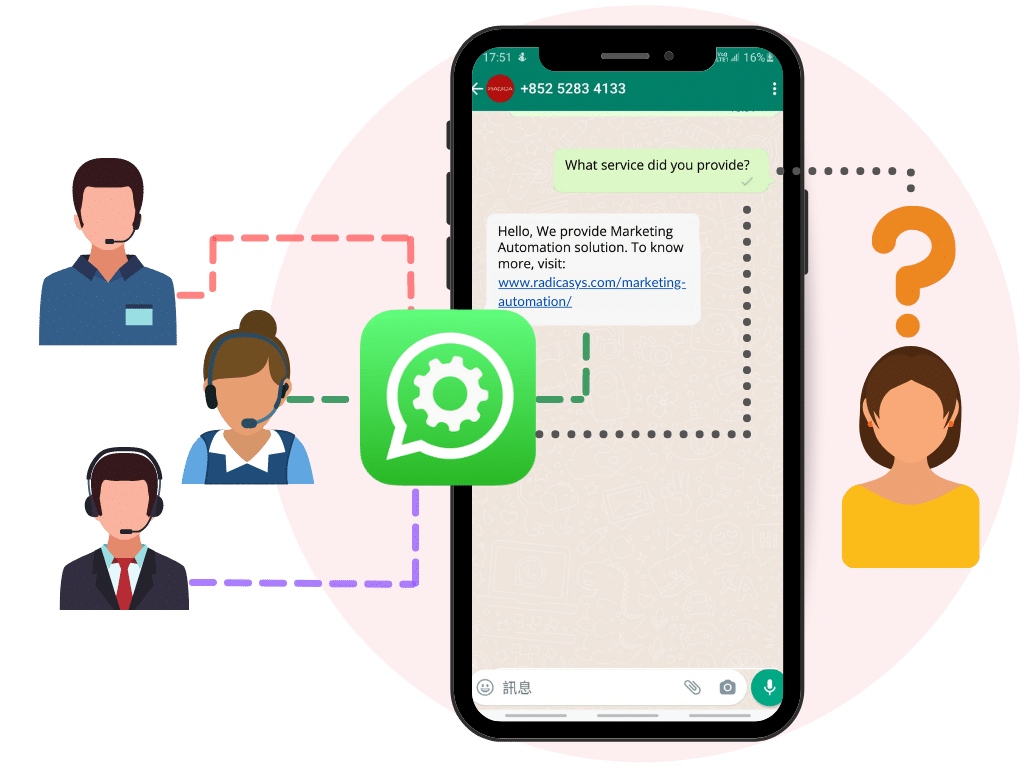 WhatsApp for Business for Team Collaboration
With conversational marketing tool from RADICA, all team members share a single Official WhatsApp Business API account to chat with customers
Sending WhatsApp Stickers
Unlike other platforms, broadcast message is not only limited in sending text and ordinary images. You are now able to engage with your subscribers by sending your own customized WhatsApp stickers and create brand exposure in public sight.
A. Form Trigger: By scanning the QR code, Audience will be directed to the form.
B. Contact list Trigger: By importing a contact list to our platform, the journey will be automatically started.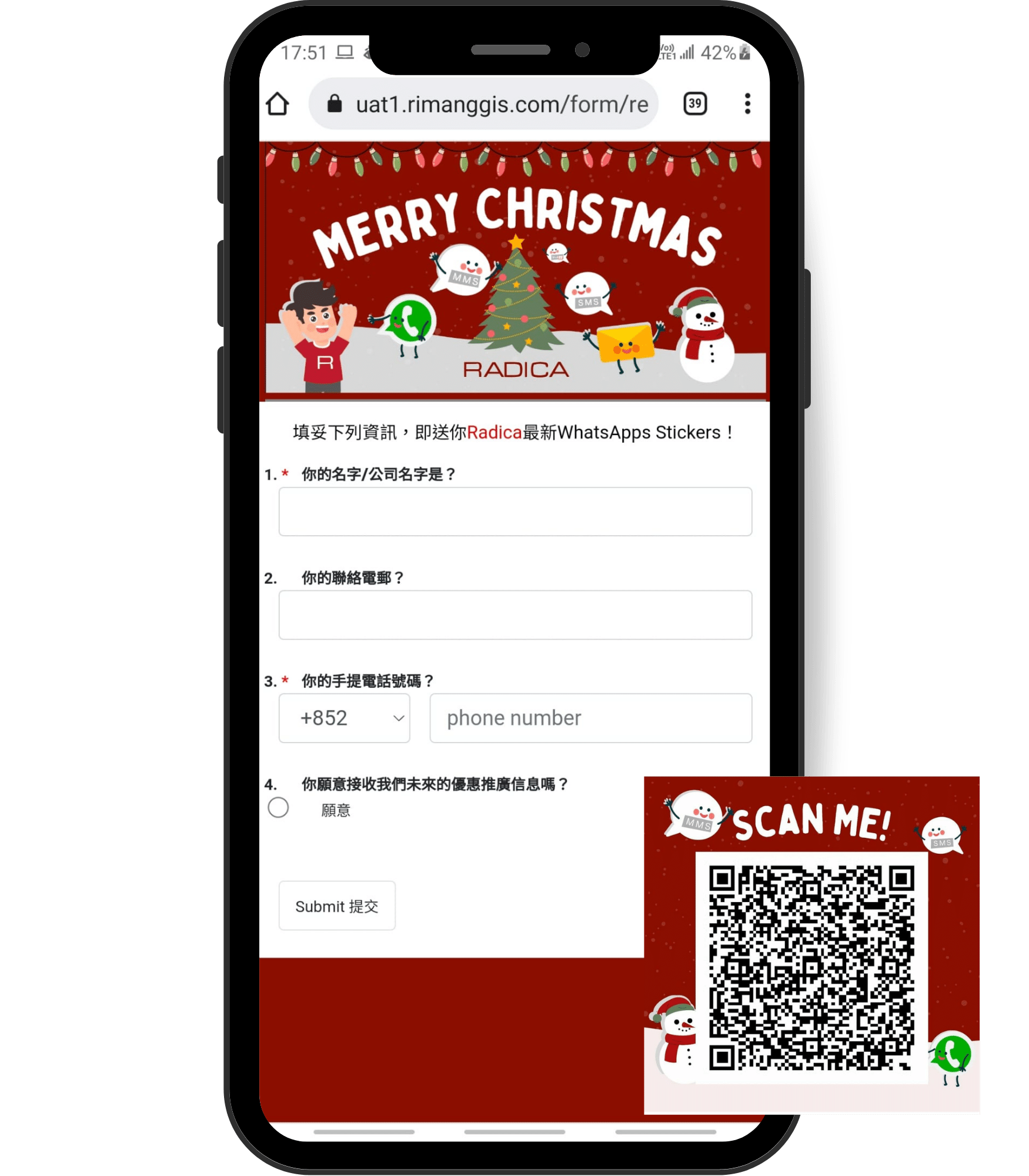 After Submission, audience will receive a message with "GET" button.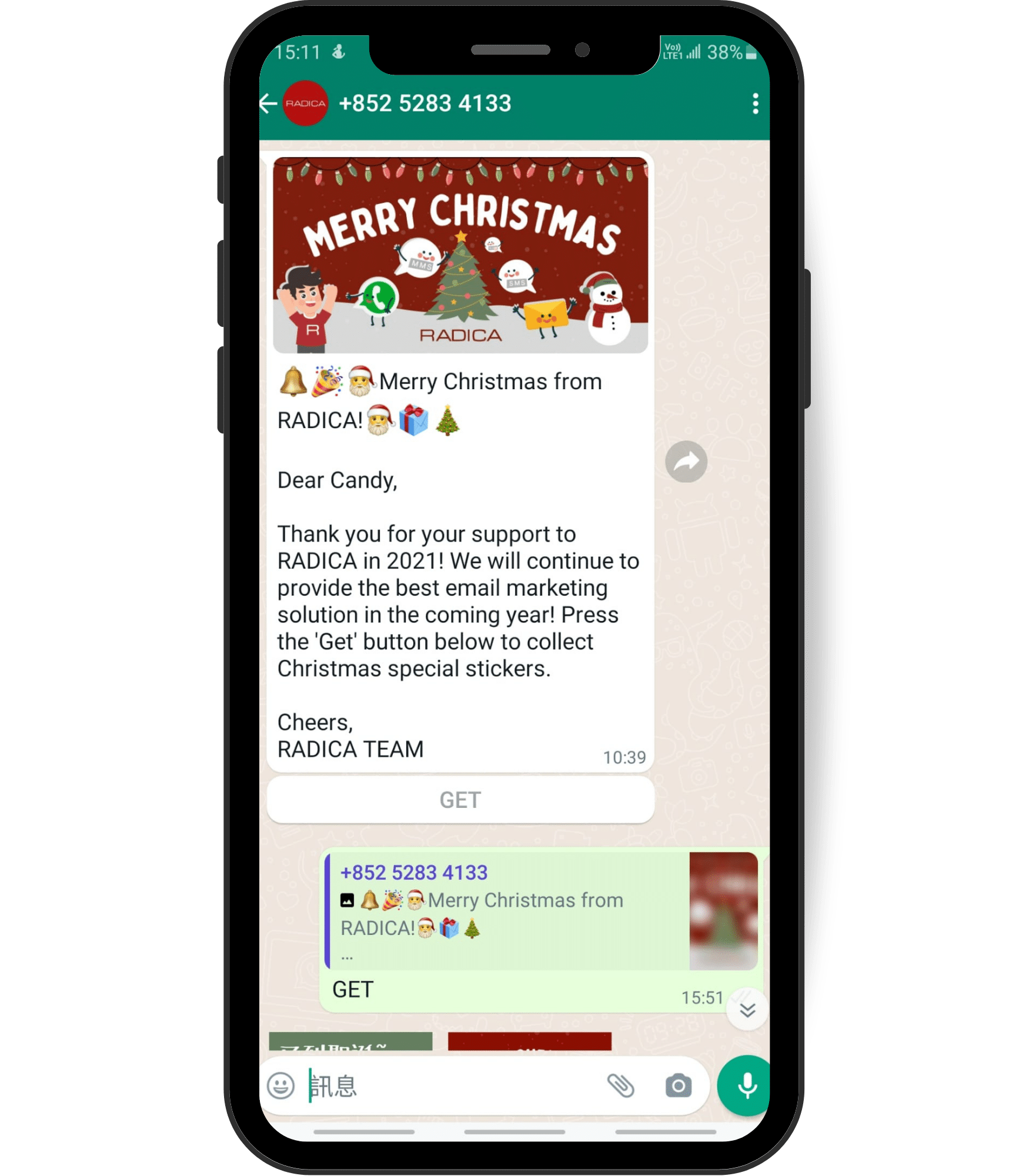 When audience clicks the button, the system will send stickers automatically.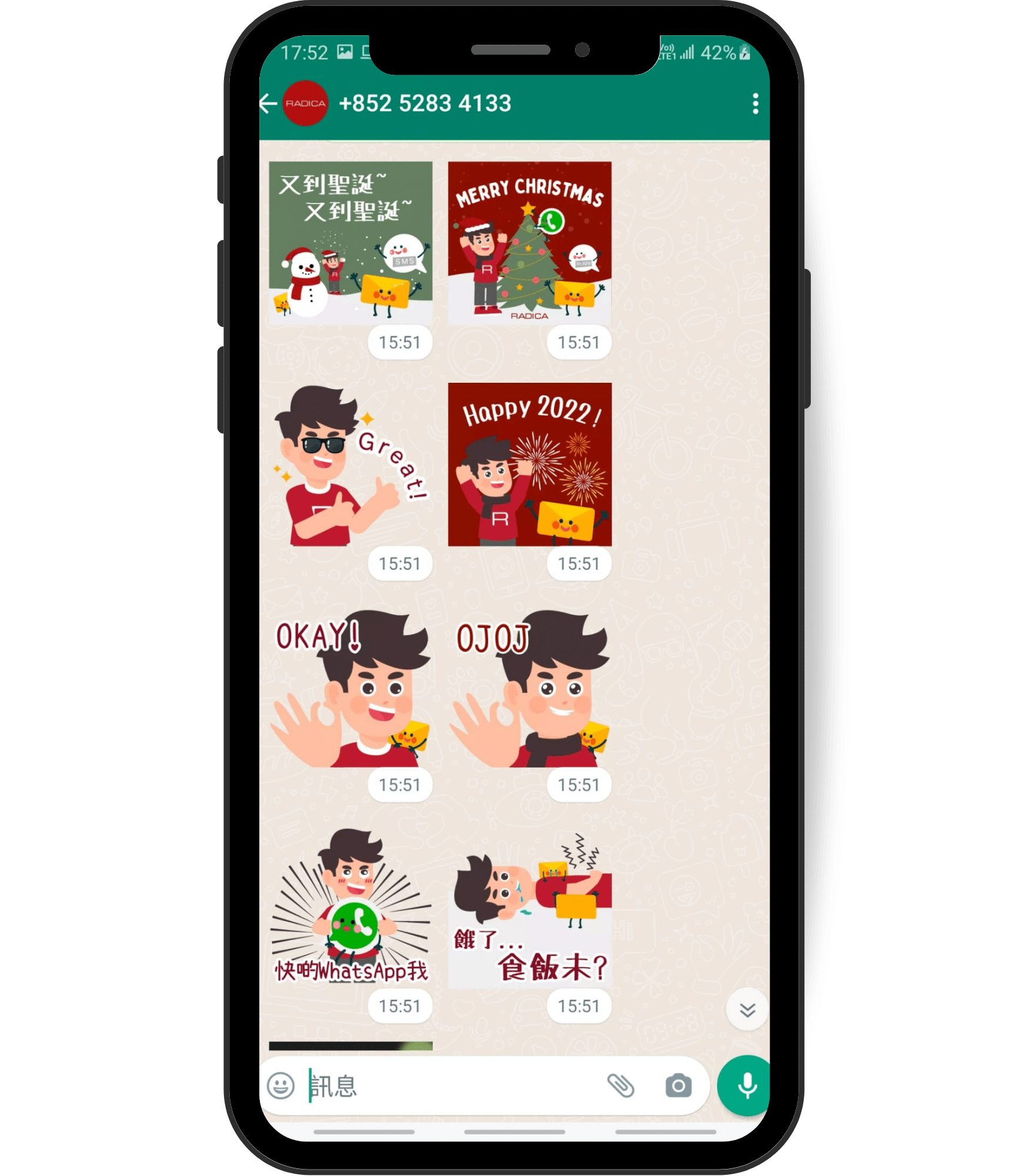 Complete Your Digital Marketing and CRM Customer Engagement Strategy
Save time and boost campaign performance to optimize entire customer experience by automating your segmentation and marketing messages across omni-channels.
The fastest way to send important messages to your audience. Instant notifications with no delay, 90% of messages read in the first three minutes and analyse your campaigns with real-time data captured directly from your customer's mobile devices.
Get a Free Personalized Demo
Learn how RADICA platform can help grow your business with consultation