Awards | More Than Marketing Automation
"It is our honor to be recognized in the
e-marketing industry over the years."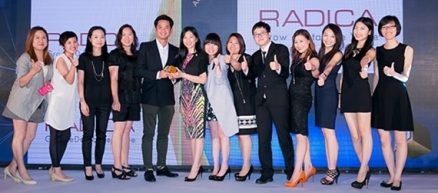 Gold Award and Local Hero Award of the Direct Marketing Agency
RADICA won the Gold Award and Local Hero Award of the Direct Marketing Agency of the Year 2014 issued by Marketing Magazine. Credits to our team for their hard work and to our clients and partners for their constant support.
Best Marketing Solution Provider Award
RADICA received the Best Marketing Solution Provider Award presented by CDMC in China Retail Focus in 2014. This prestigious award recognized RADICA as the marketing solution leader in the retail industry of China.
GOLD Award of ROI Festival
RADICA received the Gold Award of ROI Festival in Solution Provider category presented by Asia CC in 2013. It has proven that RADICA – the marketing solution leader can help the customers from all kinds of industries to gain the highest ROI.
AD100 Top Men of Online Advertising in China
RADICA's CEO Francis Kwok received AD100 TOP Men Award presented by Adworld 2010 China due to his great contributions. Adworld has become the largest annual event and served as an open idea exchange platform for online advertisers and digital marketers in Mainland China.
RADICA received the Adworld Top Tech Award in 2010, which makes us to be the only Hong Kong company who won the award after rounds of voting and strict screening process. It also represents that Hong Kong technology is well recognized and accepted by the Mainland China community.