Automation is your best CRM customer engagement solution partner without absent.
Easy setup – Get started in minutes!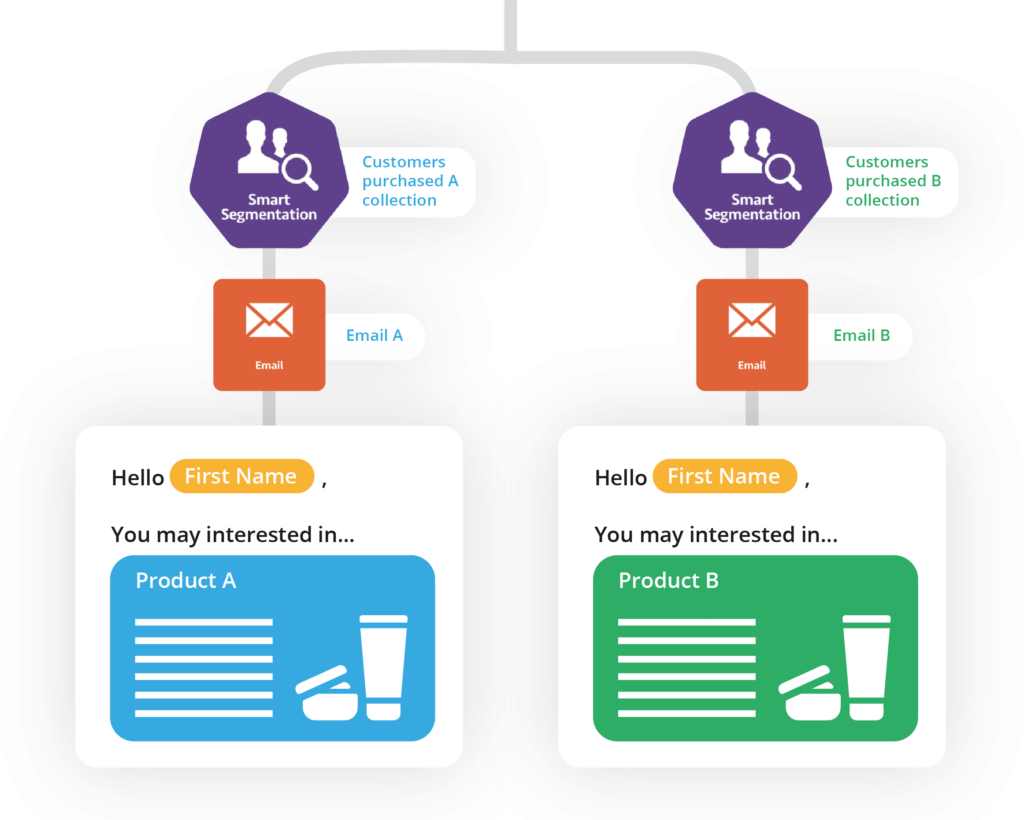 Marketing automation takes care of details
so you can achieve on the goals you target
Customer Journey Automation
Visualize your customer's experience and craft it according to your business goals, which guides your customers toward conversion.
Tailor email content based on customer preferences, leading to higher engagement, sales, and loyalty.
Personalize and fully automate an experience that adapts to customer interactions and increases purchase opportunities. ​
Provide your customers with a consistent, personalized experience by reaching them on their preferred messaging
channels
, while improving your reach and conversions.
Test to see which channel, incentive, or subject line drives you most conversions and make data-driven decisions to improve your workflows.
RADICA integrates with different apps, including CRM software, landing pages, content management systems like WordPress, and ecommerce stores Shopify. ​
Data Tracking and Reporting
Deep-dive into each workflow's performance to compare different channels and track the customers who converted. ​
Local and Greater China Support
Guarantee over 90% of deliverability in Hong Kong and China, our clients can rely on real-person support to ensure their campaigns are optimized for success.
Marketing Automation instantly execute your imagination into game-changing workflows
Nearly everything is automatable. From welcome email to year-end product recommendation. As long as you can think up a great idea, our campaign automation tool can execute you CRM strategies with absolute accuracy and precision.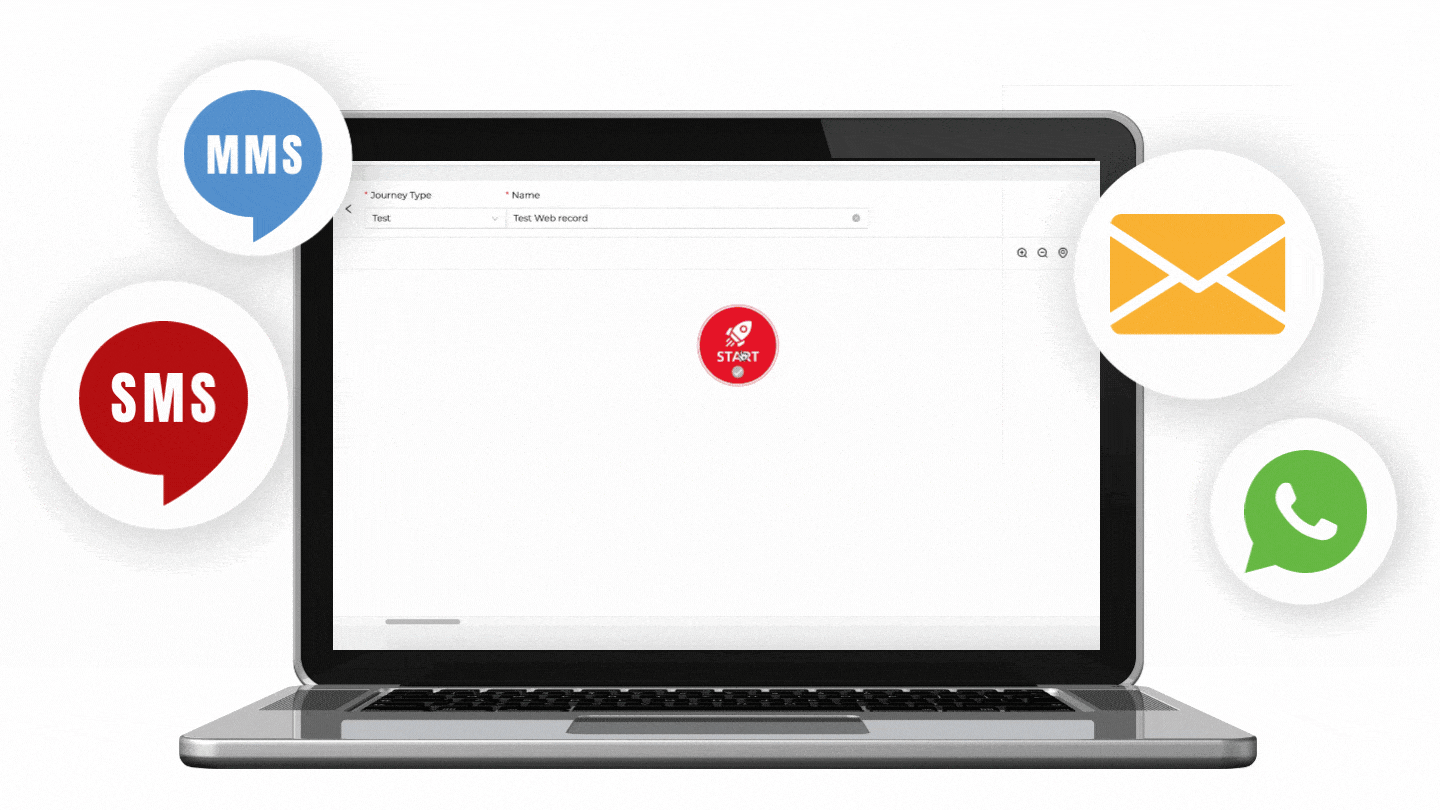 Marketing Automation
with Omni-Channel Examples
New Member
Make it easy to run your marketing.
Set up a welcome series to enjoy with email automation benefits, segment your new subscribers contacts, or use simple marketing automation workflows to automate the marketing no one has time for.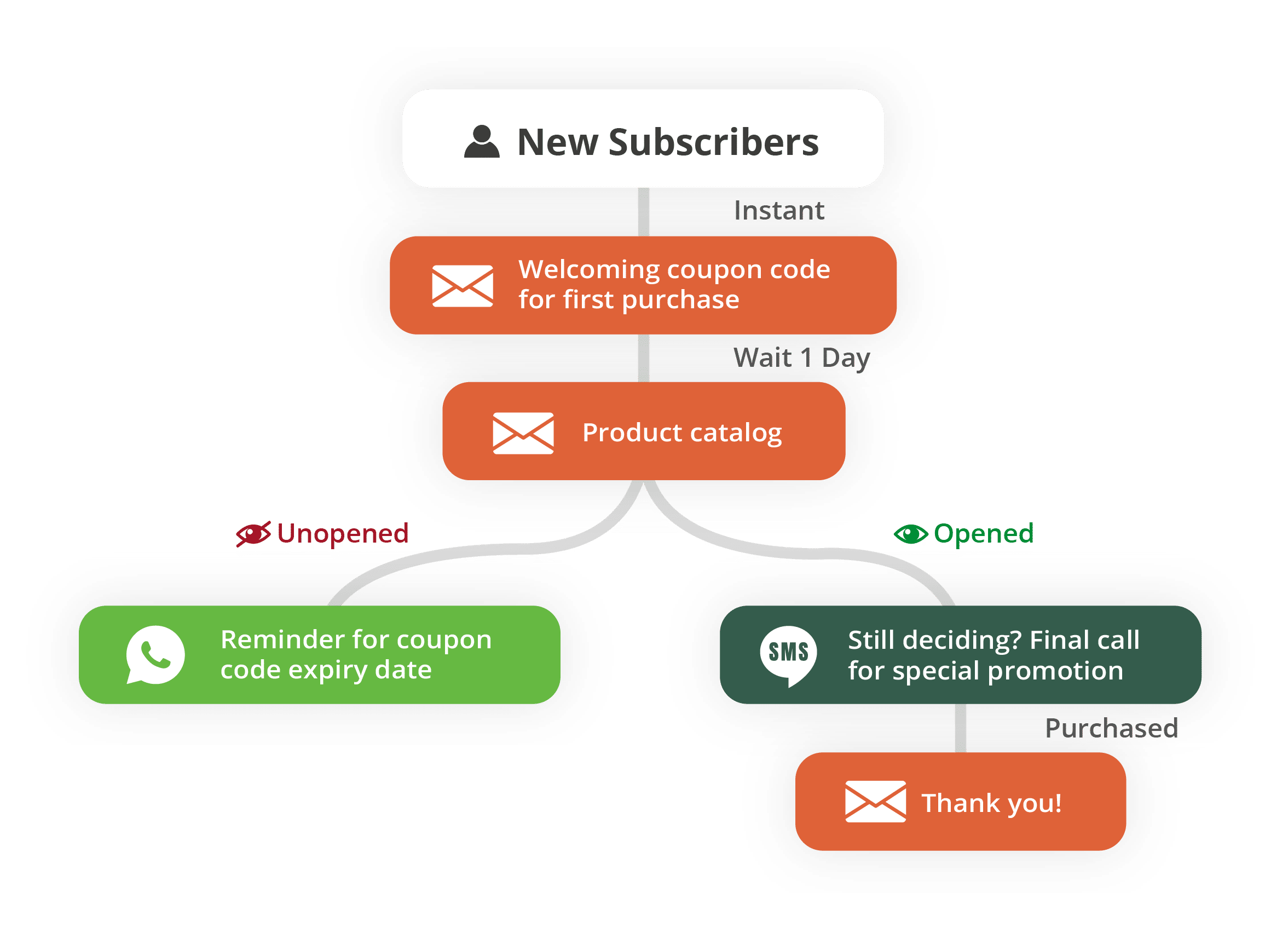 Abandoned Cart
Win back you customer now!
Abandoned cart emails are sent to customers who have added products to their cart but failed to check out. In fact, a recent report reveals that businesses using cart recovery emails earn back 3%–14% of lost sales.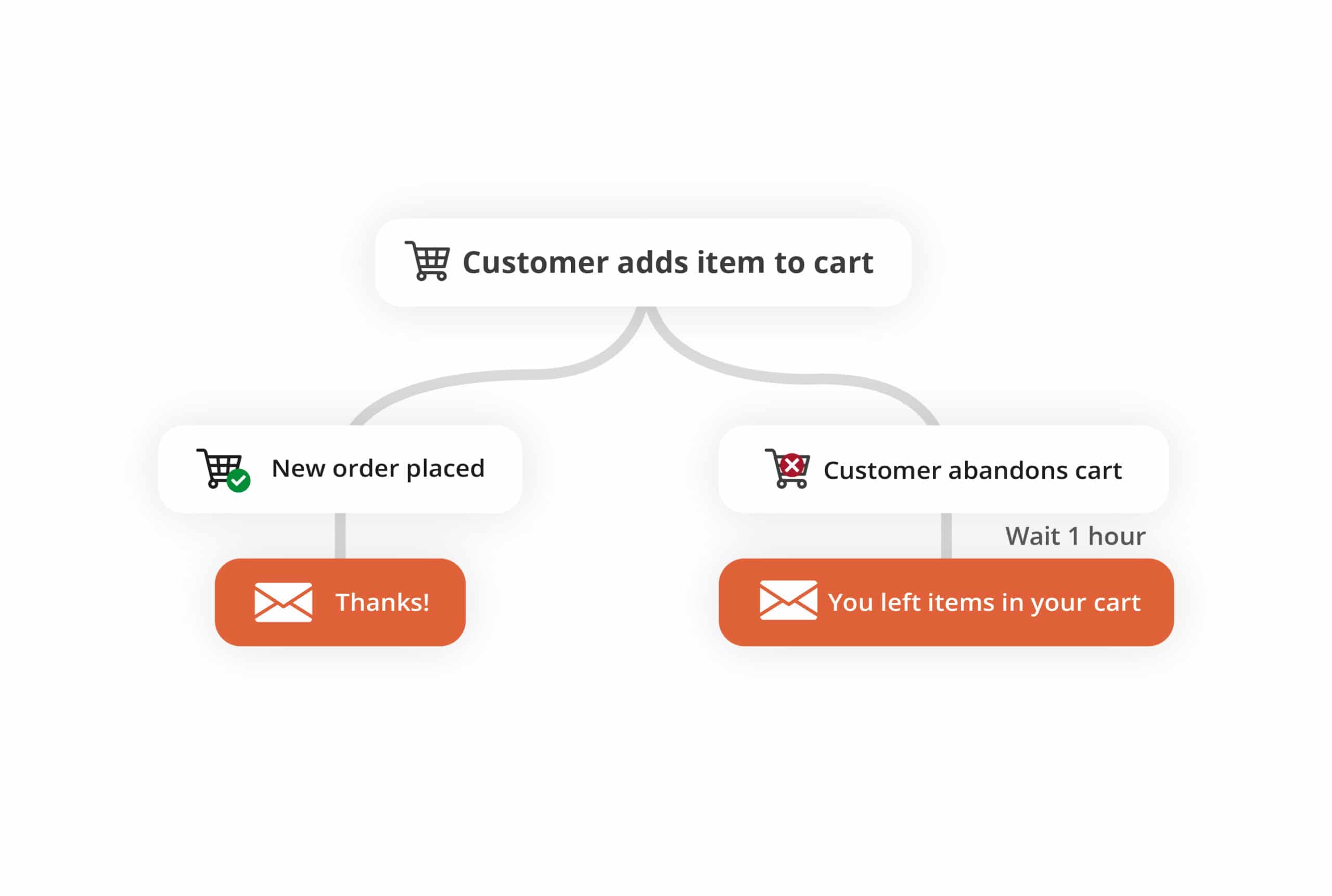 Birthday offer
Treat you customers as your closest friends!
With campaign automation tools, you can send an exclusive offer at their birthday to show you sincerity. It helps the customers to build brand loyalty toward your brand.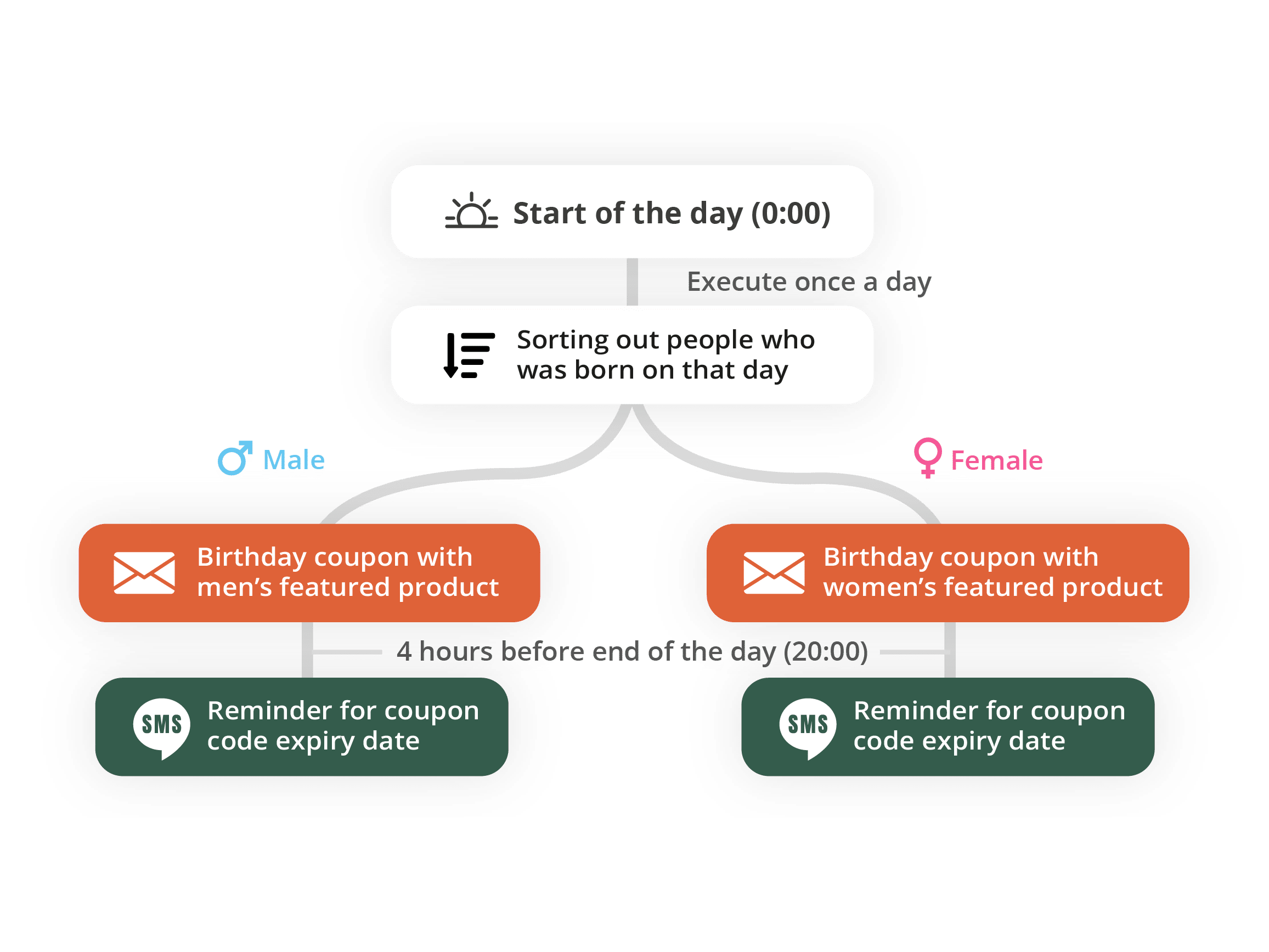 14 Days Free Trial
Too annoyed to remember the date of renewal?
Create automated reminder by digital marketing automation tools, to increase the subscription rate and earn back customers at instant.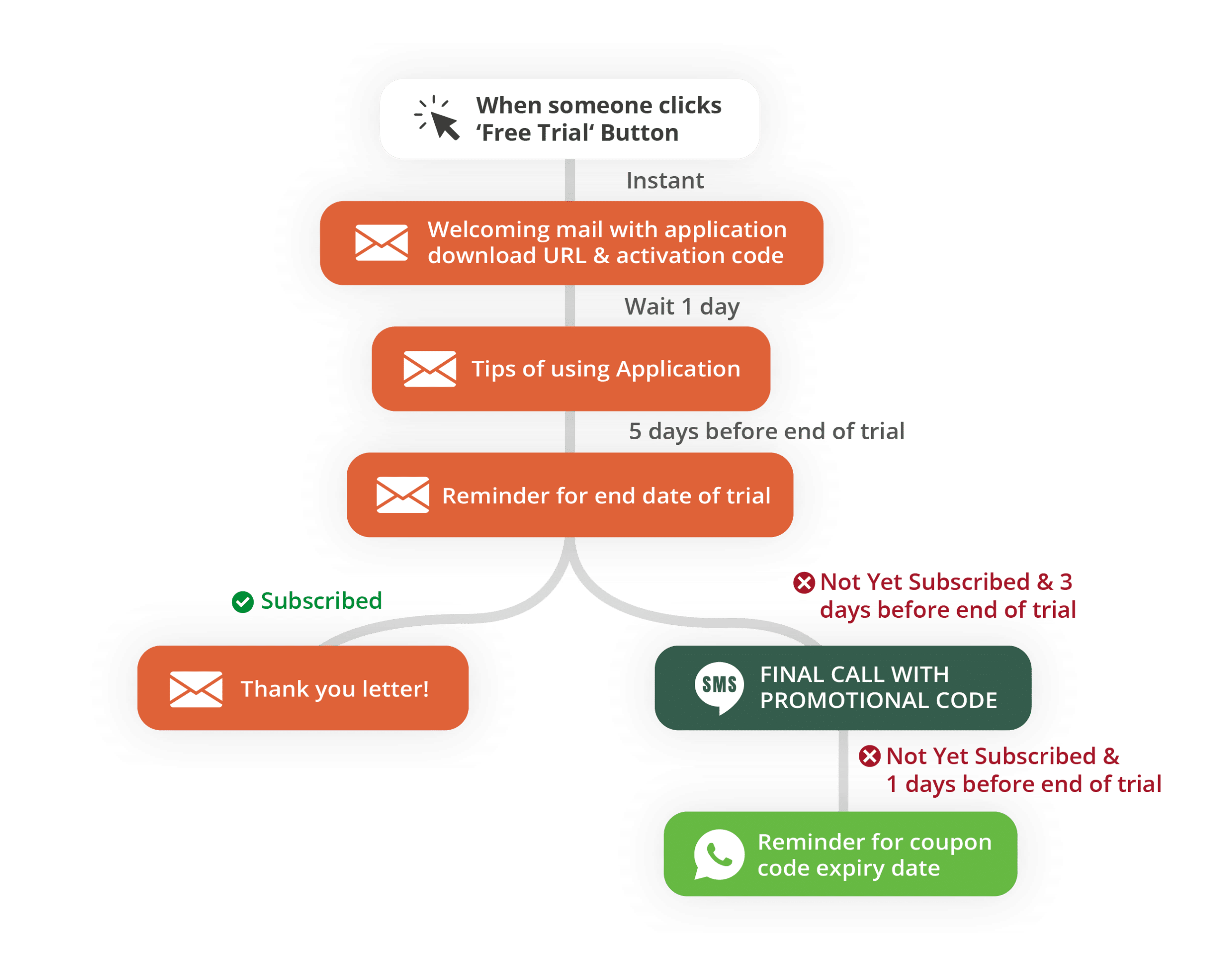 Appointment
Always forget your appointment?
Remind your customers by sending messages with marketing automation tools. After their visit, try to upsell them in order to develop a long term relationship.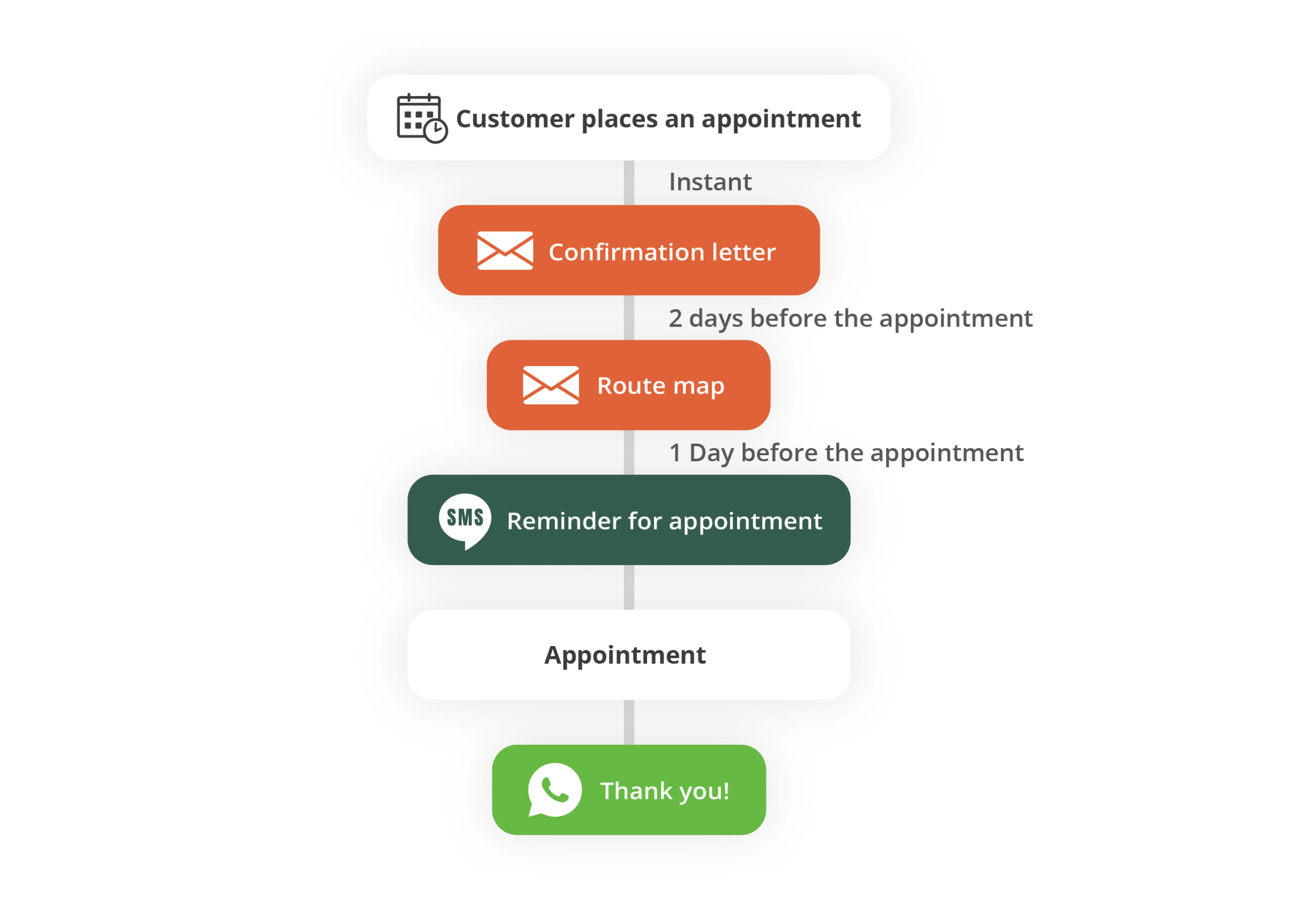 Start Using Marketing Automation Today!
Get in touch with us to help you start automating your business and increasing sales!
Automate Your Marketing for Easy,
Personalized Campaign
Automation workflow Splits
Tailor your special offers & incentives for multiple personalized messaging paths within a single workflow.
Test to see which channel, incentive, or subject line drives you most conversions–and make data-driven decisions to improve your workflows.
User-friendly
Drag-and-drop interface
You don't need a degree in computer science for using our marketing automation platform. A drag-and-drop automation builder lets you set up automated workflows in minutes.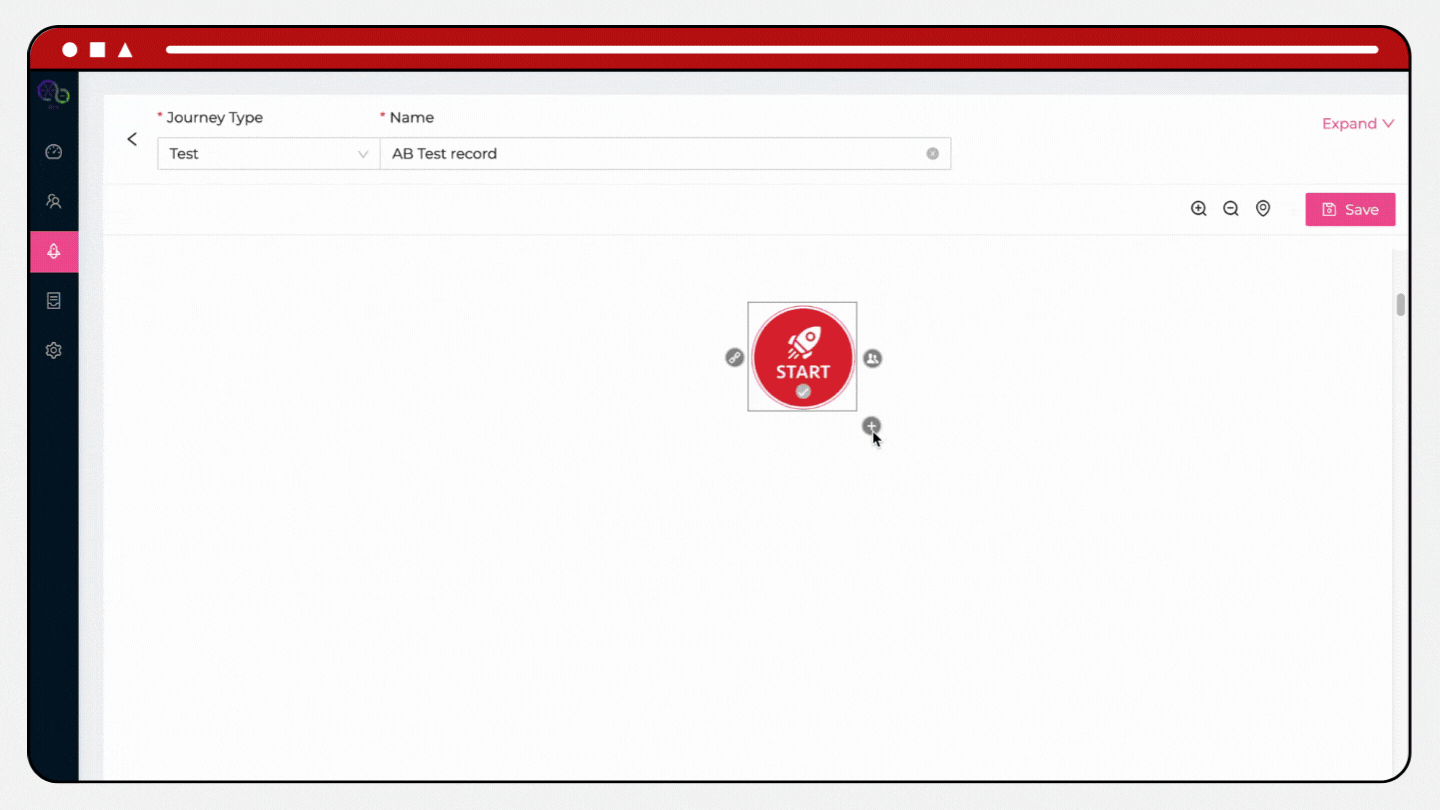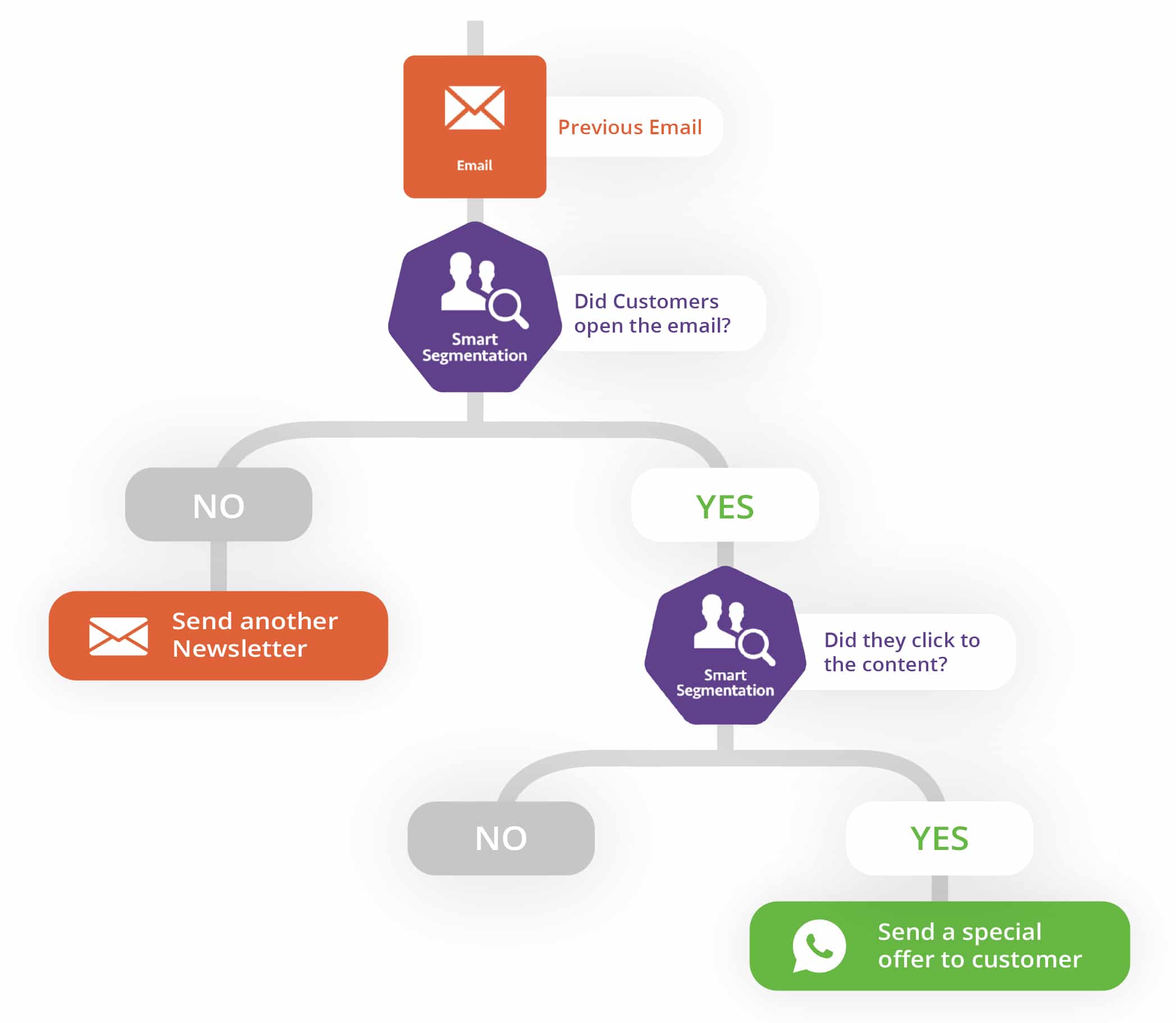 Segmentation Makes Sure the Right People Get the Right Message
Segmentation with multiple criteria lets you deliver exactly what your contacts want to see. When you automate your segments, you can send personalized follow-ups with dynamic email content, A/B test flows, and make your objectives more archivable
Behaviour Tagging For Personalised Content
It's common to see that there are multiple sections in the same campaign. By tracking the behaviour of receiver, such as open and click on a specific link, our platform can detect the actions and "behavioural tagging" to update the value of contact property in real time. It can observe the customer's interest in contact list and make use of this list to help their advertisement partner to retarget.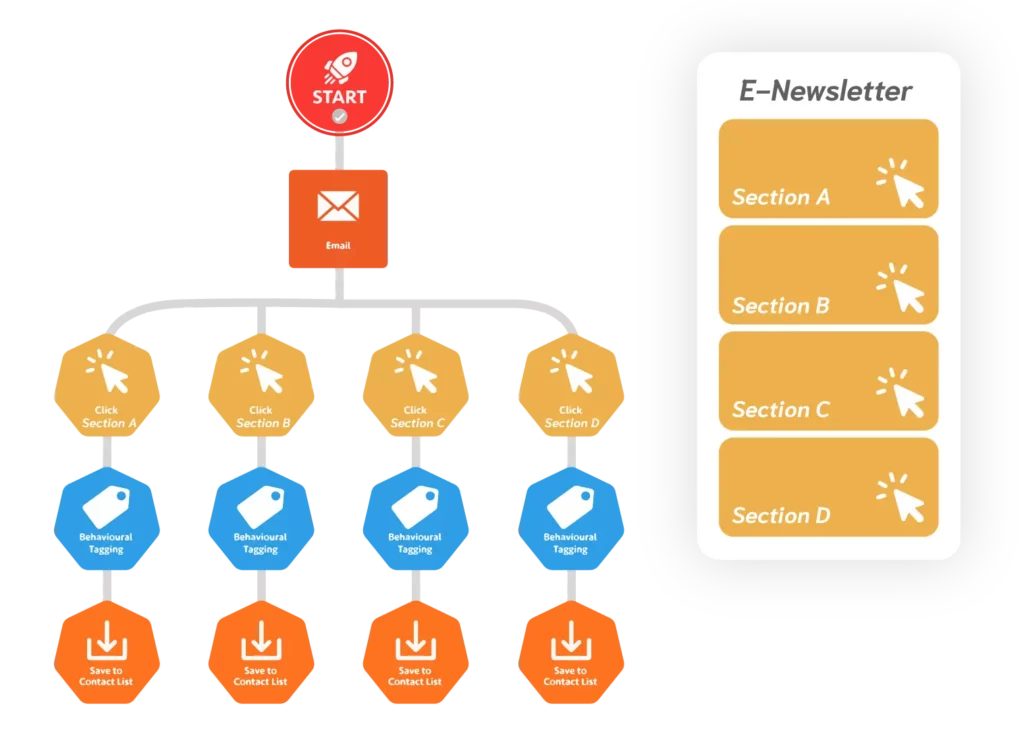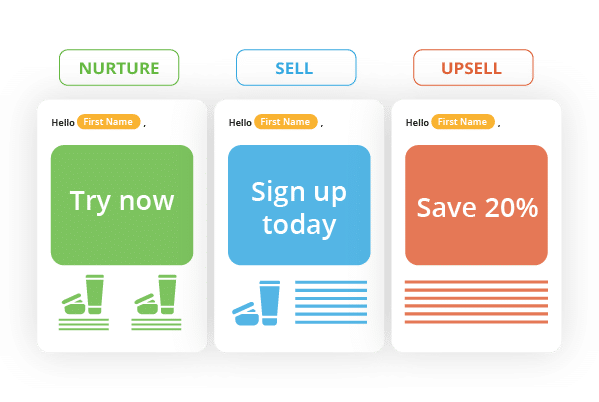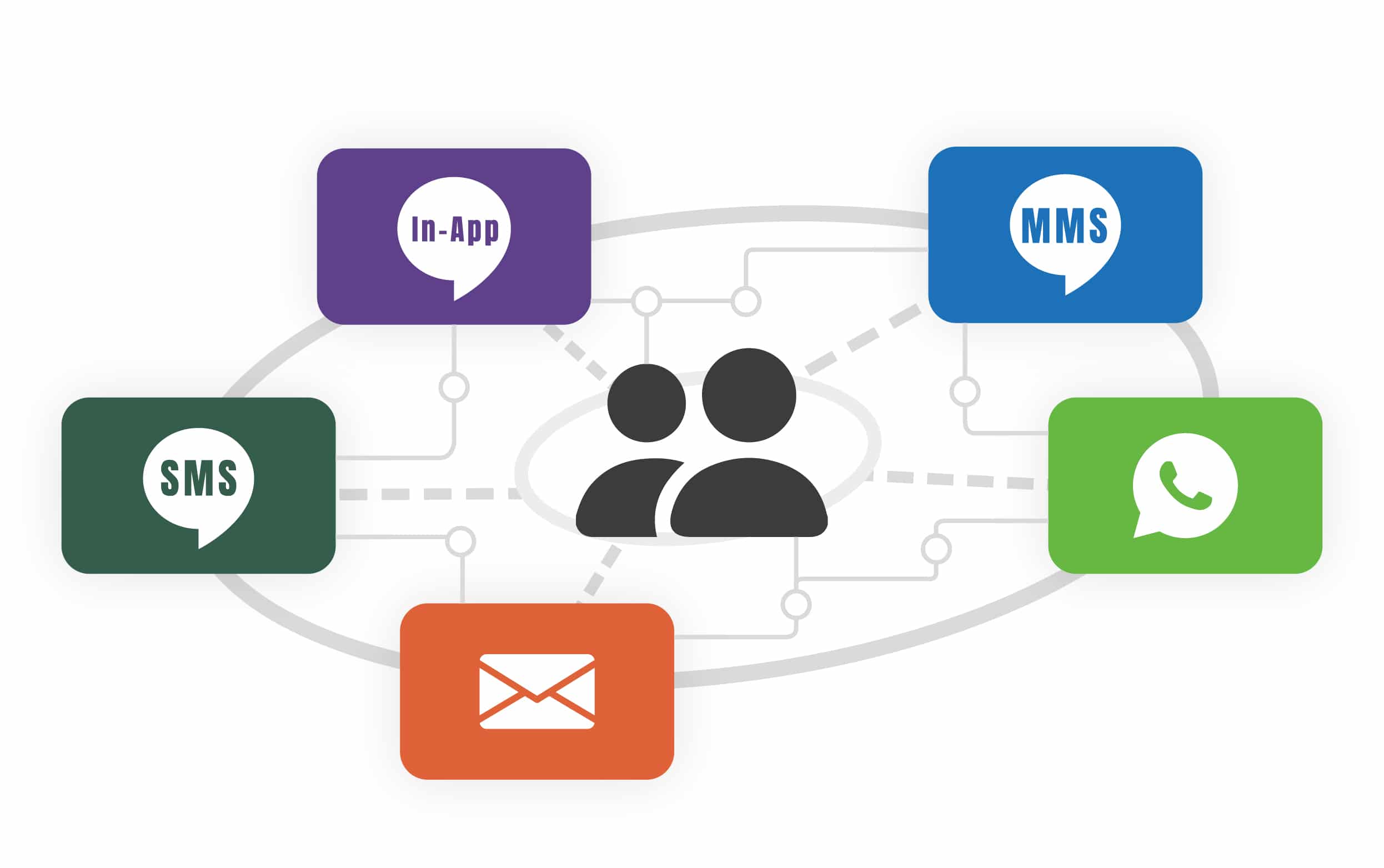 Customize Dynamic Email Messages for Each Segment
One Email Multiple Versions
Make sure your customers see the most relevant message for them, leading to higher engagement, sales, and loyalty. Swap images, copy, and CTAs based on saved customer data such as demographic information, past purchases, and engagement history.
Drive the right action from the right customers
Omni-Channels One Dynamic Message
Using data collected from subscriber lists, and past email engagements, tailor content to segments of customers and connect the entire customer journey under a unified message.
Demographic and behavioral data categorization
Email + SMS + Web Push Notification
Data-Driven Targeting Data-Proven Results
Monitoring and measuring your campaign performance is vital
to your business.
Collect data and track the journey of every single email or message that you sent
Provide a complete report including open rates, click rates, bounce rates etc.
Allow you to do simple but precise campaign analysis for further planning
Predictive analytics with machine learning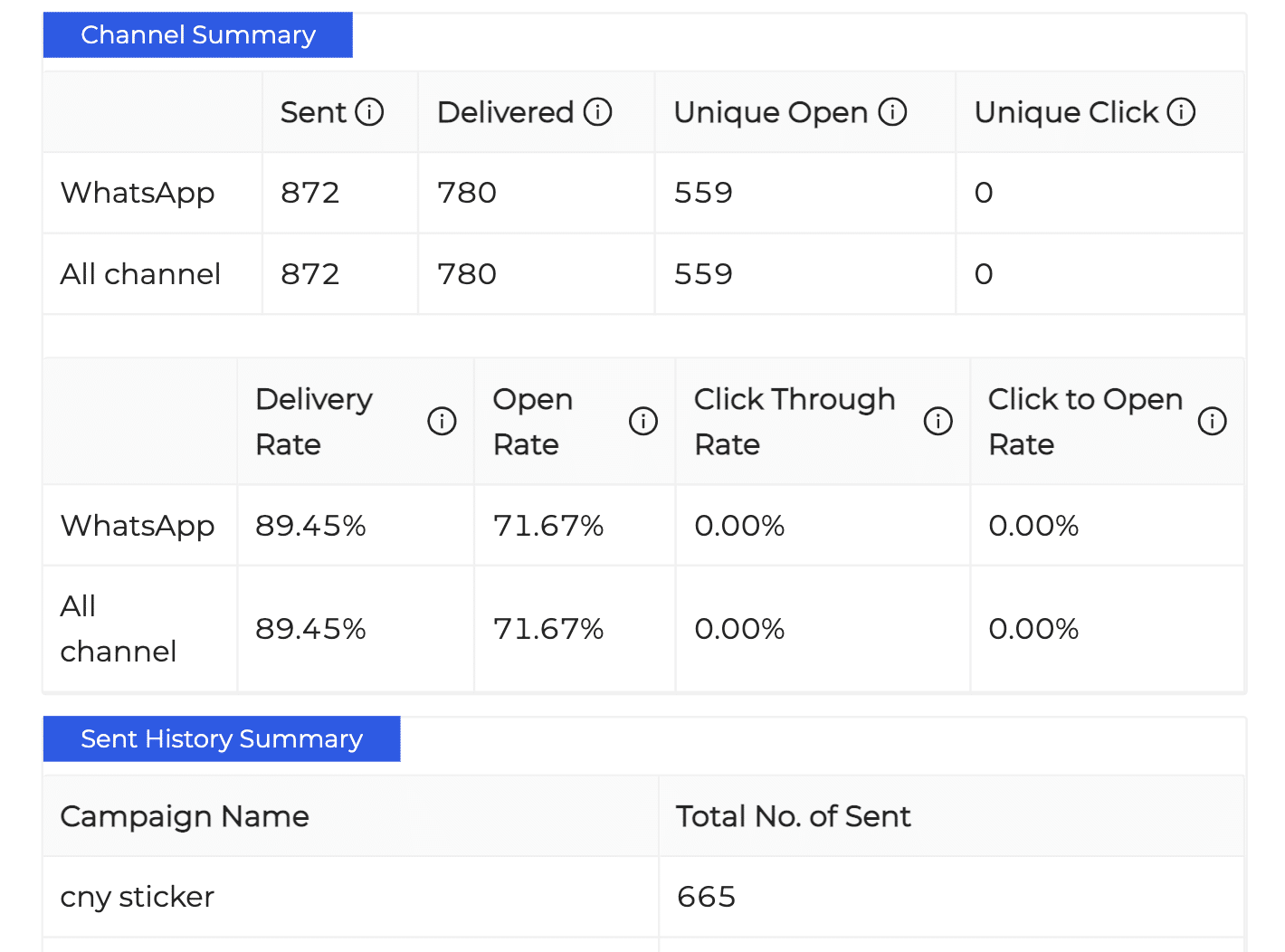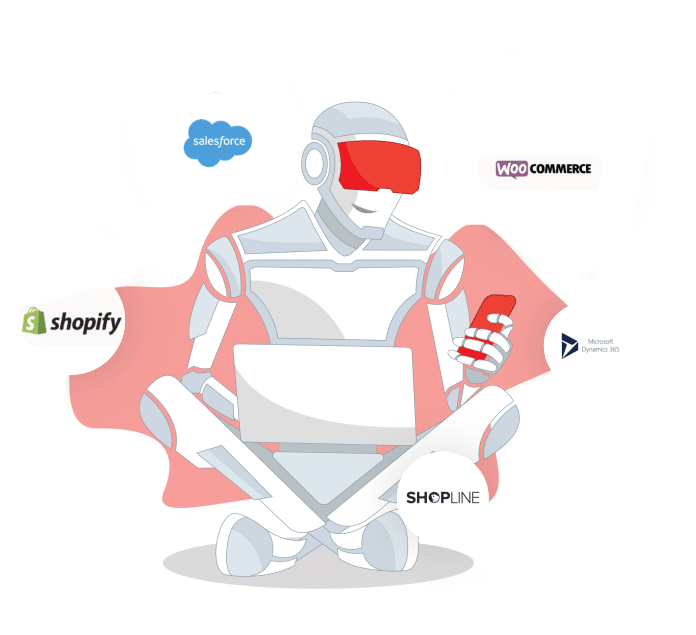 Ecommerce Integrations Worry Free​
Whatever You Need, We've Got You Covered With Great Ways To Integrate And Automate Your Business.
Complete Your Digital Marketing and CRM Customer Engagement Strategy
Engage your customer with fully personalized email, which makes great impact on increasing open rate and click through rate. Learn how to deliver the right message at the right moment with our schedule feature.
The fastest way to send important messages to your audience. Instanly notifications with no delay, 90% of messages read in the first three minutes and analyse your campaigns with real-time data captured directly from your customer's mobile devices.
Step up your transactional emails with on-brand designs and reliable deliverability with guaranteed inbox rate over 90%.
Get a Free Personalized Demo
Learn how RADICA platform can help grow your business with consultation