5 Quick Tips of WhatsApp Conversational Marketing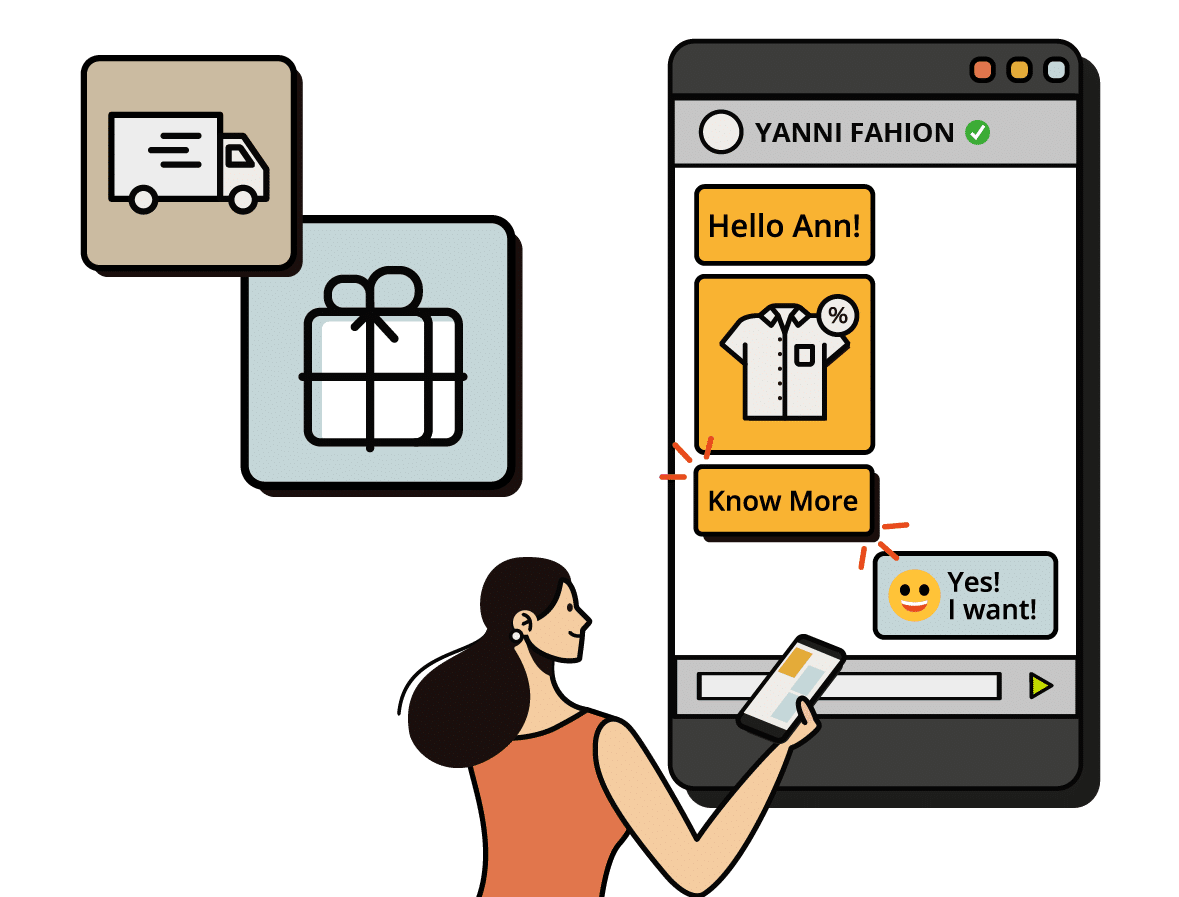 FREE Sign Up to our Latest E-Tips from RADICA
And Grow Your Business Online Quickly and Efficiently!
Picture this, you receive a WhatsApp message from an unknown phone number. It tells you about a great website to gamble on and then- you've already deleted the chat and blocked the number. So, how can you avoid situations like this from happening to your own brand?
Conversational marketing is all about online interactions with customers as if in a face-to-face context. Able to build relationships and collect data all with less effort, conversational marketing spike lead generation numbers and shorten sales funnels. The primary channels where conversational marketing takes place are WhatsApp, SMS, and chatbots. The main goal is to make the customer experience as easy as possible, achieved by consistent engagement no matter where or how a customer interacts with you.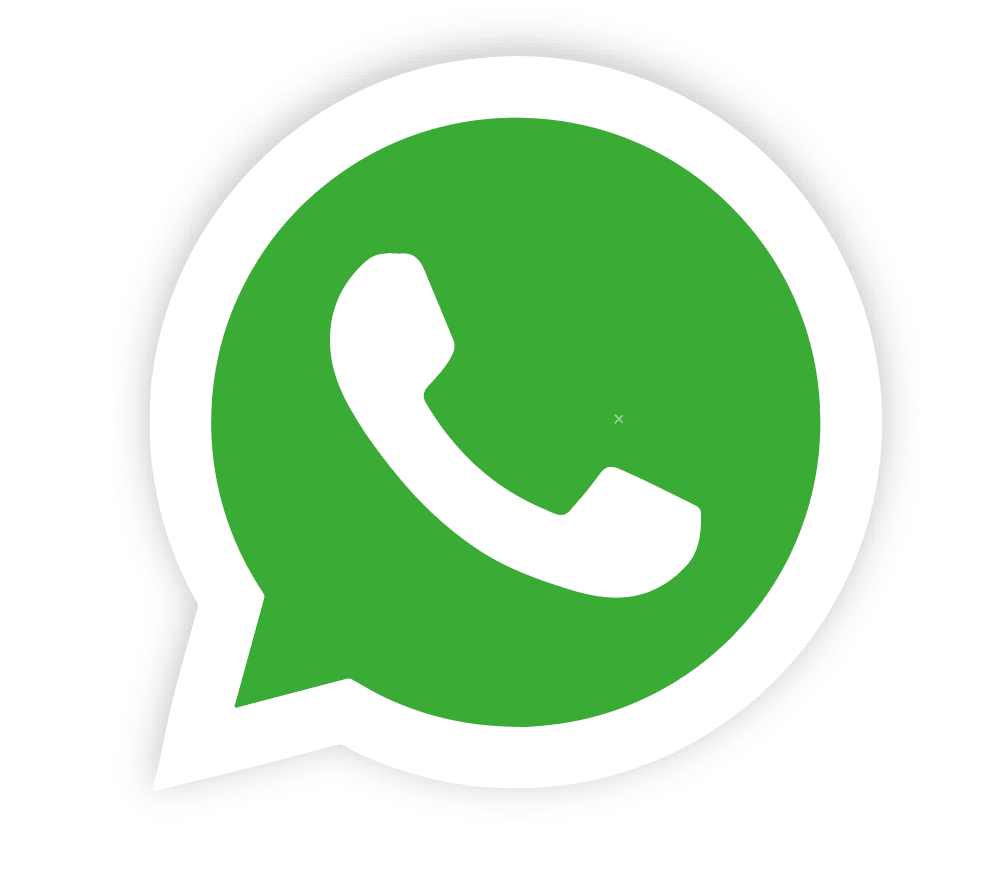 According to a 2021 report from Automat, companies such as L'Oreal, LVMH, and Unilever experienced up to 25% increased conversion rates, 13% decreased sales cycles, 15% manpower allocation efficiency, and 36% improved customer satisfaction after implementing conversational marketing. But how can you unlock the potential of this great strategy for yourself?
Let's take a look at the 5 quick tips to quickly elevate the effectiveness of your WhatsApp marketing!
1 Apply for WhatsApp Business API
It's time to start using the WhatsApp Business API. You might have already started a personal WhatsApp account for your business, but it's not enough.
There are 3 types of WhatsApp account: Personal, WhatsApp Business and WhatsApp Business API. Only after a successful application for WhatsApp Business API with approval from Facebook, you will receive a green tick next to your brand name in the sender number field. It indicates that your business is authentic and notable, a basic but very important step to build trust with your audience when delivering WhatsApp campaigns.
Only with the WhatsApp Business API account, you can create more enjoyable customer experiences while making it easier to manage your business. By supporting multiple-to-multiple communications via a backend platform. All incoming and outgoing conversation messages can be centralized and managed in a single location, making it much more effortless to stay on track with all interactions with customers. On top of that, being certified allows you to add message buttons to ease automated reply flows and simulate a real-time concierge-like service, by either your salespeople or chatbot programs.
Applying for WhatsApp Business API is a great idea, but you may find it tricky and tedious to handle setup and maintenance. So it's wise to find a professional service provider for a helping hand.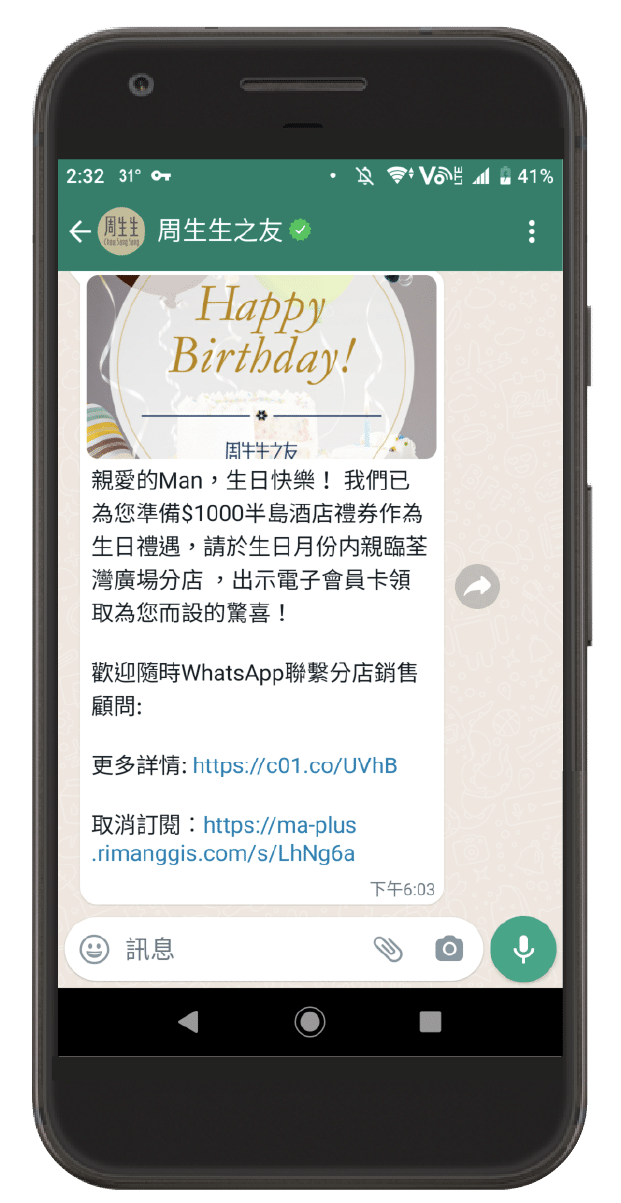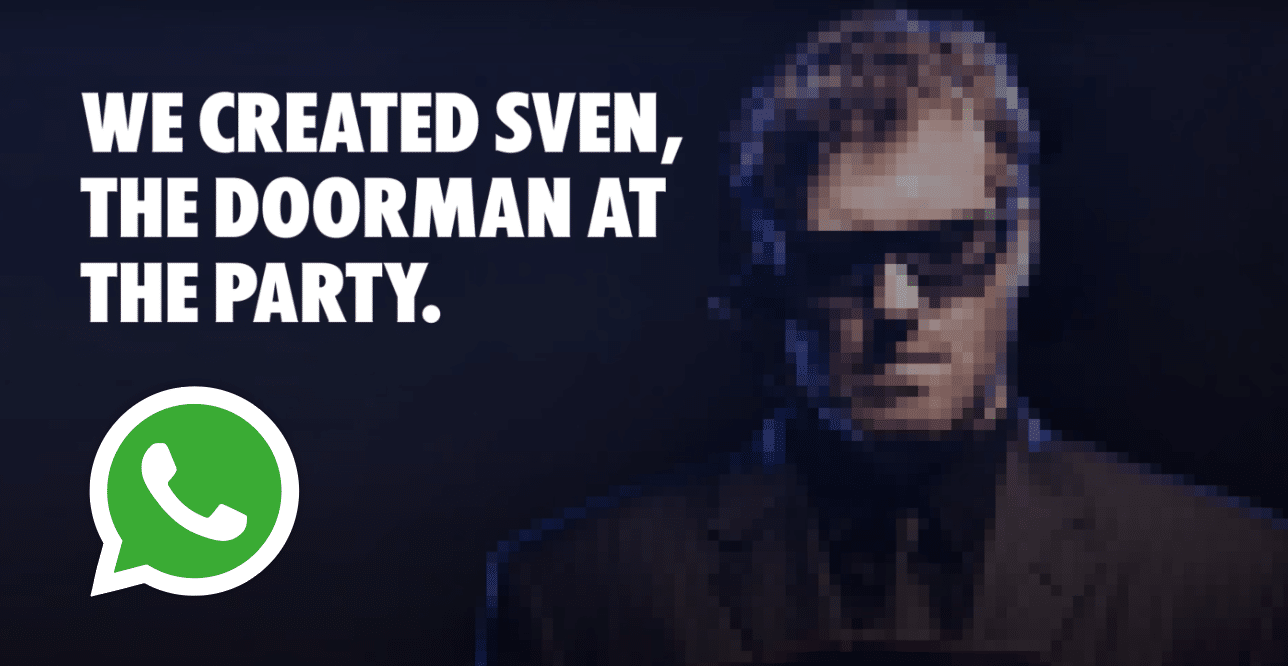 2 Promote outside the box with WhatsApp
As more and more businesses use WhatsApp to send out lazy promotions, free-trials, or pre-order offers, you need to sound stand out than the rest to look the best. Instead of sending a generic, hard-selling, promotional message, try using WhatsApp in a cost-effective marketing campaign.
For instance, ABSOLUT Vodka created an exclusive party in Argentina with many celebrities, with only 2 tickets accessible to the public. In order to get the tickets, people would have to persuade a doorman for the party by texting him through WhatsApp. With one community manager, a SIM card and 3 days, they were able to generate 600 WhatsApp conversations about their product and reached over 136,000 people with their marketing campaign. Other channels such as SMS and email could not achieve the same results, as they would be too costly or slow in response. By giving your customers a refreshing experience, you can quickly spread words and develop even stronger bonds with your customers.
3 Take Personalization to the Next Level
Start sending tailored messages that make use of customer transaction history. In real life, the best conversations are built upon previous discussions and interactions. Similarly, send meaningful content based on the customer's activities with your brand. According to Giosg, highly personalized messages with more relevant content are 4x more effective than generic product introduction messages to secure a purchase。
For example, retailers are using their customer's previous purchases to categorize them into different segments. Customers in these segments are then sent pictures of products specifically relevant to their preferences (clothing type, colour, size, etc.). By doing so, not only are you increasing the level of personalization in your messages, you are also increasing the likelihood of new purchases by giving customers more value.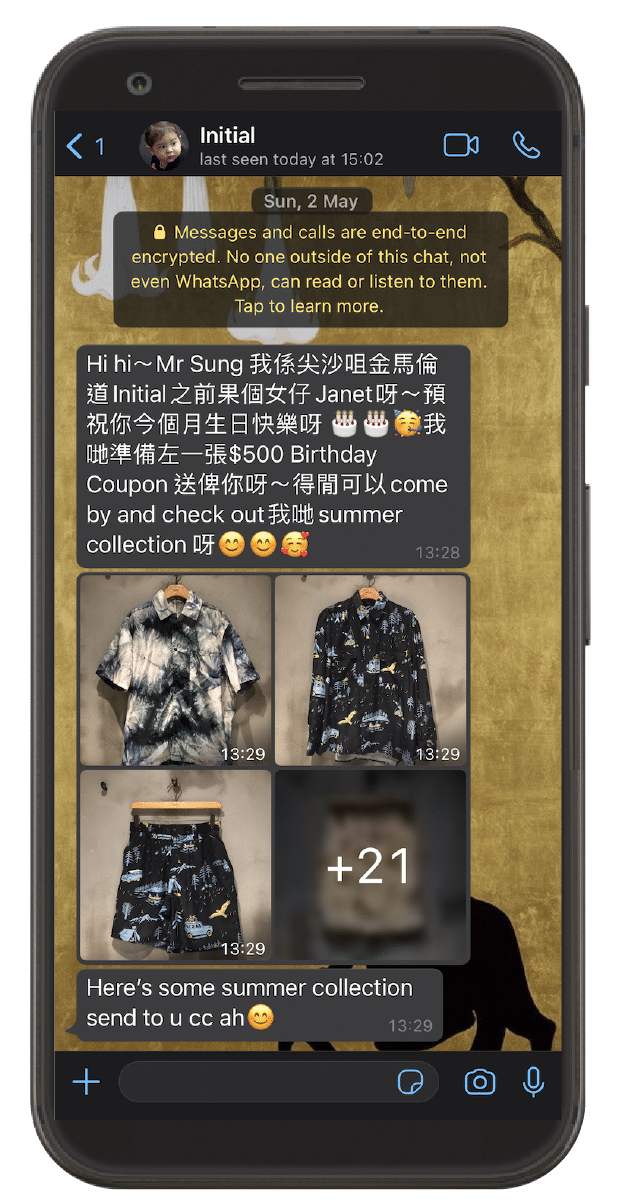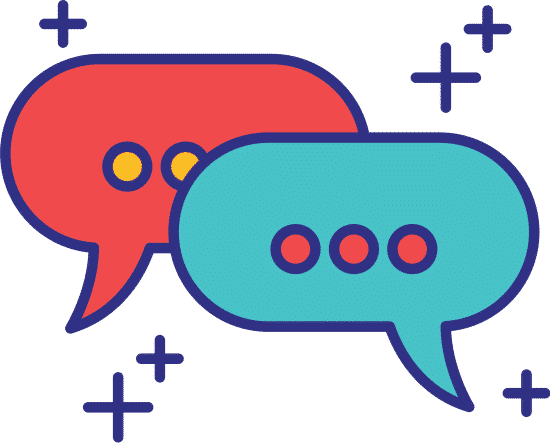 4 Keep Conversations Simple, Casual, and Quick
Provide the smoothest customer experience by keeping your interactions simple. Plan a conversation flow, keep a short list of answers and questions in order to deliver the most important information with the least amount of effort required from the customer.
Make sure that your sales team is trained for WhatsApp conversations. According to Forbes, 86% of consumers prefer humans over chatbots. So, on top of establishing conversation flows, ensure that your sales team is able to adapt to different situations and consistently deliver quality conversations.
Most importantly, be fast. You must respond within an appropriate time frame in order to keep the conversation going. As per Harvard Business Review, if you don't respond to your customer within 5 minutes, your success rate falls by 400%. That's a lot of missed opportunities
5 Engage your customers with fun and creative ways
Different from SMS, WhatsApp allows inserting images and provides you bigger flexibility to drive engagement in a more creative way, such as giving surprise to your customers with funny stickers. Create stickers that are fun and usable so that they can make your brand go viral discreetly.
Make sure your stickers are not heavily branded, as customers severely dislike this. No one will use a sticker that is just a picture of something related to your company. Instead, try designing a company mascot and give them funny expressions. Take a look at a sticker pack with over 280,000 downloads based on Betakkuma, a mascot for a Japanese energy drink.
However, there are only a handful of service providers that support the broadcasting of stickers via WhatsApp. Recently in Hong Kong, some local platforms started supporting the broadcasting of stickers on behalf of a brand's WhatsApp Business API account. Check them out to see what they can do for your WhatsApp marketing.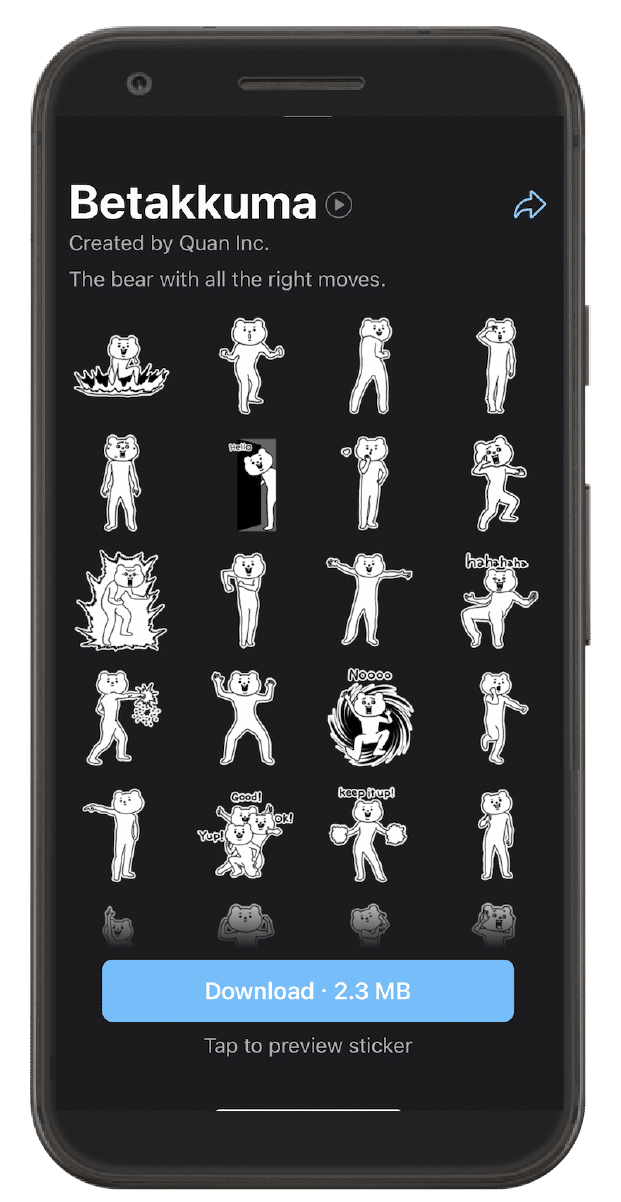 Get ready to find a professional email marketing company in Hong kong?
Radica as #1 All-In-One Email Marketing Automation Platform can ease your concern.
RADICA is a Hong Kong leading email marketing solution provider dedicated to accelerating revenue and maximizing customer connection with customer engagement solution in B2B, B2C and E-commerce industries. With RADICA's advanced onmichannel marketing automation platform RI+, it is much easier and effective to spread out cross-channel messages with automated and personalised journey, even with high volume within short period of time. Our clients ranging from luxury, banking and insurance to food and beverage like Chanel, BEA, LEVI's, Chow Sang Sang and Starbucks. Since 2000, RADICA as the leading email marketing and CRM agency in Hong Kong have focused on growing the value of their customer database by making wise use of data analytics in direct marketing. Learn more Radica Systems Limited at www.radicasys.com.