Big 4 NFT Marketing Essentials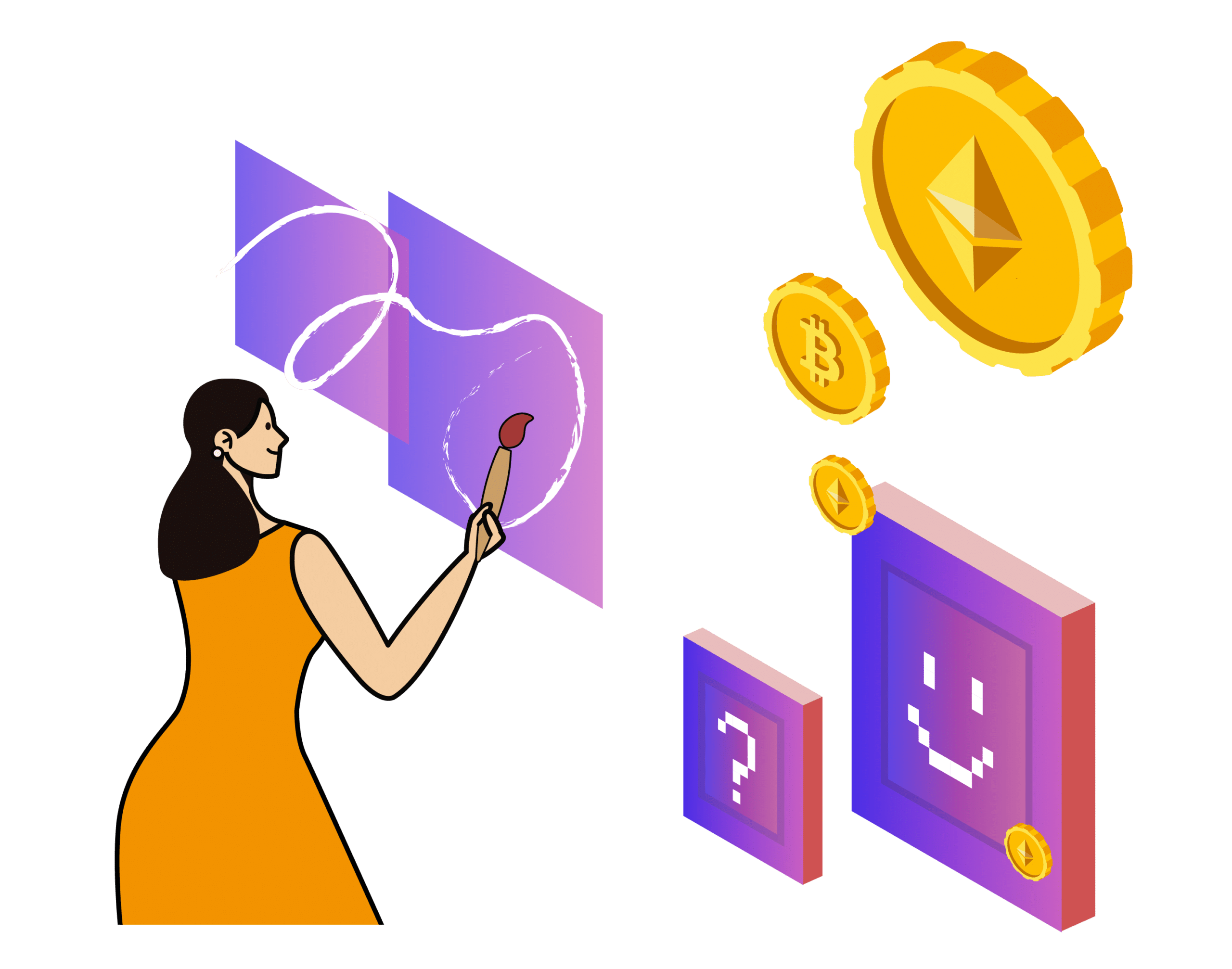 FREE Sign Up to our Latest E-Tips from RADICA
And Grow Your Business Online Quickly and Efficiently!
2022, we see another rising star in Web 3.0 – NFT. Ok, so…what is that?
NFT stands for Non-fungible token. Non-fungible means the assets are unique and not mutually interchangeable. No two NFTs are identical, and there are no substitutes. NFT artist is the only person who has ownership of the artwork. Your purchase does not mean the ownership is transferred to you, instead, a unique token is transferred to your wallet via your public address, proving that your copy of the digital file is the original. You can see NFT as a part of digital content encoded into a blockchain, underpinning cryptocurrencies, mainly Ethereum.
Incentives come from investment trading and creating and selling. Becoming a creator can be challenging to reach high sales volume, yet the benefits extend to branding and advertising. Digital art NFT is the simplest form, but popularity has turned to functional NFTs in recent months. Functional NFTs include a ticket to an event, access token to certain private information or a player figure in a game.
A new digital position for NFT
Why do we need to know about NFT? Recognitions of digital benefits with cryptocurrencies by influential art lovers, gamers, collectors and big businesses have brought the trading volume and profits of NFT to another level. According to JPMorgan, the NFT market is worth more than $7 billion, and trading volume hit $10.7 billion last quarter.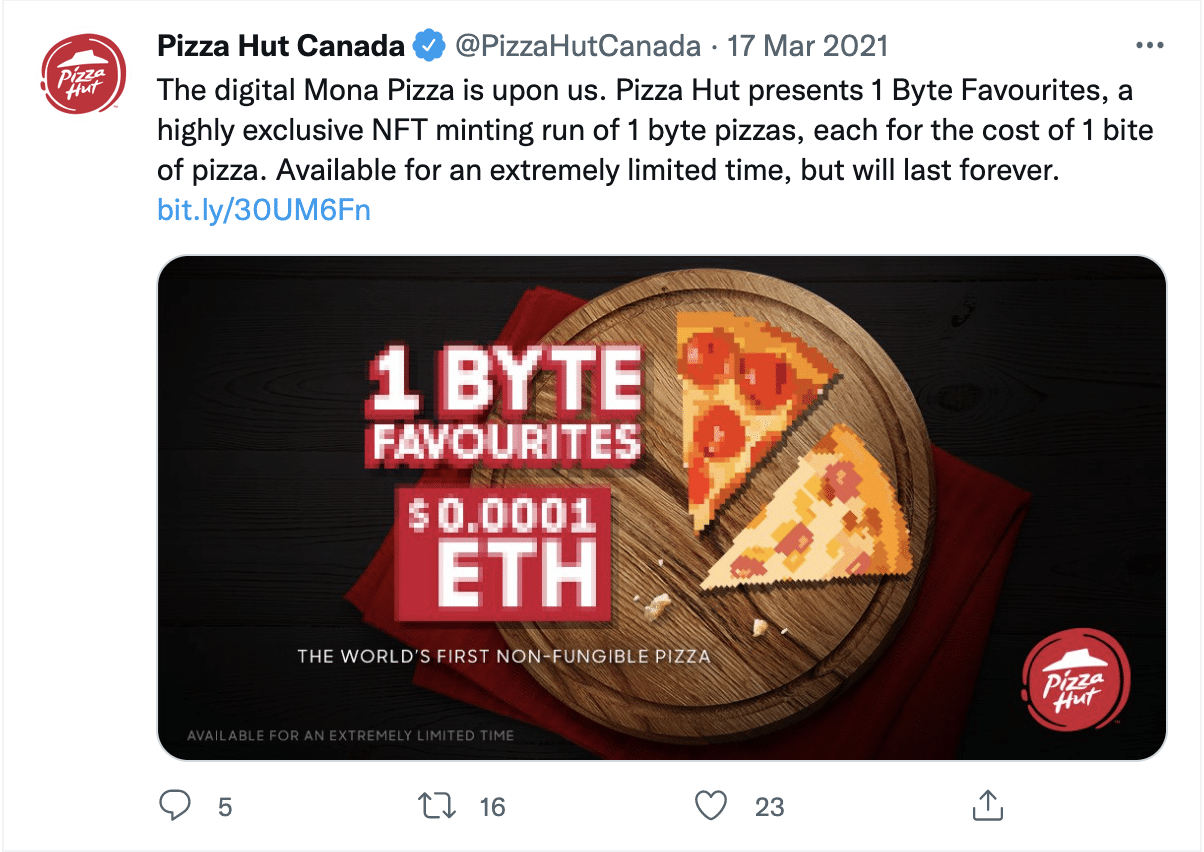 • Pizza Hut Canada announced their first digital pizza NFT – "1 Byte Favourites" and the first "slice" listed for $0,0001 ETH, was sold for a solid $8,824.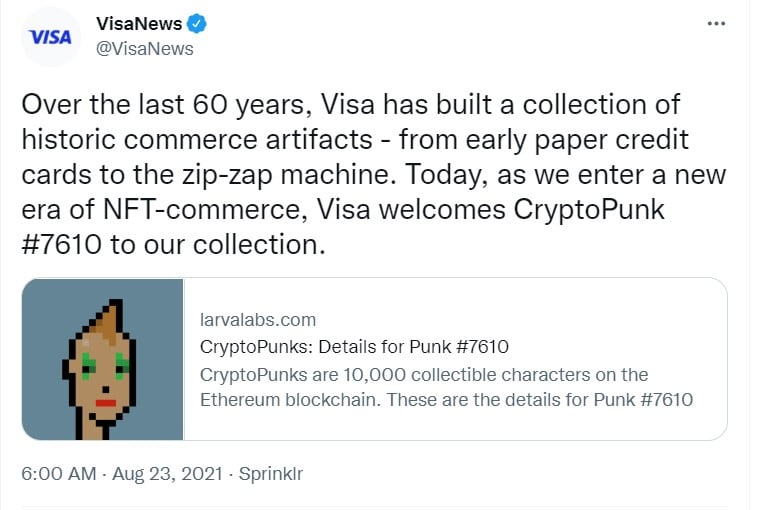 • Financial firms such as Visa are taking part in this craze by purchasing a Crypto Punk for its corporate collection.
Some brands see NFT as a marketing opportunity to build loyalty, community and long-term connection, and quickly join the trend. The exclusive ownership of NFT enables collectors to develop a deeper bonding with their favourite brands and meet other brand lovers with close affinities through the unique community created. While new collectibles also attract newcomers, the community likewise empowers word-of-mouth, an ultimate marketing tool to enhance branding.
Nike has gained extensive brand awareness with their scarcity model by selling limited edition items in the physical world. They are now ready to dominate in the digital realm and maximize the branding effect that NFT provides with their recent acquisition of RTFKT Studios, a digital design studio producing virtual sneakers and other collectibles. Their announcement quickly becomes a hot topic in the circle, gaining dozens of attentions and followers looking forward to Nike's boom in the metaverse.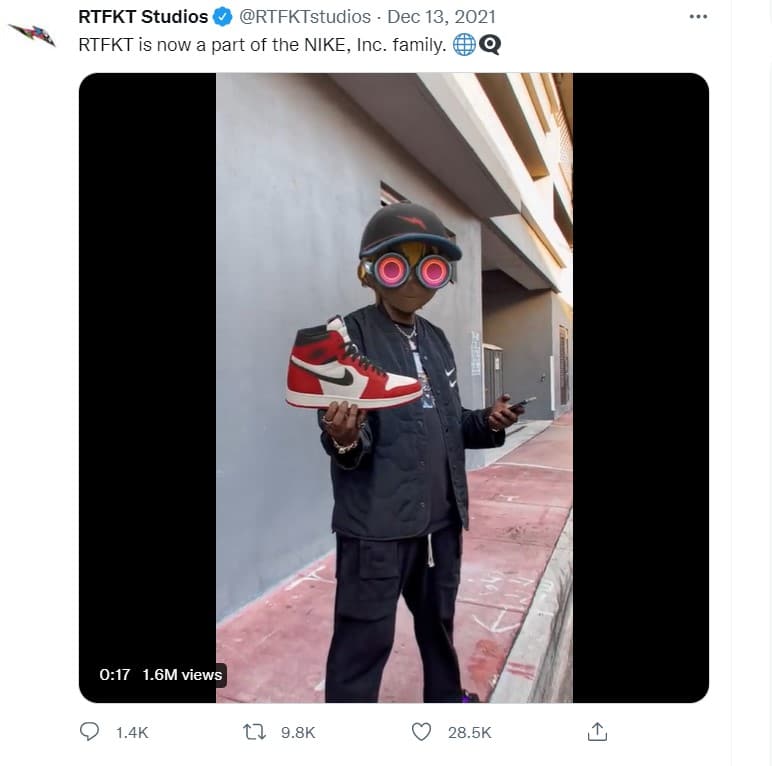 Both values and marketing potentials of NFT are forcing all industries to pay additional attention to the position of digital assets and their future effects. These millions and billions do not come from the air, like any product, smart NFT marketing services are crucial. As more brands have leaped into this ever popularizing metaverse, you must obtain full attention from your followers to the rarity of your collectibles with marketing tactics. Never skip this step! Explore the full potential of your market with NFT marketing.
Marketing Automation for NFT
An impactful promotional campaign for NFT is across multiple channels, such as email, social media and online forums. The ultimate goal is to create the sense of scarcity, uniqueness and pride of owning the NFT from the brand. Buyers do not want to lose their exclusive identity and the feeling of staying on top of trends. To protect the brand and their position, they will participate actively in discussions, promotions and tradings to ensure both the brand and the value of their collectibles climb.
1 Never Forget Email Marketing
Start with traditional yet highly competitive email marketing. The heyday of email marketing continues to prevail and benefits you! Building your NFT community is essential to increase NFT reach and market awareness. And collecting email addresses is the easiest way for you to gather information from followers. Ensure followers are well-informed on your latest news and collectibles by emails. Search for an email digital marketing platform to create your templates and messages. Set clear marketing automation objectives. Utilize functions such as segmentation, tracking and email automation in your buying/selling of NFT. You will love the characteristics of email marketing as it delivers the right message just-in-time, automatic triggers and fast! With a snap of fingers, buyers/sellers can notice your NFT and go into the deal immediately. This delivery speed is super important in the NFT settings, limited-time and limited-quantity offers.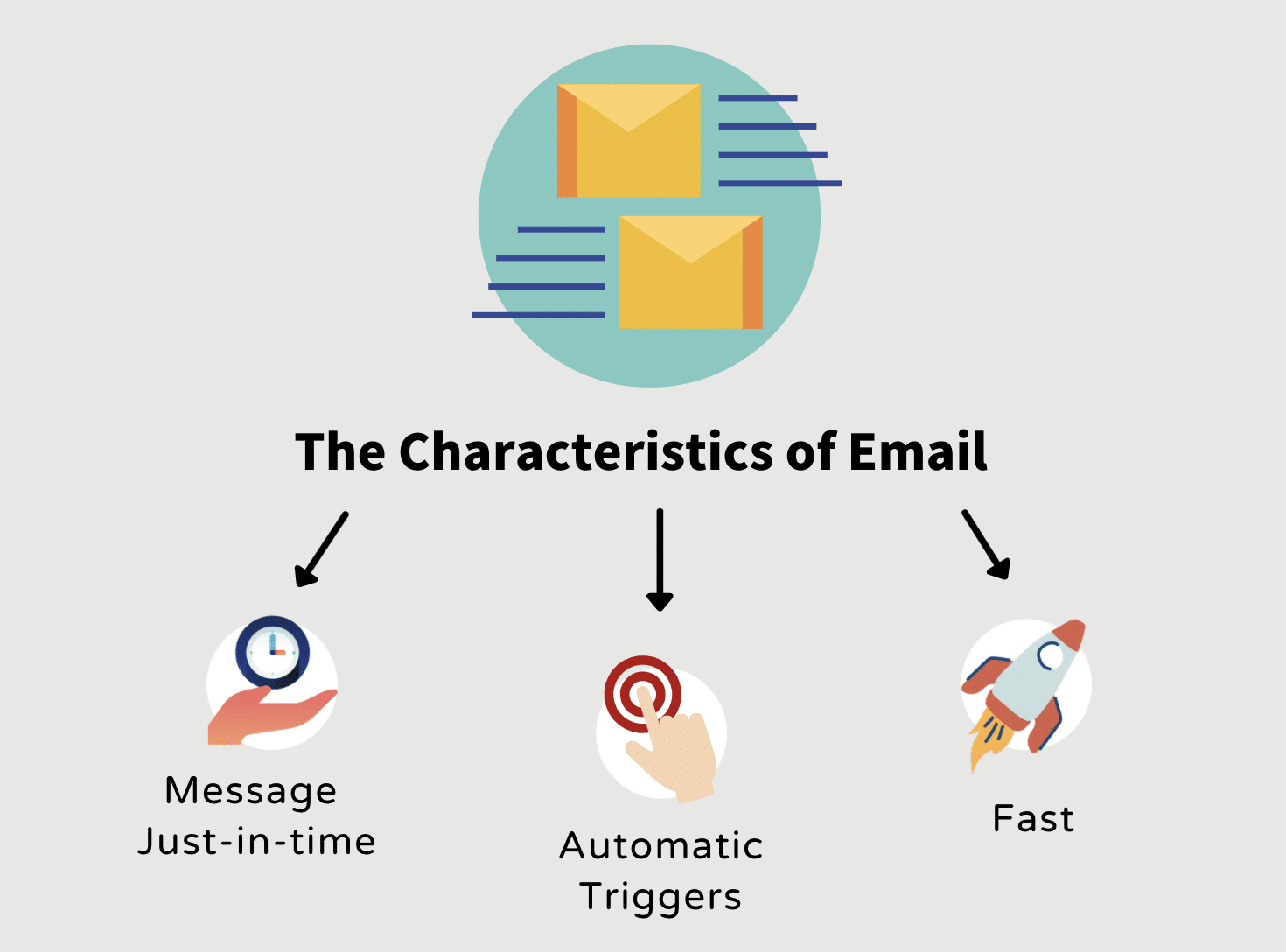 2 Online presence with SEO
While you are evaluating the best-fit marketing channel for your NFT promotion plan, there is more to consider. If you have a website for your NFT project, tap into the power of SEO. Yes, Search Engine Optimization. "How to buy an NFT", "Best NFT tokens" and "Where can I buy NFT". Some search queries are predictable and can improve the organic visibility of your NFT projects by improving your rank in different search engines. Optimizing your site with SEO is a golden opportunity to attract more audiences to your NFT and increase the chance to generate leads.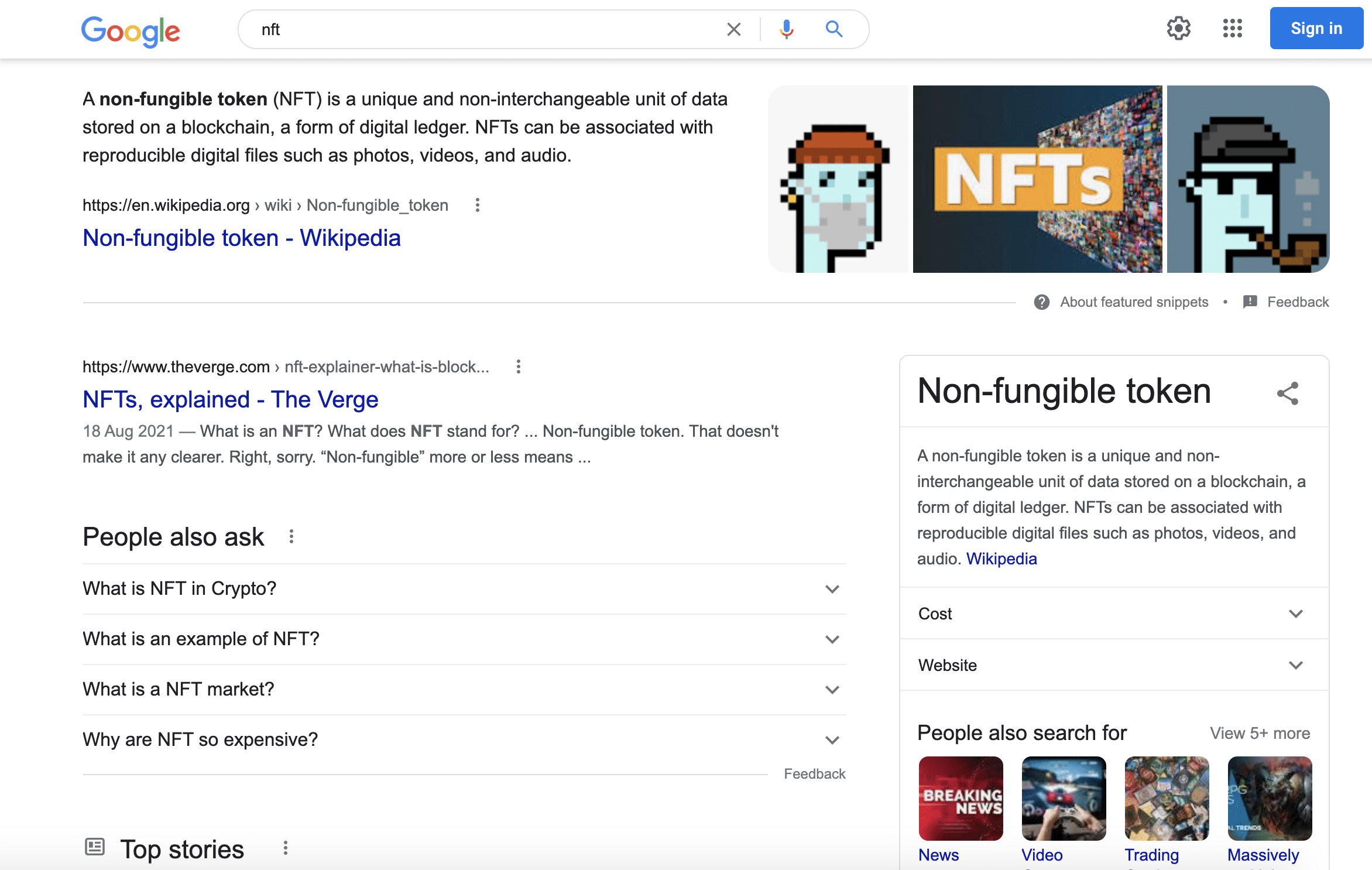 3 Leverage 21st Century Social Networks
The major community of NFT is Twitter and Discord, with a significant number of crypto users. These platforms allow open discussions on NFT structured by followers participation. Twitter is the channel for NFT exposure, being the first storefront. Individuals interested in specific collections then go to discord, the gateway to the respective communities and engage in private group conversations related to NFTs and the brand with other followers. If you are active on Twitter, you may also notice profile images of portraits of animated cats and monkeys. Twitter has enabled users to connect their digital wallet, providing a direct connection with their NFT purchase activity, and allowing users to show off their new purchase initially. Other social platforms such as Instagram and Reddit also gather some crypto population and are alternatives to build your community and promote your brand more effectively.
Moving to Blockchain does not mean eliminating customer journey. Buyers or traders approach you from various platforms and purchase digital work based on the value of your brand and the content you provide. Stages such as trigger, awareness and conversion still validate as main stages along the customer journey. Do not overlook the importance of the buy and sell process with email. NFT market players expect the account verification and purchase/sales confirmation email. Containing mixed types of email/mobile content such as limited time offer promotion and pre-launch and launch reminders contribute to conversion in customer journeys. Diffuse them into the micro experiences throughout their journey and make it irresistible but not annoying to click on the CTA and visit the NFT sites.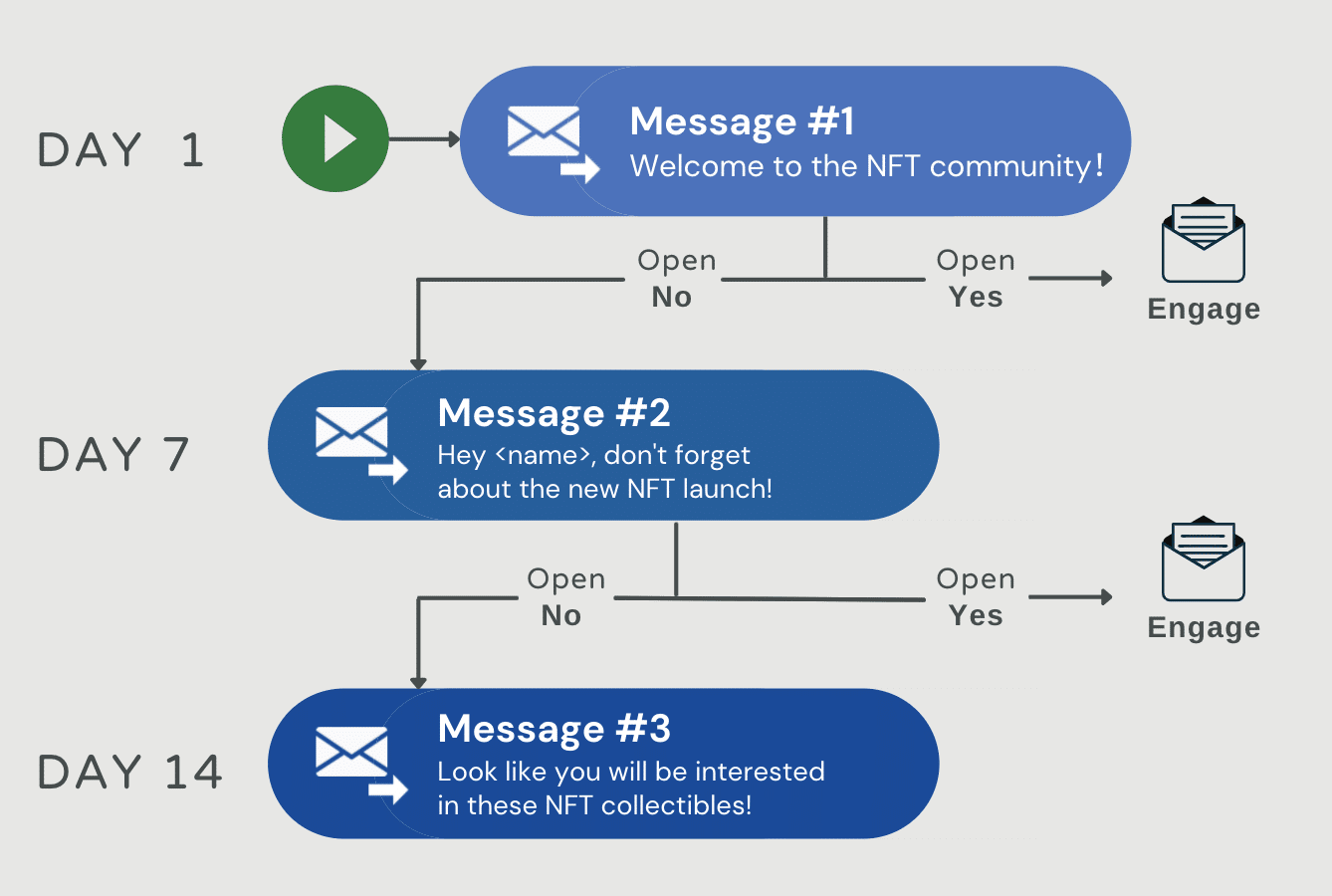 The future picture of more NFT movements from brands, designers and artists are getting closer to the surface. Despite the excitement, jumping into the community is no easy task. Understand it thoroughly if you want to succeed. It is an authentic and thoughtful space. To navigate it, brands have to do the promotion work diligently. Invite experts from all areas for further assistance to prepare yourself for this new revolution!
Get ready to find a professional email marketing company in Hong kong?
Radica as #1 All-In-One Email Marketing Automation Platform can ease your concern.
RADICA is a Hong Kong leading email marketing solution provider dedicated to accelerating revenue and maximizing customer connection with customer engagement solution in B2B, B2C and E-commerce industries. With RADICA's advanced onmichannel marketing automation platform RI+, it is much easier and effective to spread out cross-channel messages with automated and personalised journey, even with high volume within short period of time. Our clients ranging from luxury, banking and insurance to food and beverage like Chanel, BEA, LEVI's, Chow Sang Sang and Starbucks. Since 2000, RADICA as the leading email marketing and CRM agency in Hong Kong have focused on growing the value of their customer database by making wise use of data analytics in direct marketing. Learn more Radica Systems Limited at www.radicasys.com.