How Cross-Channel Marketing Automation Can Save Cost for Businesses?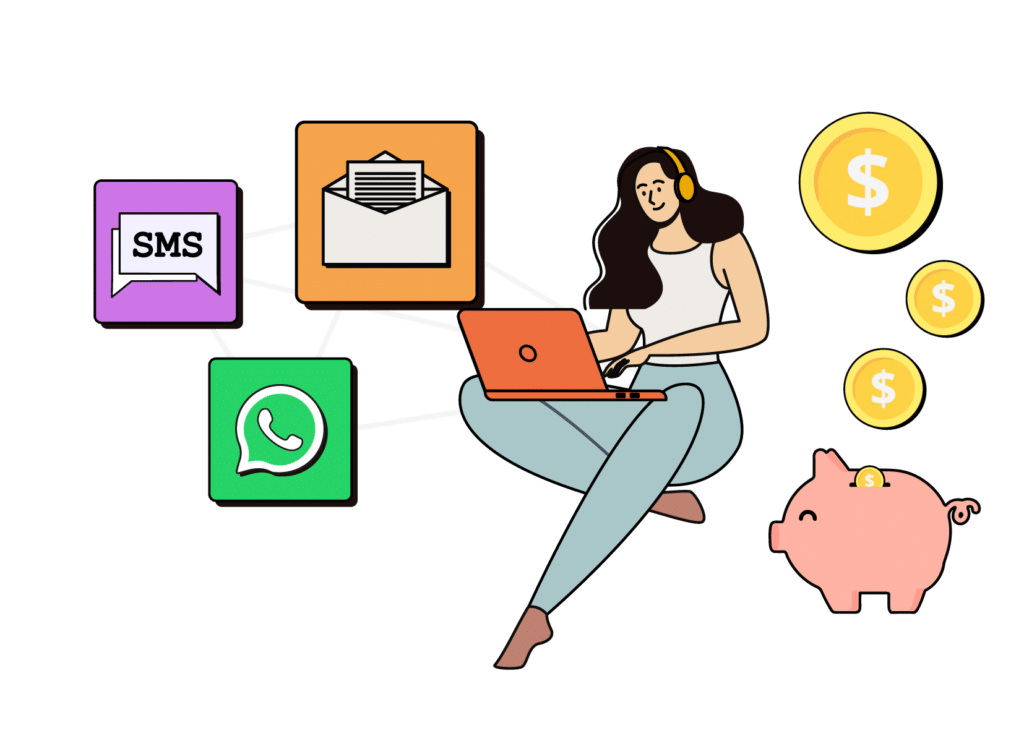 FREE SIGN UP TO OUR LATEST E-TIPS FROM RADICA
And Grow Your Business Online Quickly and Efficiently!
The dollar sign is always on the "to-save" list of businesses. A constant challenge marketer faces throughout promotional campaigns. While the prevalence of cross-channel marketing pressures higher adaption with flexibility and diversity, utilizing Email, SMS, MMS, WhatsApp and more also increases the expenses. Is there a way to control the climb in costs without compromising the choice of channels?
The answer is YES! Continue reading more about cross-channel interaction and how it saves costs from existing and acquiring new customers by increasing customer engagement and retention.
What is Cross-Channel Marketing Automation?
What channels come to mind when you think about marketing automation? I'd bet $100 that email is the first place your mind goes. It makes sense. Nevertheless, in our multi-touch, multi-device, multi-everything world, we need to go beyond email to cross-channel marketing automation such as SMS, WhatsApp message, on-site messaging and even retargeting ads. The importance of a cross-channel approach in a communication strategy is that it allows the marketer to develop a brand more thoroughly.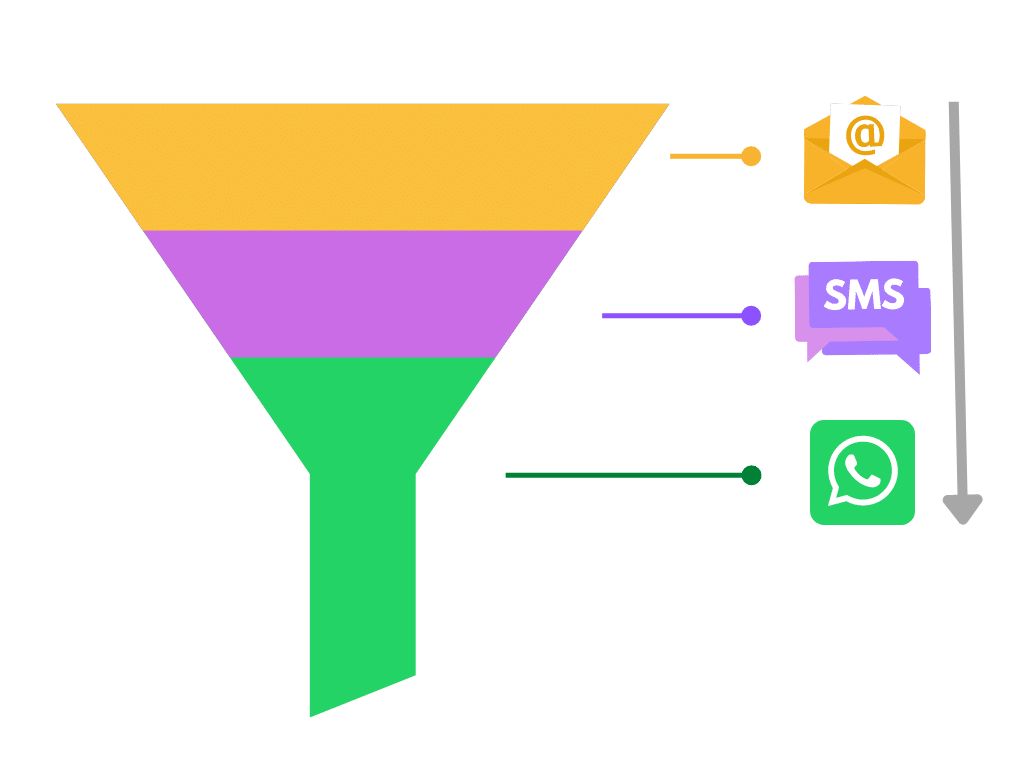 How to use Cross-Channel Marketing Automation to save 40% cost and increase customer response by 37%?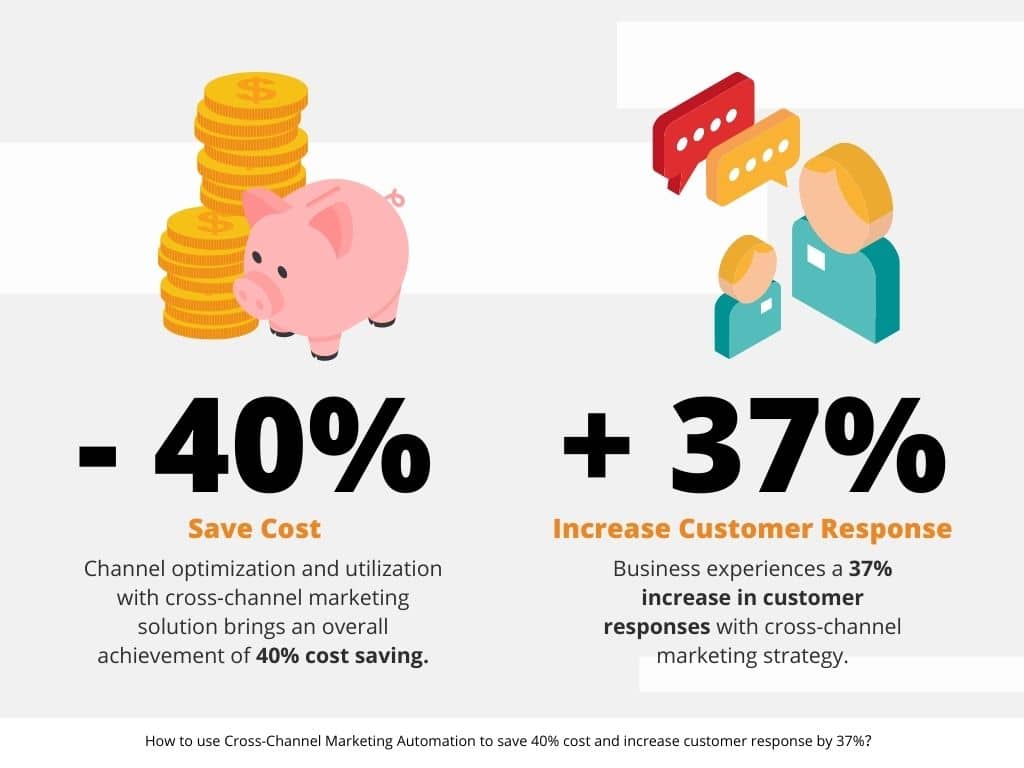 Imagine you are planning for the upcoming seasonal offer. Here comes the time to determine which channel to use to deliver offers and messages to the long list of customers. You also found the approximated average cost per message in different mobile channels to control cost.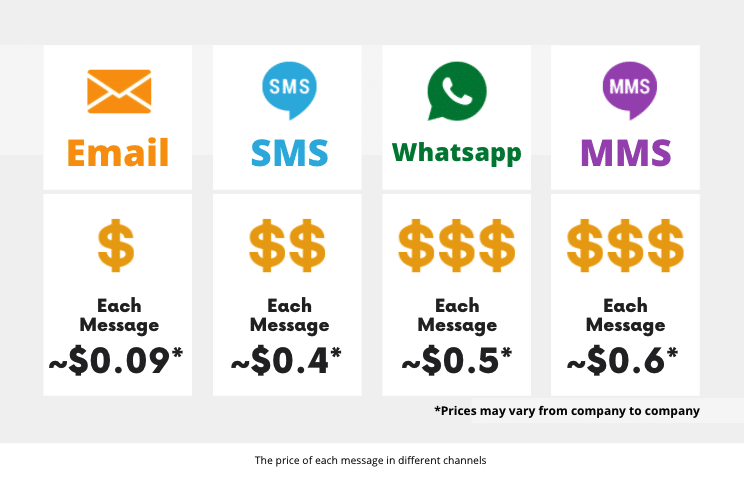 There are two ways to approach your customers.
Method (A) – Use one message channel to reach all customers about seasonal offers
Method (B) – Use cross-channel channel marketing automation: Start with email (lower cost) and reach out to unread emails through other channels such as SMS, WhatsApp and MMS.
Method (A) - One Channel Messaging
● Focus on sending MMS to 10k customers for the latest seasonal offers
● Total promotional cost = 10000×0.6 = $6000
Method (B) - Cross-Channel Messaging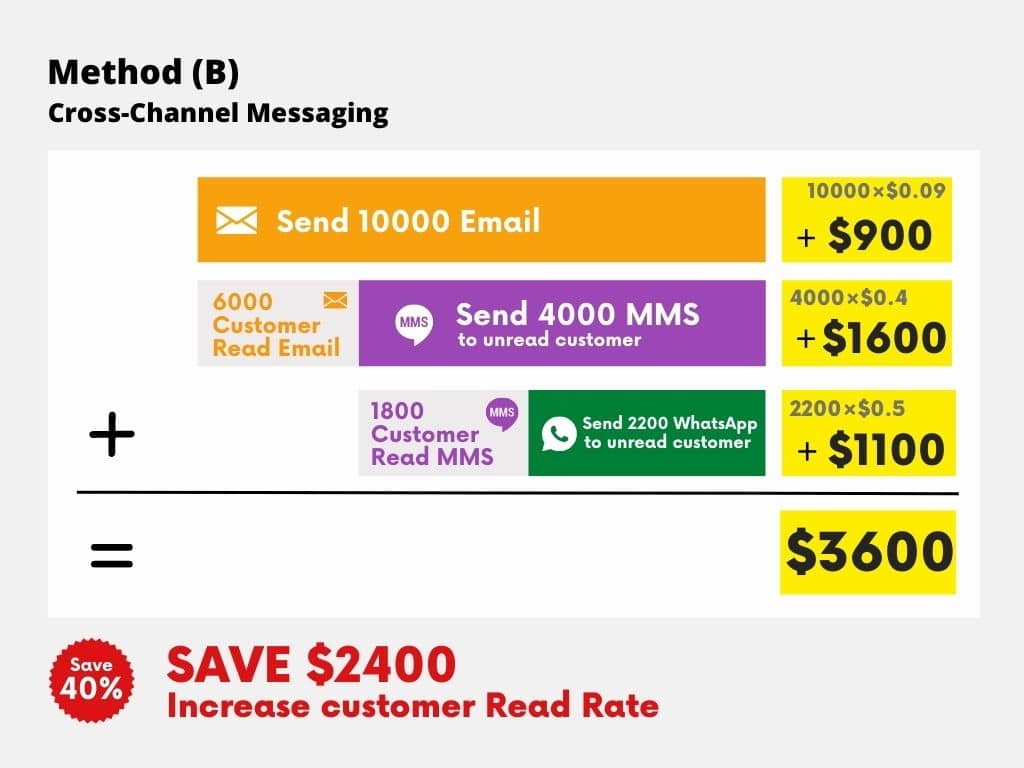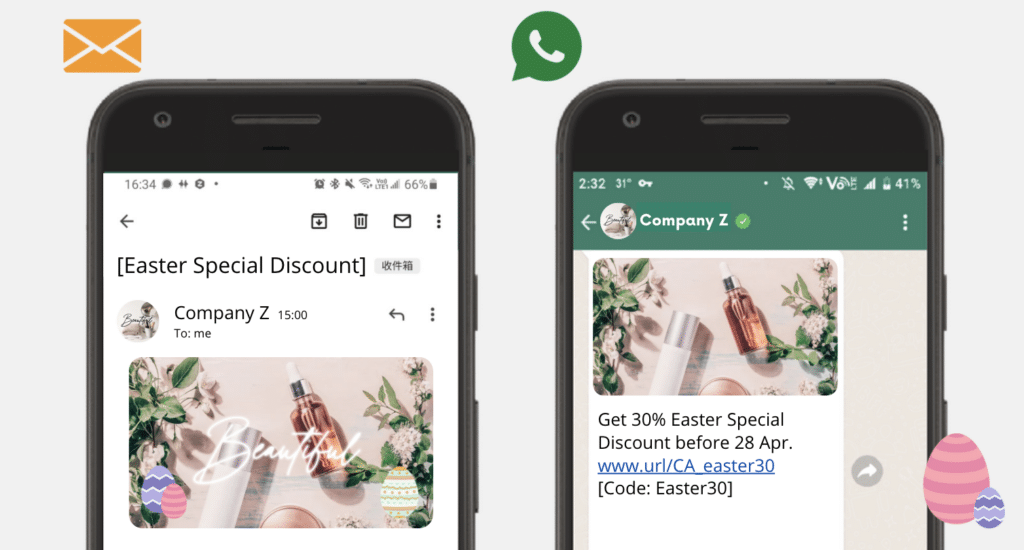 ● Instead of sending MMS messages to all customers from the beginning, an automated email is sent as a kickoff
● Cost = 10000×0.09 = $900
● The path then split into read mail and unread mail. An SMS message is sent automatically to the unread list of customers as follow up.
● If 4000 left unread. 4000 SMS messages are sent.
● Cost = 4000×0.4=$1600
● Similarly, another message is sent through the next channel exclusively to customers who did not read the SMS message.
● If 2200 left the SMS messages unread, the system automatically sends 2200 messages through the next channel, WhatsApp, as a final reminder.
● Cost = 2200 x 0.5 = $110
● Total promotional cost = $900+$1600+$1100 = $3600 (save $2400 compared to Method (B))
Cross-channel channel marketing automation can reduce your seasonal offer marketing campaign cost by 40%, bringing down the $6000 to $3600! The clear comparison between methods (A) and (B) illustrates the extended benefits of marketing automation. Besides effective cost reduction, it also enhances the read rate of messages and potentially increases customer engagement and experience.
Cross-Channel Marketing Automation Use Case with Japanese Cosmetic Brand
A Japanese cosmetics brand developed a seamless cross-channel experience with marketing automation in their online customer service. All automated email/SMS/WhatsApp messages integrated with the CRM systems are delivered to customers along a carefully designed journey. Members receive messages from channels most likely to create engagement and develop a customer experience with high consistency and relevancy in the message content. The company takes one step further to connect all content, including points and rewards available with their mobile app. Channel optimization and utilization with cross-channel marketing automation brings an overall achievement of 40% cost saving by cross-channel messages, and 37% improvement in response rate.
The above use case demonstrates the power of cross-channel marketing automation in saving costs and the extended effects on the customer side. Besides cross-channel retailing, it also applies to other industries such as banking, insurance and food and beverages.
5 Must Know Omni-channel Advantages
Multi-channel marketing works for each channel and functions separately. Customers need to go to that specific channel to find the information they want.
Therefore, 
omni-channel marketing
 may be your smarter choice with unique advantages you cannot miss, of which strategy 
contains consistent messaging, visuals, and positioning statements across all channels and devices
.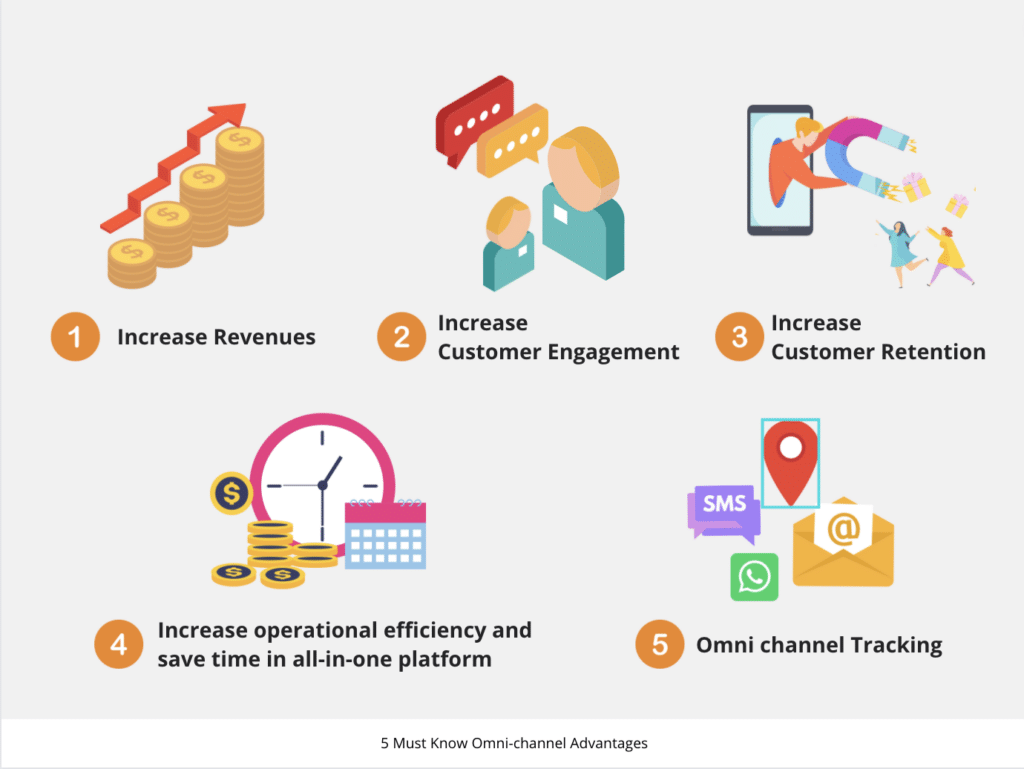 Not only does saving money like multi-channel, but omni channel also increases your company's profits and revenue. An effective omni channel strategy improves customer experiences. In return, customers visit more frequently and increase revenues. According to the research estimate from Qualtrics, investing in omni channel customer experiences can nearly triple your revenues. Encourage customers to purchase 4% in-store shopping and 10% in online shopping than those who use one channel only!
2. Increase Customer Engagement
Customer experience can be a key determinant of the whole campaign. Imagine receiving 5 inconsistent messages from the same brand but on different channels. Perhaps the customer is ready to end the annoyance by pressing the unsubscribe button. The seamless experience provided by omni channel marketing automation chooses the best channel for conversations to engage customers from a central platform. Creating a better experience with minimal messages. Put your customer at the heart of your customer engagement strategy and you may see a climb in customer retention and revenue.
3. Increase Customer Retention
Customer retention can cause a significant jump in profits. Based on a study conducted by the Harvard Business Review, an increase of 5% in customer retention rates can lead to a 25% to 95% profit growth. Omni channel is a good buddy in managing customer relationships. The centralized system facilitates data collection and in-depth analysis to identify and welcome customers in each channel they communicate with a brand. A familiar environment can develop deeper bonding and create more loyal customers. They are your strong marketing power to recommend and expand your customer community. Better customer loyalty also lessens the costs of acquiring new and unstable customers.
4. Increase Operational Efficiency and Save Time In All-In-One Platform
Marketers can perform everything in one omni channel platform, from initial touchpoints to managing complex multi-step rewards campaigns. Automation allows more personalized strategies for individuals without consuming an overwhelming amount of operational costs. One platform can save much manpower and system resources, reducing technicians and monitoring systems. Omni channel tools have cleared out the repetitive manual tasks and bless you with better operational efficiency. Better performance and profits!
5. Omni-Channel Performance Tracking
In short, omni channel tools include convenient tracking. Enable marketers to take control of data, analyses and predict audience behaviour at any time. Save cost on data interpretation and consultancy.
4 Pillars To Launch Your Cross or Omni-channel Marketing Strategy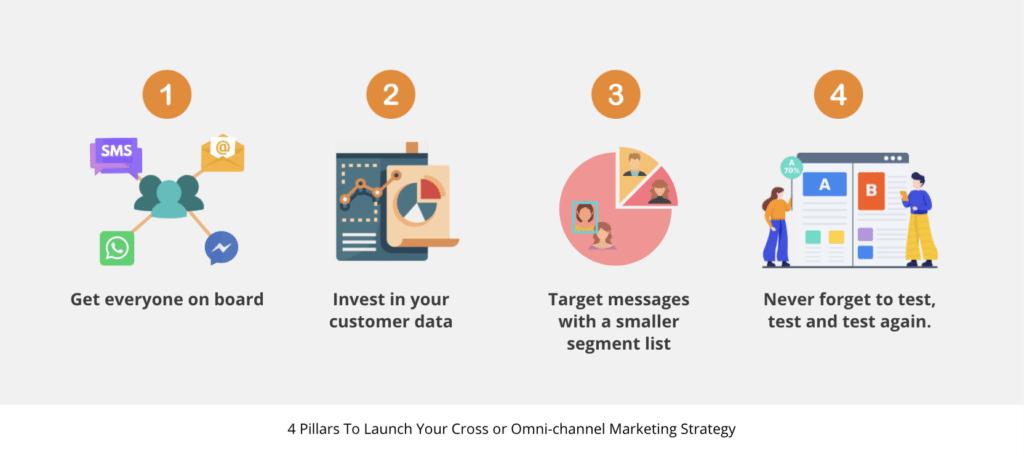 1. Get everyone on board
Cross and omni-channel is an all-in-one platform, but it will succeed only if all team members are working together
2. Invest in your customer data
Analyze them and find out the best patterns in each behaviour
3. Target messages with a smaller segment list
The in-depth data is for you to assign contacts to the best segments, spend plenty of time in segmenting to deliver the most relevant to every single customers
4. Never forget to test, test and test again.
Be active about testing, do it regularly to see which messages, subject lines, images and send time give you the best response from which segments.
Get a Free Personalized Demo
Learn how RADICA platform can help grow your business with consultation
Get ready to find a professional email marketing company in Hong kong?
Radica as #1 All-In-One Email Marketing Automation Platform can ease your concern.
RADICA is a Hong Kong leading email marketing solution provider dedicated to accelerating revenue and maximizing customer connection with customer engagement solution in B2B, B2C and E-commerce industries. With RADICA's advanced onmichannel marketing automation platform RI+, it is much easier and effective to spread out cross-channel messages with automated and personalised journey, even with high volume within short period of time. Our clients ranging from luxury, banking and insurance to food and beverage like Chanel, BEA, LEVI's, Chow Sang Sang and Starbucks. Since 2000, RADICA as the leading email marketing and CRM agency in Hong Kong have focused on growing the value of their customer database by making wise use of data analytics in direct marketing. Learn more Radica Systems Limited at www.radicasys.com.