Omni-Channel Marketing Powers Customer Engagement for Banks and Financial Institutions Post COVID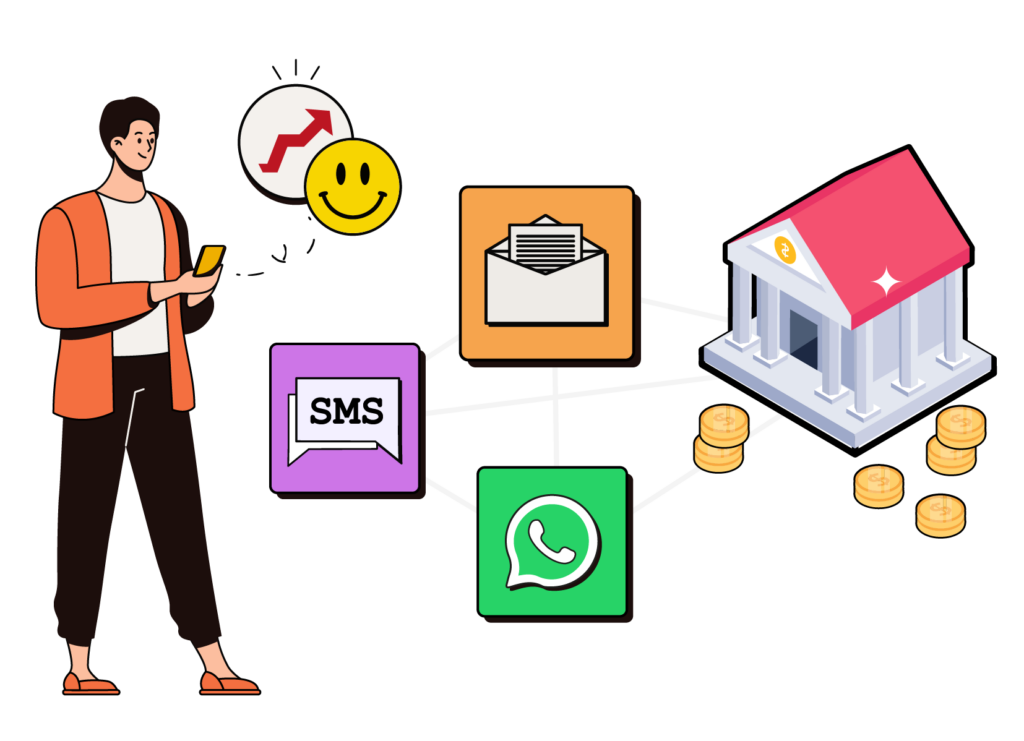 FREE SIGN UP TO OUR LATEST E-TIPS FROM RADICA
And Grow Your Business Online Quickly and Efficiently!
The COVID-19 pandemic has been one of the most unique and unexpected experiences that our world has collectively endured. Nearly overnight, so many basic aspects of the way we access and use financial services changed. Bank customers and the financial institutions that serve them are still reeling from the effective whiplash and have been forced to find ways to adapt.

One of the most productive ways financial institutions have adapted is with omni-channel marketing automation, and many of these changes seem to be here to stay. Let's take a closer look at the impact of COVID-19 on the bank and financial industry and how marketing automation, including our CRM system in Hong Kong, have allowed the industry to respond.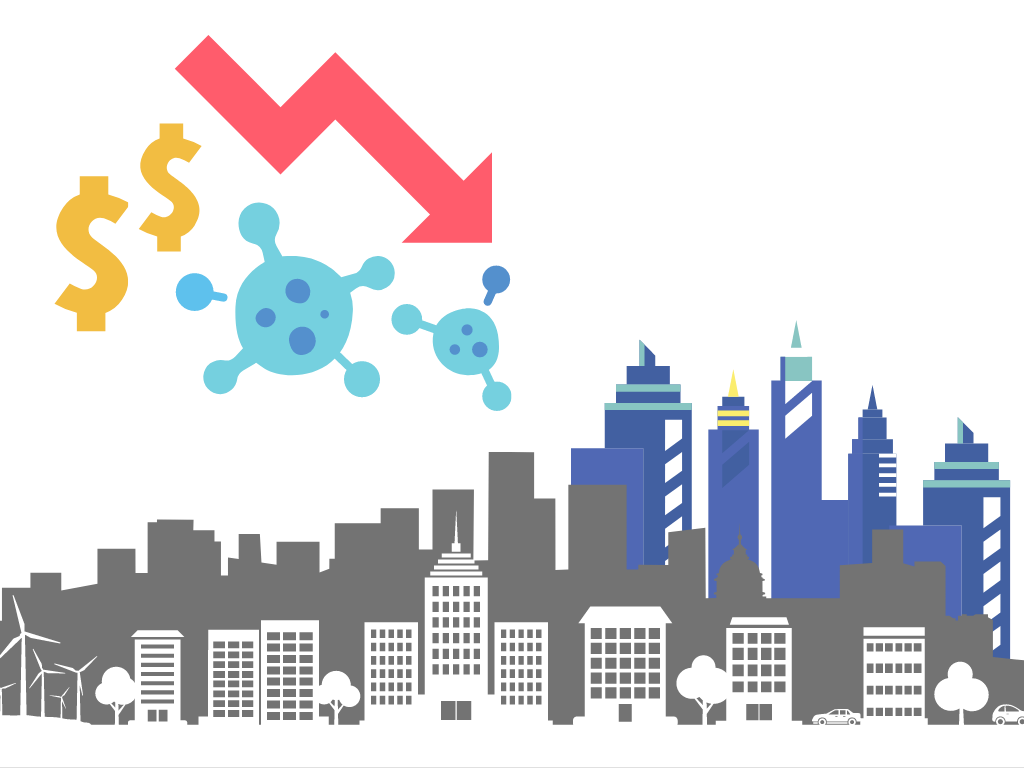 How the COVID-19 Pandemic Impacted the Bank and Financial Industry
The financial industry has been far from immune to the dramatic changes caused by the COVID-19 pandemic. From customer interactions to fiscal performance, the industry has weathered its fair share of challenges and shifts.
Changes in How Business is Done
The most immediate and clear change brought on by the pandemic was the wave of lockdowns. For banks and financial institutions and branches that often handled business in person, their typical operations were suddenly unavailable and doing business remotely was their only option. Many institutions quickly found themselves with long wait times on customer service phone lines and were forced to adopt an omnichannel model of customer service to handle the increased demand.
Currently 18% of Hong Kong adults have digital banking access, which is expected to jump to 32% by 2026. Digital options should mitigate hindrances like long phone wait times and the suspension of normal operations.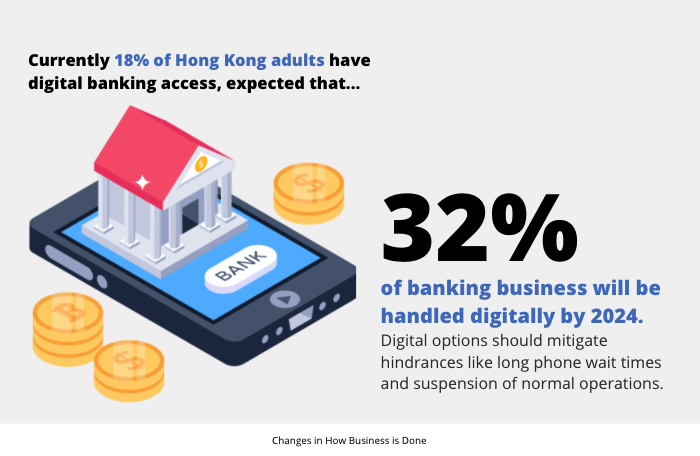 A Shift in Marketing Strategies for Banks and Financial Institutions
Many types of marketing financial institutions relied on were no longer available. Banks and financial institutions were forced to transition almost entirely to online marketing channels, such as electronic direct mail or EDM email marketing, social media marketing, and digital advertising.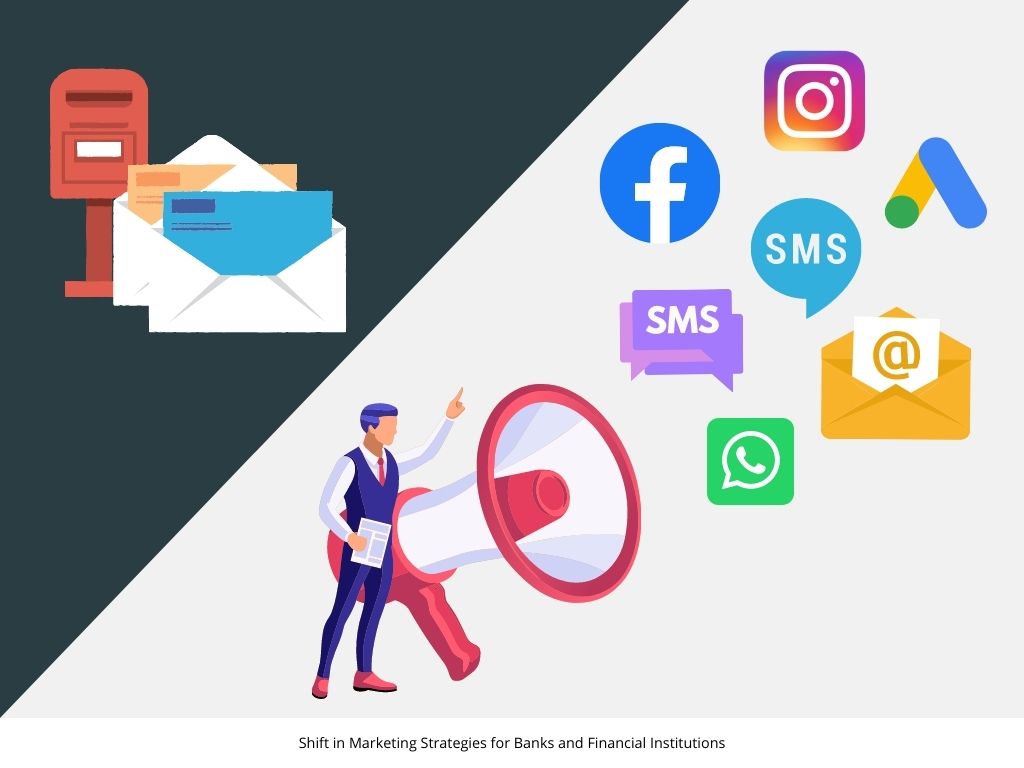 The COVID-19 pandemic was a significant blight on the economy worldwide, with nearly universal international drops in revenue, spending, and available resources.
Financial institutions
were not immune to this economic slide. Many institutions chose to adapt by adopting more marketing automation across the entire customer journey. This allows them to continue capturing and converting new leads wherever they are in their journey in less time and without annoying administrative errors.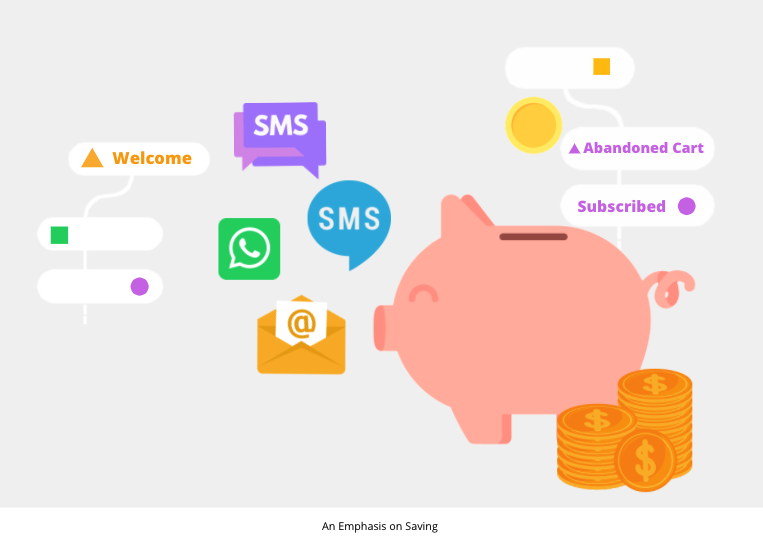 Adaptations to Consumer Habits
Just as the world changed for financial institutions overnight, it changed for consumers as well, and this led to sweeping changes in consumers' habits and behaviors. Most notably, customers were feeling pressure to save money due to the economic turbulence, in addition to spending more time online and being warier in making purchases. Financial institutions were forced to adapt by making use of digital omni-channel marketing automation to capture consumers where they were (online) in addition to nurturing leads more closely to build the trust that customers needed to feel before they made a purchase.
Benefits of Marketing Automation for Banks & Financial Institutions
Throughout the COVID-19 pandemic and beyond, omni-channel marketing automation has emerged as a game-changing strategy for financial institutions. It brings a slew of lucrative benefits.
The financial industry is surging with competition, with countless online-only businesses in addition to the long-standing traditional financial institutions. Marketing automation uses strategic processes to make your marketing more effective so you can overcome the competition and stand out amongst other banks and financial institutions.

Bridging the gaps throughout the entire customer journey allows banks and financial institutions to create more meaningful, authentic connections. Authentic customer engagement helps to maximize trust, retention, and brand loyalty, allowing you to overcome the competition at scale.
Provide Real-Time Personalized Marketing
Bank customers are used to getting flooded with ads and marketing messages on a regular basis. The trick to cutting through that mental and digital clutter is to make your marketing more relevant.

For instance, new checking account customers might not be interested in upgrading their accounts, but a long-standing customer might see more value in this. You can also personalize real-time messages related to each customer's credit limits, statement summaries, and payment due dates. Reaching out via multiple channels, such as Whatsapp, email, and SMS texting allows you to connect with customers in their preferred format.
Take Advantage of Advanced Tracking Across the Entire Customer Journey
Data tracking is instrumental in marketing because it allows you to gauge your performance and make adjustments to make your strategy or execution more effective. Managing marketing manually across several channels makes it impractical and nearly impossible to track data accurately and comprehensively for a better user experience. Omni-channel marketing automation, however, tracks your data from multiple channels together so you can see at a glance which channels are effective and which aren't.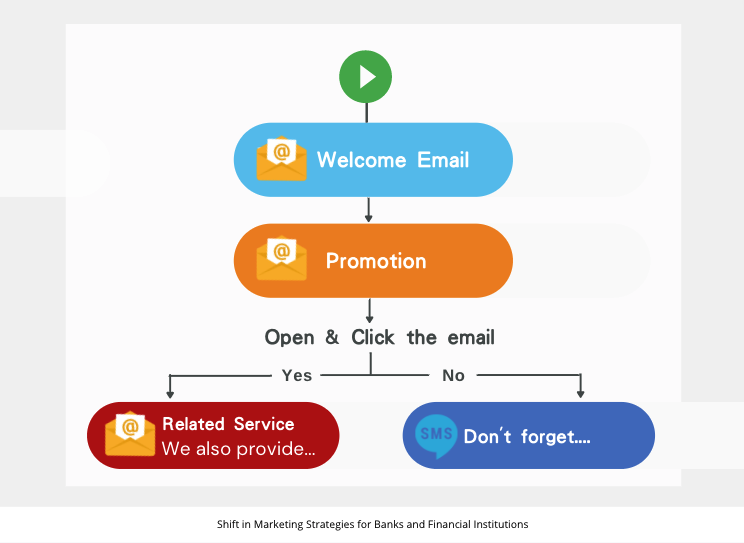 Improved Customer Experience
Because of the intensive competition in the financial industry, it's more important now than ever to create an outstanding customer experience so you can keep your customers coming back. Marketing automation helps you deliver this by sending personalized messages and recommendations about the financial products they want when they want them. Customers feel heard, and that keeps them loyal.
Multiple Customer Touch Points
Each customer prefers to interact with businesses in a different way – some prefer phone calls, others prefer texting, and many are choosing to use live chat features on banking websites for streamlined service.

Omni-channel marketing automation allows you to appeal to more customers by making multiple touchpoints available. They can interact in ways they prefer, leading to higher engagement. In addition, automation allowS for more customer exposure, accelerating your sales funnel and driving more conversions.
Examples of How Financial Institutions Are Using Omnichannel Marketing Automation
If you're not sure how marketing automation and omnichannel marketing can be put into action for financial institutions, consider these real-world CRM automation examples as merely a few possibilities.
Continuous Engagement for New Banking Customers
The early days of your relationship with a new customer is one of the most important times to nurture them so they become a long-time loyal customer. Marketing automation in the onboarding process can help you do this.

When a new customer receives their welcome onboarding email, you can set up your email automation to trigger a series of emails over the coming weeks, each one introducing them to other features or products that could enhance their experience. This same process could include an NPS survey sent to the customer three months after their onboarding email. If the customer scores your institution a 9 or 10 on the NPS survey, it can trigger a referral email inviting them to refer a friend or post a review.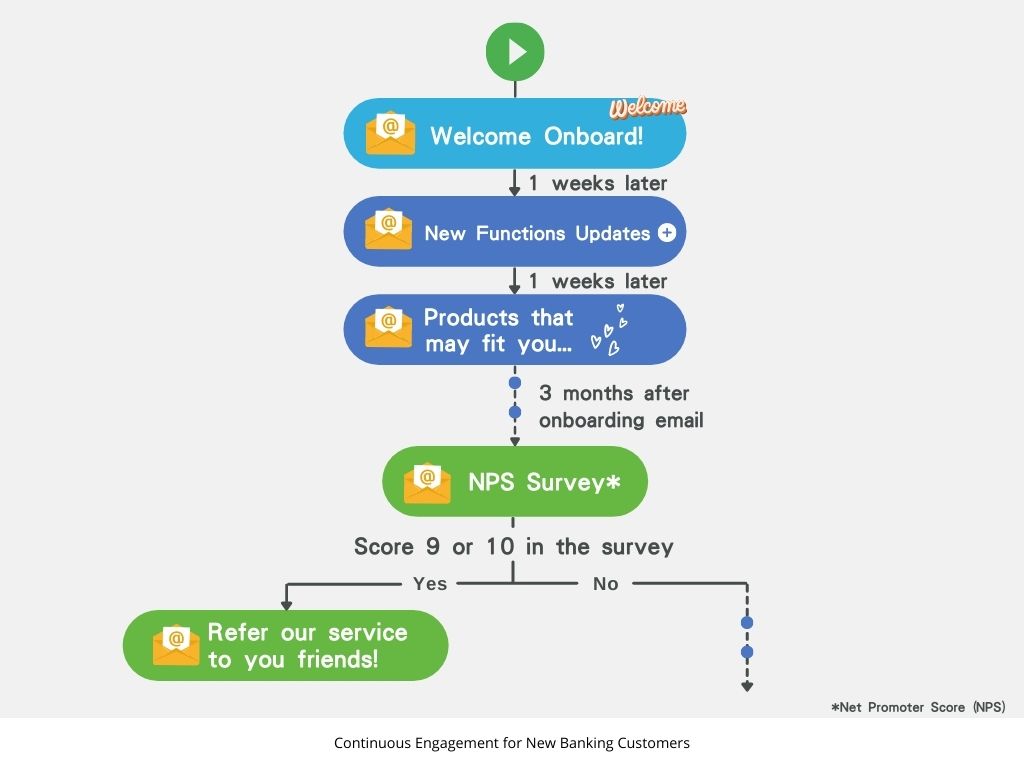 Multiple Touch Points to Nurture Financial Leads ​
There's a common principle in marketing that it takes seven touches for a lead to take a meaningful action like making a purchase, following you on social media, or signing up for your mailing list. Omnichannel marketing automation can help you accomplish those seven touches in a productive way.

For example, you may have a customer who Googles a question about credit card products and comes upon your blog. You can set up your omnichannel marketing automation to recognize a new visitor and display social media sponsored posts on their feed or display Google Ads in their future relevant searches. Once the lead has reached the point of signing up for your mailing list, you can take it a step further by sending them a follow-up email promotion from one of your financial advisors or account executives offering to schedule a call to walk them through their options.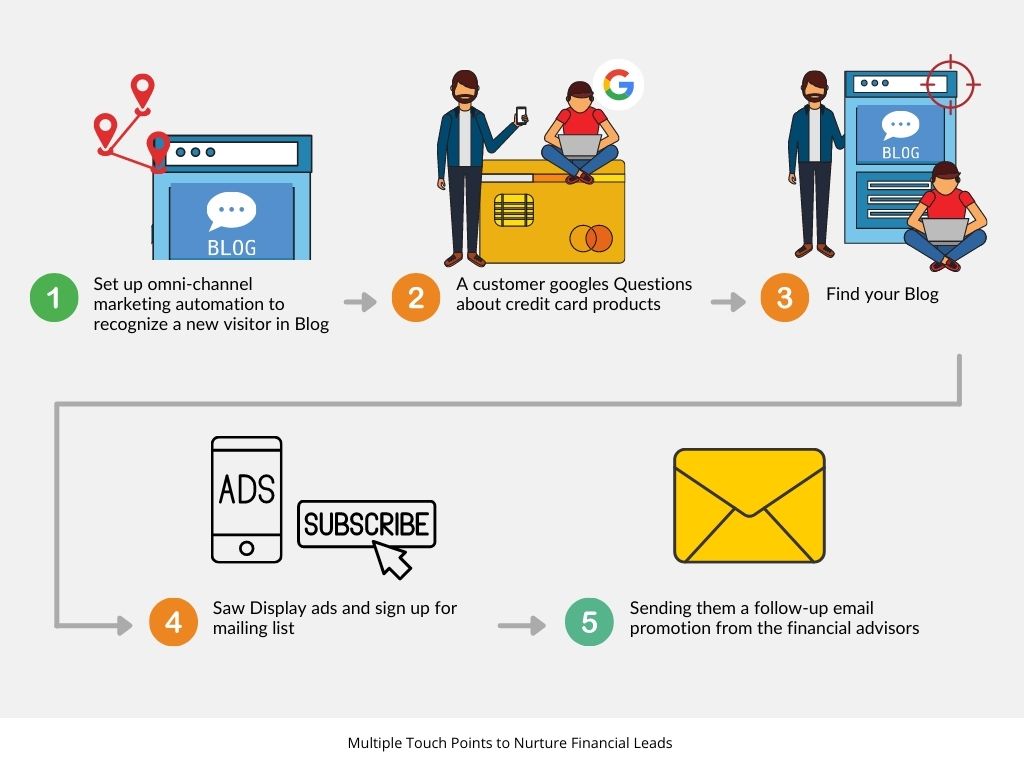 Cater to Every Stage of the Customer Journey
Omnichannel marketing automation applies to every customer wherever they are in their journey. Many banks and financial institutions give adequate attention to new customers and leads, but the same effort can also benefit existing customers.
Studies show it
costs 5-25 times less to sell to existing customers
than to acquire new ones. Your financial customers already know and trust your brand and will be more likely to explore other products and services. You can automate this process by connecting with customers based on their activities. For example, a customer that routinely carries a high checking account balance might be interested in savings or investment options. Use automated omnichannel marketing to connect with them at scale and personalize your offers.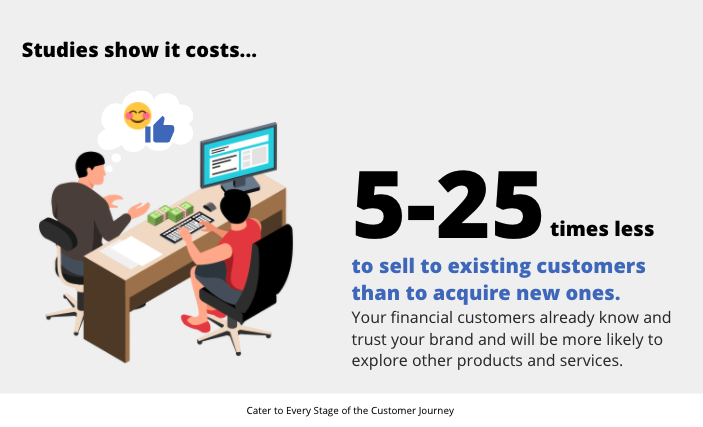 The Future of Omni-channel Marketing Automation for Banks and FIs
Omni-channel marketing and marketing automation have been instrumental in seeing the financial institution through this historic pandemic and its ensuing economic downturn, but what impact will this have on the future?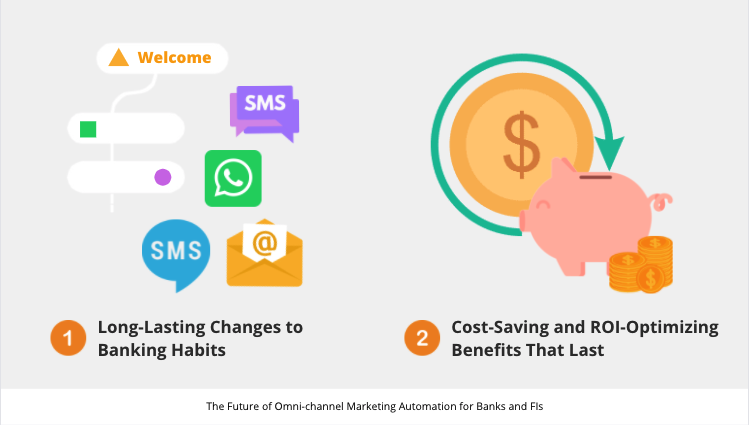 Long-Lasting Changes to Banking Habits
While the pandemic threw the world into more digital, remote experiences, the fact is that these types of experiences were already trending upward. That's the case with remote work as well as online banking and other digital experiences. Many of these changes in consumer habits are expected to remain as they are post-pandemic.
This means that financial institutions should continue to lean into omni-channel communications and marketing automation. You're likely to always see more customers opting to do business online than you did before 2020, and these marketing and communications strategies allow you to work with those customers in a way that benefits everyone.
Cost-Saving and ROI-Optimizing Benefits That Last
Both marketing automation and omnichannel marketing can have powerful effects on your bottom line if you use them to the best of their potential. Those benefits won't go away when the world has recovered from the COVID-19 pandemic. The strong ROI and cost savings will continue to benefit your financial institution if you continue to use these strategies in the years to come.
Putting Omnichannel Marketing Automation to Use for Your Financial Institution with a CRM System in Hong Kong
Effective omnichannel marketing automation (and the advantages it has to offer) begins with the right tools. Our CRM system in Hong Kong allows you to take advantage of advanced, expertly developed technology to create a more positive and productive experience for your consumers while bringing in more sales for your bank and financial institution. To experience the difference for yourself,
request a free demo of Radia System
today.
Get a Free Personalized Demo
Learn how RADICA platform can help grow your business with consultation
Get ready to find a professional email marketing company in Hong kong?
Radica as #1 All-In-One Email Marketing Automation Platform can ease your concern.
RADICA is a Hong Kong leading email marketing solution provider dedicated to accelerating revenue and maximizing customer connection with customer engagement solution in B2B, B2C and E-commerce industries. With RADICA's advanced onmichannel marketing automation platform RI+, it is much easier and effective to spread out cross-channel messages with automated and personalised journey, even with high volume within short period of time. Our clients ranging from luxury, banking and insurance to food and beverage like Chanel, BEA, LEVI's, Chow Sang Sang and Starbucks. Since 2000, RADICA as the leading email marketing and CRM agency in Hong Kong have focused on growing the value of their customer database by making wise use of data analytics in direct marketing. Learn more Radica Systems Limited at www.radicasys.com.