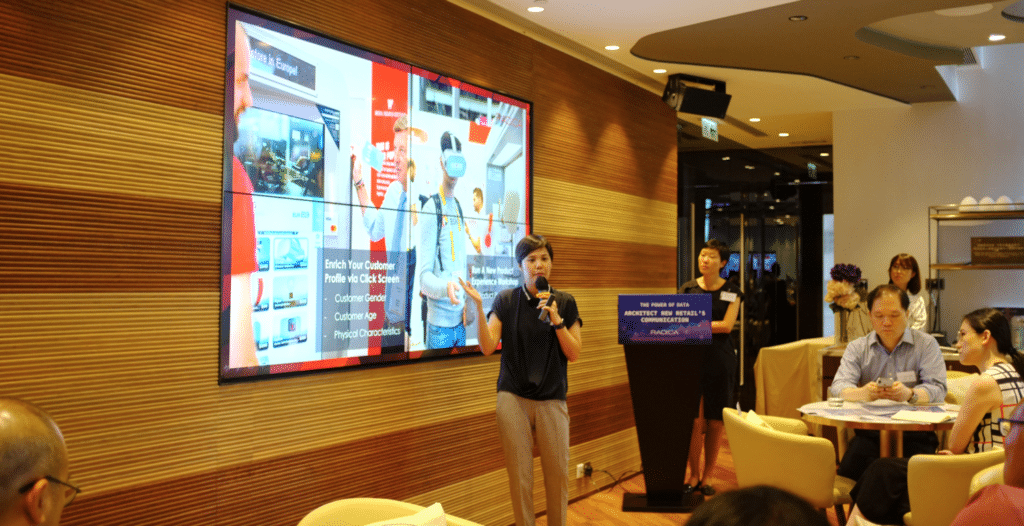 A crowd of RADICA community members and guests came together to share ideas at the third seasonal event The Power of Data with the theme "Architect New Retail's Communication"this Wednesday in Centaline Club. The crowd was filled with representatives from local retail, FMCG, fashion, as well as entertainment, transportation and property businesses.
The event features 3 speakers who brought retail talks ranged from omni-channel, big data, AI and offline data. Ms. Wallis Chan, Managing Director of RADICA, introduced RADICA brand new Customer Engagement Solution, a service that enables retailers to take their audience on seamless and individualised communication. By applying the AI-embedded technology, retailers can raise the effectiveness of their multi-communication channels and understand their customers deeper.
"There are 3 key trends that will dominate 2019 eMarketing particularly" said Wallis, " Channels optimisation, AI content as well as storytelling with journey". As Wallis Chan point out, what it takes to create a high-value campaign is relevance to what the customer needs and wants. With Customer Engagement Solution, an all-in-one integrated solution by AI and data which unleash the data power and streamline your marketing efforts by solving the toughest marketing problems: unmatched targeting, multi-channel communication orchestration, inconsistent brand experience, further insights, and long-term brand commitment.
It was a relax and fruitful afternoon filled with insight, emotion and inspiration. People got to experience cutting-edge retail technology and discuss their business power by big data and AI.
According to the post-event survey, attendees' top three data project difficulties are bad data quality, lack of knowledge or skills from the execution team and lack of data analytics tools. If you have similar business data problems to be solved, or look for professionals to create delightful and intriguing customer engagement journey. We are happy to share more details with you!
For more details, please email marketing_hk@radicasys.com or call 852-2866-1106.