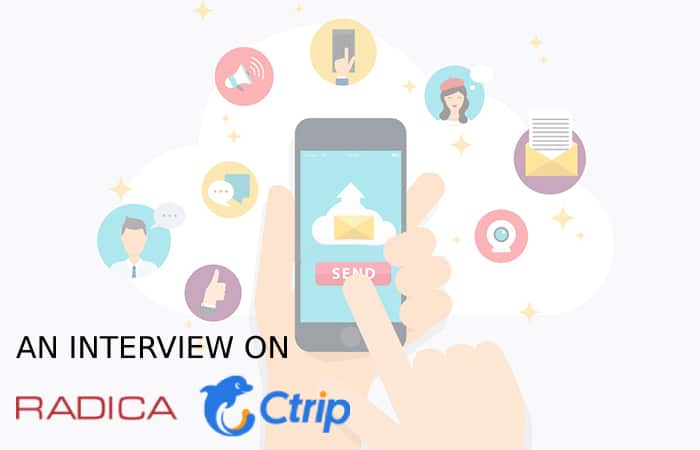 "The Thinking of e-marketing in the future has to change; it is not solely about quantity but the accuracy of deliverability." – RADICA
MeiHua.com: Blasting out 1,000,000 eDM each day, how can RADICA ensure a 90% or above deliverability level?
Drawing: The main factor that affects eDM deliverability is ISP's (Internet Service Provider) anti-spam rules. Focusing on that, RADICA has set up a team of deliverability specialists (DCare). Over the years, DCare has been closely working with overseas ISP, such as Yahoo, Hotmail, 163.com/126.com, QQ, Sina, and Sohu, etc. Our genuine relationship with many ISPs can ensure our clients' eDM achieving a 90% or above deliverability level, and to solve their problems regarding to eDM deliverability, efficiently.
MeiHua.com: Regarding to maintaining a genuine relationship with ISPs, how is that made possible by RADICA? 
Drawing:Firstly, our Dcare team will carry out some training on ISP spam rules. At the moment, each well-known ISP's rule of thumb is to provide excellent user experience. Therefore, RADICA's on-going pursuit is to enhance user experience, making sure that the eDM sent is meaningful to the recipients. Then, we will put ourselves in the shoes of the recipients when thinking what kind of eDM arouses their interest, so to minimize any possible annoyance, unsubscribe requests and complaints, truly abiding into the rules of ISP. Most importantly, RADICA and ISP's long term collaboration proves RADICA's sincerity to ISP. Such excellent reputation of RADICA has helped to build a strong relationship foundation of the two. 
MeiHua.com:Other than maintaining a friendly relationship with ISP, how can RADICA ensure a stable deliverability level.
Drawing: Of course, maintaining a friendly relationship with ISP is the first step to ensuring a high deliverability. After that, we need to do more to assure its stability. First step: RADICA will analyze the healthy level of sending environment; step 2: we will focus doing deliverability tests on different ISP; step 3: based on the encountered technical issues and periodic technical check-ups, we would find out different problems and solutions; step 4: RADICA will carry out deliverability level check-ups and giving clients' advice. This is also what Mr. Choi (James) has just mentioned about us earlier- the foundation of us giving professional advice.
MeiHua.com: Throughout RADICA's process of providing service, what are the common problems' that clients face?
Drawing:  Many customers who have just begun using e-marketing solutions will be easily confused, and that is very common. Since many of them tend to want one software to solve all eDM delivery problems, most of them own a large data base, and they wish to send the largest quantity of eDM in the shortest time. However, the outcome is always disappointing. Why? There are 3 commonly faced problems of: 1. They did not closely study the anti-spam rules, so eventually the mails get delivered to the bin; 2. Because they do not have time to handle recipients' complaints, their IP will be blacklisted by RBL; 3. The current daily blasting quota could not satisfy their need.
MeiHua.com:Based on these problems, how can RADICA tackle them?
Drawing:
1) eDM being thrown into bin- Firstly, we need to find out the reason in order to give out the best solutions. Having sufficient of experiences, RADICA's DCare team will based on the ISP feedback to determine, and repeated tests before making any confirmation. For example, from ISP's daily quota, RADICA gives the best amount through adding in guiding buttons to minimize any user complaints.
2) Email blasting IP being blacklisted by RBL- RADICA's team covers all mainstream ISPs. RADICA has specialists closely monitoring.
3) The inability to satisfy the blasting quota- Based on the friendly relation of RADICA and ISP, ISP will report the daily quota situation to us from time to time. Our priority is to lead our clients to adjust their email blasting tactics, so to gradually increase the quantity of email sent every day. 
MeiHua.com: So, what is an effective e-marketing like? What should future customers' bear in mind?
Drawing: The future mindset of email marketing has to change; it should not be about quantity but precise deliverability- focus sending out meaningful and useful and effective information to users. That is the direction of email marketing future development. In the Mainland, many users think that eDM equals spam, and spamming is definitely not the intention of email marketing. Perhaps, such a bad association is caused by those who did not use email marketing for meaningful purposes. RADICA is determined to change the game, we hope to become the channel where people get what they their favored information. In the age of big data, RADICA makes use of it to analysis open rate; click rate, etc., to know about what kind of email people draw toward to, what they would like to know. So that, we can focus sending them what they need, yet giving meaning to the content that they receive, this is what we say mentioned about being effective, it's not about quantity but specialty.