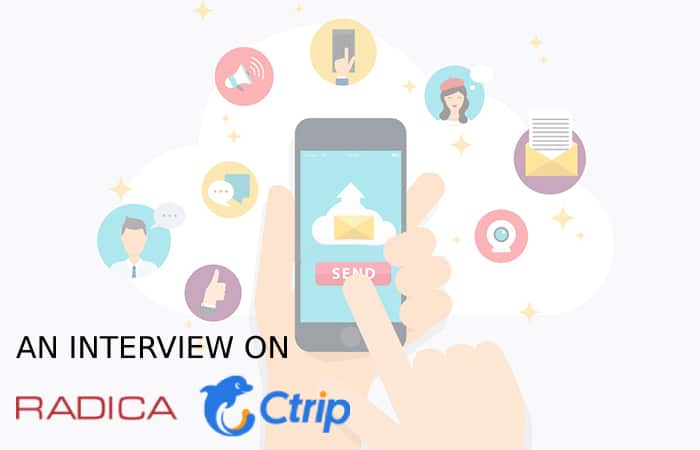 As different social media platforms are taking the spotlight these days, email marketing's light seems to be dimmed. We are at a time where spam is fierce; such situation poses challenges to the deliverability and open rate of eDM. Regardless, an appropriate, attractive and efficient eDM can still be very influential to many, as eDM is no doubt more accurate in finding out customer characteristics and thus helps doing better content specialization. In the age of big data, eDM has been given some whole new functions- taking auto-trigger campaigns as an example, it delivers your eDM campaign straight to customer's inbox, fostering business. Email, as it has been, is still a crucial communication channel.
In such a critical time for e-marketers, how can RADICA continue to strive for success, successfully safeguarding its name as Asia no.1 e-marketing solutions specialist? How is it possible for RADICA to maintain its tight relationship with giant corporates like Ctrip and LVMH? Having all these questions wandering in his head, Meihua.com's representative went in and interviewed Ctrip Senior Sales Manager- Mr Choi (James) and RADICA's department head of customer service- Miss Leung (Drawing), also the person-in-charge of RADICA's Dcare team.
"Let the professionals do their thing." – Ctrip 
1.) MeiHua.com: What aspects are RADICA and Ctrip collaborating on?
James: As the largest online tourism service provider of China, the scale of Ctrip's membership program is huge, it has to handle millions of campaign delivery. In order to ensure the stability of campaign delivery, we would use RADICA's RI Plus and their DCare service as we know that RADICA is an outstanding expert in the e-marketing solutions field.
2.) MeiHua.com: What exactly is DCare?
Drawing: DCare stands for Deliverability Care, it is created by RADICA to ensure marketer's campaign reaching a deliverability level of 90% or above, DCare also helps to solve any issues customer faced regarding to campaign deliverability, in an efficient manner. Promotion won't be as effective once an attractive and personalized eDM campaign goes into the trash can. Actually, such risk can be easily avoided with DCare, as it ensures deliverability and open rate. 
3.) MeiHua.com: What obstacles did Ctrip faced? What solutions did RADICA gave Ctrip?
Drawing:
I. The upgrade of Chengxin.163.com – In early 2014, when Ctrip first signed up on Chengxin.163.com, the grading was not high yet the user population was huge, plus back then was around the Chinese Lunar New Year season, the eDM blasting quota could not satisfy Ctrip's need. Therefore, RADICA and Ctrip collaboratively set up a short-term quota expansion. Firstly, RADICA represented Ctrip to apply for extra eDM blasting quota allowance, successfully adding 1,000,000 temporary quotas for Ctrip. Then, we helped Ctrip to apply for an allowance on changing daily quota to monthly quota, so to fit Ctrip's flexible promotion period. Lastly, RADICA assigned 250,000 flexible quotas for Ctrip, helping them to meet their plan on limited time blasting while ensuring to upgrade.
II . Blacklist monitoring and appealing – Since the user population is huge, the risk of receiving complaints and having blacklisted users goes up. RADICA helps Ctrip to do blacklist monitoring, receive user's complaints and executes follow-up actions, assisting Ctrip to solve their problem in an efficient manner without leaving any negative consequences.
III. Protection of multi blasting channels- while Ctrip is using RADICA's services, Ctrip is also receiving other services from different providers. The channel that monitors by RADICA in the QQ mail box already has 4 channels. In order to ensure each channel can send out email smoothly, RADICA will provide the review of credibility and certain necessary adjustment advice.
4.) MeiHua.com: Why is that Ctrip has to use RADICA'S systems to carry out campaign delivery instead of doing it themselves?  
James: We hope to let the professionals do their thing, imagine if we need to get our team to learn about eDM and all that, our company has to spend so much time and cost on staff training. How to put it…just like Ctrip does tourism services, RADICA does e-marketing solutions, we just do our own thing, simple.
5.) MeiHua.com: Actually there a number of e-marketing solutions companies in the market at the moment, options are plenty, but why Ctrip would like to have RADICA as their long-term partner?
James: Up till now, Ctrip and RADICA have been collaborating for 7 or 8 years, generally saying, RADICA's services are rather stable, no matter it is the system functionality itself, the service team or its after sale service, RADICA has been really well-rounded in all aspects. Another thing is, Ctrip has to send out more than 1,000,000 eDM through RADICA's systems every day, and RADICA's DCare is able to ensure a 90% or above deliverability level, which is very effective. And of course, in such a time where user experience is highly pursued and valued, RADICA's review and evaluation of delivery, tactics and advice on sending out effective eDM campaigns, etc, these are some of the key factors that Ctrip loves to work with RADICA. Not to mention, RADICA is Ctrip's first e-marketing solutions provider, RADICA has helped Ctrip to build the infrastructure of the company's e-marketing system. In such an empty- to-plenty process, RADICA is definitely the master behind all these. 
Outstanding stability and deliverability are reasons behind Ctrip's decision on choosing RADICA, so how is it made possible by RADICA? Let's hear it from RADICA in PART 2.